Music News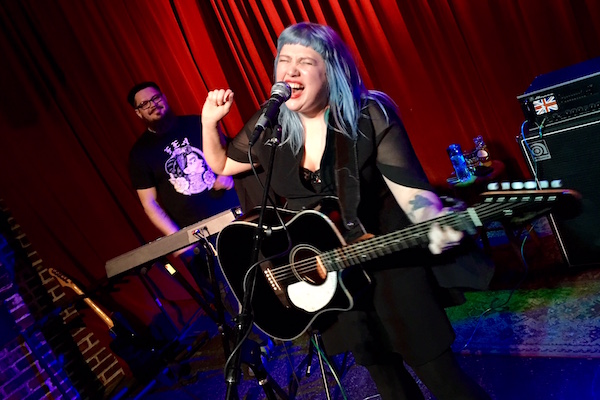 Bruiser Queen charts their own course on the road and in the studio
They are rested, road-tested and ready to rock. Bruiser Queen has big dreams for 2018.
On "Heavy High", the third full-length album from the St. Louis-based garage rock duo, Bruiser Queen finds new subtlety amid the urgency and playfulness audiences have come to expect. Meanwhile the band is working hard to book shows and find a record label to call home. Marking their eighth year together, Morgan Nusbaum and Jason Potter sat down with KDHX writer/photographer Colin E. Suchland to discuss the past, present and future of Bruiser Queen.
---
CES: Let's start with some recent events, Bruiser Queen spent six weeks on the road in 2017 on a nationwide tour. How did that come together?
Potter: Well, we got a booking agent, so that's a big new story in BQ-land. The whole big idea was to get us on tours. So, there was this band Fea, they are out of San Antonio, Texas, and they were looking for an opener, and it was six weeks, a lap around the country. We started in St. Louis, went down to Houston, all the way to Austin, Florida, up to New York, all the way over to Seattle and back down.
Nusbaum: We basically started and ended in Texas. It is the longest tour we've ever done. We had already had a lot of experience in each part of the county, but this put it all together. So we kind of knew what we were getting into.
CES: So you drove yourselves?
Potter: Yeah, we got sort of a big 12-passenger van and we converted it. We've got bunks, so we did a lot of van sleeping. I work at a hotel, and so we also can get discounts that way.
Nusbaum: I even got a little bummed out when we got back, almost missing the van after living in it for six weeks. 
CES: So it seems like you are "getting serious" with your music careers. Is that fair?
Potter: It's definitely our priority. So we are home now, and we have pick-up jobs, part-time jobs. It's not for the faint of heart, we definitely put ourselves in training on the tour.
Nusbaum: You've got to be a little bit crazy ... or a lot of it.
CES: Talk to me about Heavy High, it's your third full-length album, so that seems like a milestone. How does it compare to the previous BQ albums?
Nusbaum: Heavy High was actually pretty calculated as far as an album goes. It's been a while since we put out an album, first of all, but we went into the studio with our buddy in Memphis. We went down there with a bunch of demos, and we just wanted to go someplace and record them. We had all these ideas for songs and pieces of songs, and we spent three days recording all of these songs, everything we had. We recorded a bunch of cover songs, too. You know, just to get it all down. So then we did that, and we sort of put them on the shelf for a second, and like six months later we came back and listened to them. We said, damn, there's actually some good songs here. Let's take these songs that we like - these five songs - and let's try and match them with five more songs. So we actually went into it writing songs for an album at that point. We crafted the album. Like "Sugar High," that's a song I definitely wrote for the album to sound a certain way.
CES: So what is a Heavy High, anyway?
Nusbaum: A "heavy high" is when things are going good for you, but the weight of the world is still bogging you down. Things out there aren't great, but you are still having moments of "I'm feeling good today."
CES: Listening to your albums - from Swears to Sweet Static to the new one - it is notable that your sound has evolved to be more tender at times, not just the brash, three-minute rock songs. What's your approach to songwriting on Heavy High?
Nusbaum: My friend who listened to the album before we put it out said, to her, it sounds kind of like a night at a party. At first you are having a good time, dancing and talking and drinking. Then in the middle it kinda gets weird. You know it's the middle of the night and you are talking about conspiracy theories and weird stuff is going on. And by the end you are kind of sitting on the front porch, and the morning birds are chirping, and you are saying goodbye.
CES: Taking into account the new album and your desires to tour more extensively, what does the future look like for Bruiser Queen? 
Potter: I think we have laid a lot of groundwork. We both know that we love touring. Some bands are from Brooklyn or San Francisco, so they are plugged into a big community and an industry. We realize that being in St. Louis we don't have a lot of that, and so we just need to take it to them. That's the idea. We are sort of a road-dog band. We like taking it out there, playing shows and getting weird in front of people. Also, we are working on a label right now. We have a couple we are talking to, we had one in the past, but this last record was self-released.
Nusbaum: Now we are just working on more songs, because Heavy High was done for at least a year before we could get it out.
Potter: Yeah we shopped it for a little while, so there were some false starts.
CES: Understanding that it might be easier to get on a label in another city, are you tempted at all to move?
Potter: Yes, but then you look at the touring and we are in the middle of the country. We can go visit New York, we can go visit Nashville. We can play there three or four times a year. We have some friends in Seattle who say, "Dude, we can't tour like you guys can." We can do a bunch of shorter tours and more often by being here in the middle.
Nusbaum: And it's cheap to live here!
Check out Bruiser Queen performing with Tristen and Summer Magic at Off Broadway on January 19, 2018, as part of the Art of Live Festival.
Click the photo above to see all of Colin E. Suchland's shots of the evening.
Related Articles