Music News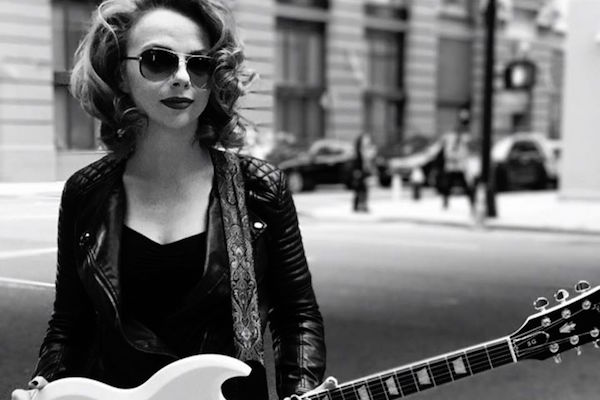 Samantha Fish: A blues tornado comes to the Old Rock House
There's a blues tornado tearing across the musical landscape. Her name is Samantha Fish. She's a whirlwind of Delta blues, soul and rock 'n' roll with a 7-piece band and two new albums that will touch down at the Old Rock House on Thursday, February 1. 
In the last decade Fish went from a 19-year-old sitting in at jam sessions at the legendary Knuckleheads Saloon in Kansas City, to sold out concerts, playing with blues legends and collecting a trunk full of accolades. She says the recognition "feels good... the reinforcement says you're on the right path and to keep on going." 
While her learning curve began with rock 'n' roll she found her favorite guitarists were all were influenced "by same blues cats that I was drawn to." The local jam sessions she went to turned out to be mostly blues. The biggest influence may have been a trip as a kid to the King Biscuit Blues Fest: "That is when I first discovered R.L. Burnside and Junior Kimbrough. They bridged the gap for me from punk and rock and roll. I loved the north Mississippi sound. It's so raw and drum oriented. It's about dancing, the groove and the melody. I was drawn to it."     
A key player in Fish's blues groove is another Missourian, St. Louis' Mike Zito (Royal Southern Brotherhood). They met at Knuckleheads where Zito used to play regularly. Eventually, he invited her to sit in, becoming an invaluable friend and mentor: "You make lots of acquaintances in any industry but rarely do they become friends. We've know each other for 10 years. We're cut from the same cloth, work ethic, the way we feel and think about life. I don't where I would be without Mike Zito. He was instrumental in helping me get my first record deal, introduced me to my manager, first booking agency and produced three of my early albums 'Girls with Guitars', 'Runaway', and 'Black Wind Howlin'."
Fish says she loves "Americana, soul and older traditional forms of American music and most of it stems from American blues."  It was her first solo collaboration with Mike Zito on "Runaway" that put her on the map winning the 2012 Blues Music Award for Best New Artist in Memphis.  Four more albums followed with each drawing critical acclaim and increasing commercial success. 
Her style has been called everything from rock 'n' roll and electric blues to soul, R&B and just plain blues. Last November Rolling Stone identified her as one of 10 country singers to watch. When asked about the genre question Fish just laughs and says: "I love it because when you listen, my music has all references of those styles. Maybe my music has a little different flair and isn't easily put into a category. I've always said it's American rock 'n' roll and the Americana category that I feel is all rooted in the blues." 
Fish also chuckles about the "mass inclination to categorize everything and put it into a box so we know where exactly it fits in our lives. Honestly, that's not art -- ever," she says. But, she knows where her heart and soul lies: "all my favorite guitar players are blues players and my singing is soulful and raw and impassioned ... to me that's the heartfelt blues." That doesn't stop her from loving Nashville country song writers, soul singers from Detroit and rock 'n' roll. As she says, "it's all of the above." 
All those talents and influences will be on display when the National Blues Museum presents Samantha Fish at the Old Rock House. Fish says 2017 was her most musically diverse year. She released two very different critically acclaimed albums. Her March, 2017, release "Chills and Fever" spent 18 weeks on the Billboard blues chart, peaking at No. 1 and came in No. 22 on the New York Times list of the best albums of 2017. Later in the year she released "Belle of the West", which also peaked at No. 1 on the blues chart.  
When Samantha says, "2017 is the most diverse year musically I've had," it's an understatement. "Chills and Fever" is a concept album done with the Detroit Cobras featuring obscure 50's and 60's rock and soul covers with guitars and horns. If this were a bottle of wine, you would say it has the smoky essence of Amy Winehouse with a Susan Tedeschi finish. "Belle of the West" takes you in a completely different direction to the hills of Mississippi. This soulful collection of original acoustic Delta blues displays Fish's writing and playing talent with the backing of the North Mississippi All Stars and other guests. It also includes three covers, including R. L. Burnsides "Poor Black Mattie." The two albums are a masterwork of musical styles and skill.     
The band has been rehearsing for the yearlong tour in support of the albums. They want to make sure this diverse show of Delta blues and garage soul fits well together. Fish says it will be "so dynamic with horns and a fiddle ... the horns jump on other instruments for whatever the song calls for." She wants to present "a collection of songs I love and put on a good show for people."
In addition to the selections from the albums, we may get a couple of Fish's favorites. They like to change things up and now have an extensive catalogue to draw from. She loves to play "Somebody's Always Trying" because she gets "to take this psychedelic trip on my guitar and you can take it in a few different directions every night." She also likes to do a ballad "Near to You" that allows her to take her voice and do different things every show.   
A question about what she will be packin from her extensive guitar collection also got a big laugh and "Oh, Dude, it's so stupid. I'm trying to figure it out and pare down... what song, what guitar? My working rig main ones are Delaneys. I had to leave the oil can guitar at home, but I will have my cigar box along with my SD, Jaguar and a beautiful acoustic." She's also packin' a group of talented musicians: Chris Alexander -- bass, Phil Breen -- keyboard, Chris Steves -- saxophone, flute and percussion, Rebecca Crenshaw -- fiddle, Alex Massa -- trumpet, mandolin and guitar, Scott Grace -- drums 
Fish continues to write new songs and hopes to get in the studio before the end of the year. She also has a new video coming out in a month or so. Her main focus is on this tour. She is excited about coming to St. Louis "to get to play the albums live since they are so new and fresh for everybody."   
That's your storm warning, St. Louis.  Samantha Fish is a woman on a roll. Be prepared. There's a band a-comin' with a badass female perspective on the blues. Are you ready?  
Related Articles