Music News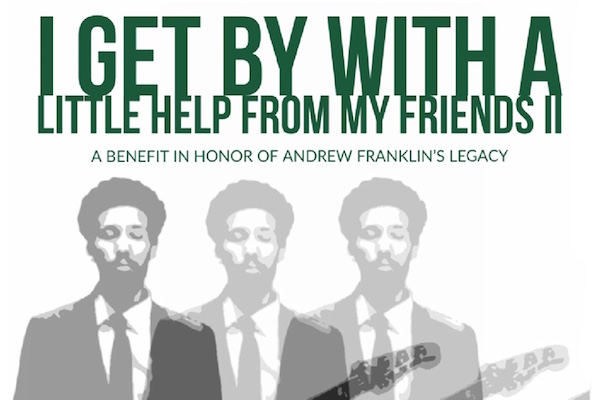 St. Louis music community pulls together to help one of their own
In the summer of 2015, friends of St. Louis bass player Drew Franklin came together to support him after they learned he'd been diagnosed with cancer. They dubbed the fundraiser "I Get By With a Little Help From My Friends", and it brought together seven musical acts. Sadly, Franklin lost his battle with cholangiocarcinoma, a very rare cancer of the bile duct, soon thereafter. Now, the mother of one of the musicians that played that event is facing the same disease. KDHX DJ Wil Wander of Elevated Rhymestate spoke with Matt Vianello, organizer of I Get By With A Little Help From My Friends Two" and bandmate of Franklin, about the history of the event, why he decided to put together another fundraiser, and the tight-knit music community in St. Louis.
---
Wil Wander: I'm talking to Matt Vianello about 'I Get By With a Little Help From My Friends II'. It's going to be Saturday night, the third, correct?
Matt Vianello: Yep, February 3rd at Old Rock House.
WW: All right. So it's 'I Get By With A Little Help From My Friends II', so this is something that's happened before.
MV: We did the first 'I Get By With A Little Help From My Friends' a few years ago after my former bandmate, Andrew Franklin was diagnosed with Cholangiocarcinoma, which is bile duct cancer. We decided to do a fundraiser for him. We did it at Old Rock House, silent auction, bunch of bands playing, with the idea that Drew was so heavily involved in the music community, it would be great for the music community to show its love for him, and let everybody know that this music community here is a very tight knit community in St. Louis and we help each other. Drew passed away shortly after that, the first one.
WW: Right, I believe it was the last time I got to see him unfortunately. 
MV: After Drew's passing, there was a question of whether we were going to do this again. I spoke with Drew's family and said, 'I'd like to do a second event, another one of these I Get By With A Little Help From My Friends music community event.' With the idea that we would remember Drew and remember the impact that Drew had on the music community here in St. Louis and also raise money. 
The idea was basically that we would put something together and try to help a different musician in need or raise money for a charity. This time it just so happened that a good friend of Drew's ... His name is Larry Morris. He's the front-man of iLLPHONiCS. Larry's mother is fighting the same cancer that Drew had. We put this together, actually not knowing what we were going to raise money for. We just thought it would be a good event. Then decided that after talking with Larry, that we would put it together and give the proceeds of this fundraiser to Larry and his Mom to help cover the costs.
WW: Treatments and everything related.
MV: Yeah, treatments, everything related. We'll also have a silent auction there like we had last time. My hope with this event is that we can start doing it every year. That's really my goal is have it be the same time every year with a different musician in need or a different charitable organization, and really show what the St. Louis music community is all about.
WW: It's almost sad that it's really not a challenge to find someone to benefit from something like this.
MV: That's true. I would say the difficult part here is that there's a lot of pride involved. I would never want to ask somebody ... I would have a hard time approaching a musician that I think is struggling or whose family is struggling and ask him if we can do the event because these are very private matters, and you have to take that into consideration when putting an event like this together. There are a lot of musicians in need. There's a lot of, for various reasons whatever it maybe, great people who have fallen on hard times. To the extent that we can do something to help people, and that they're willing to take the help of the music community, then that's what this all about.
WW: Right. So far, I get the feeling that particularly when it comes to Drew and this new one, that people are almost lining up to be part of it. That the community's responded very well.
MV: We've gotten a very positive response so far. Drew's girlfriend when he passed away, her name is Jess Bellomo. Jess is doing the silent auction and arranging all of the items that are going to be auctioned off. She's been telling me that the outpour of support is huge. Everybody knows Larry. Larry's great. He's a staple of the music community here. I think when people heard about the hard time that Larry and his family were dealing with, they wanted to come out and support him. So this is a great way to do that.
WW: Yeah, that sounds fantastic. It's an earlier start, a 7:00 p.m. start is it?
MV: That's right, it's 7:00 p.m. Should be done by midnight. We'll have a silent auction, music by the Domino Effect, Monkh and the People, Lamar Harris, DJ Mahf. Then former members of Big Brother Thunder and the MasterBlasters, which was Drew's band, will be performing some songs as well.
WW: Yes, and so we've got the music, we've got the silent auction, there'll be a little bit taken in at the door, and The Old Rock House is very happy to be part of it. That was the venue for the first one too.
MV: Yeah. The venue for the first one and hopefully if we keep doing this we'll keep working with them in the future, and for this one and the next one and every one until somebody tells us to stop.
WW: I appreciate you coming in and look forward to at least making some appearance there that night. 
MV: Great, thank you Wil. I appreciate the opportunity.
WW: Thank you. 
Related Articles