Music Reviews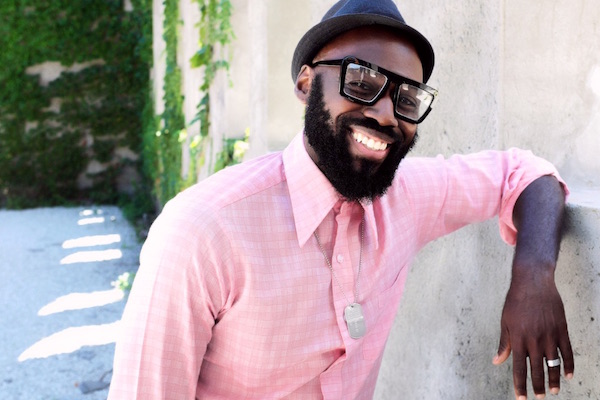 Brian Owens brings love to The Sheldon for Valentine's Day
On February 13, 2018, St. Louis musician Brian Owens brought songbird pitch in the delicacy of a nightingale to the Sheldon Concert Hall. Owens was impeccably dressed in a smart hat and tie, crisp pink button-down, and tailored trousers all the way down to shoes with striped dress socks peeking out at the ankles, accentuating his tall lean stature. Delivering each line with youthful bravado as he swung his hips, he executed love songs with precision and a profound grace that brought cat calls from the balcony and polite applause from the main floor. 
There was joy in his clarity as he sang, a gravity that perfectly weighed long soulful scales and rich staccato like a finely tuned fiddle, as he paid homage to greats like Sam Cooke, Nat King Cole and local legend Donny Hathaway. Audience members with heads cocked, had their gazes completely transfixed on Owens and his band as the colored glow from the Sheldon's stainless glass windows flooded light into the theater like glorious Valentine's sun rays. 
Owens approached each classic with deep care and a soft, boldly venerable affection, treating Cooke's "Weary" with precious reverence, connoting Owens ability to make a song his own while building on all he has learned from each lovingly listened to record. Love songs were delivered with deliberate sensibility by Owens. Solos from Eric Slaughter on the guitar reminded this reviewer of Clapton and the Duke, accompanying Owens voice in every dignified stroke on the strings. While Owens made naked every word sung, his pianist cascaded across the keys, never missing a dramatic pause.
Owens sings to lonely hearts and old loves alike, whether it be narratives of heartbreak, longing a lost lover, or celebrating friendship ever true. A Belleville, Illinois native who now calls Ferguson, Missouri his home, Owens is frank about his influences from jazz standards to soul records and presumably some of our very own local blues musicians. Within his performance Owens demonstrated lyrical ability cultivated by an intense care for each melody as fostered by his deep appreciation for the beautiful stories behind them.
Related Articles