Music Reviews
Music Reviews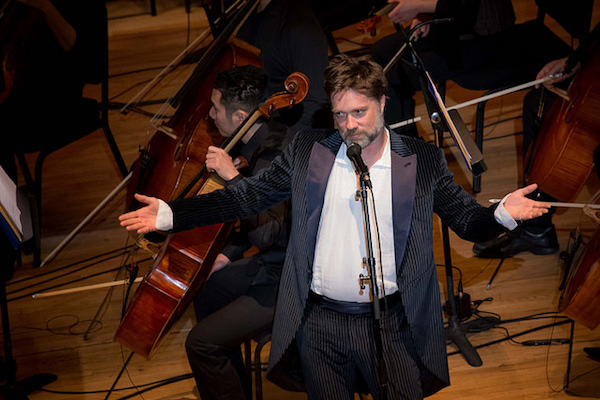 Rufus Wainwright treats audience to one-of-a-kind performance at Powell Hall
By
If ever you've dreamed of taking part in a massive "Hallelujah" sing-a-long, or singing alongside the illustrious Rufus Wainwright, Friday, February 15 at Powell Hall was a dream come true. The event drew a noticeably age-diverse crowd of late 30/early 40-something year-olds humming "Cigarettes and Chocolate Milk" as they strolled through the lobby and white-haired symphony season ticket holders. I ran into friends I hadn't seen in fifteen years, as well as my own dear aunt, who was beaming to see "such a lover, such a crooner" perform in person. 
Wainwright sat down at the Steinway and played alone in about half of the selections, including the classic "Poses" and "Grey Gardens." In other selections, such as "Oh What a World," Wainwright stood behind a mic at the front of the stage, gesturing and conducting his voice as yet another instrument with immaculate trills and spectacular range, while the St. Louis Symphony Orchestra played the role of backup vocal layers as well as the orchestrated "Boléro" excerpt. In one of my favorite moments of the night, Wainwright performed "The Art Teacher" in an arrangement so heartfelt and breathtaking it brought tears to my eyes and goosebumps to my arms.
The addition of the symphony enhanced some previously simpler songs and brought other epic ballads to life. I was fascinated by the masterful work of the conductor, keeping one eye and ear on Wainwright, another eye and ear on the rest of the musicians, and subtly calibrating their movements to bridge any gaps in between. Wainwright played piano alongside the SLSO on lush compositions such as "Vibrate," dashing any suggestion of formality with lyrics about trying to "dance Britney Spears." The powerful "Going to a Town" was so sincerely moving it brought the audience to their feet in one of a number of standing ovations.  
He sampled liberally across his ambitious catalog, neglecting neither the Shakespearean sonnets nor the family tributes. Bookending the evening with nods to his musical legend parents, he reached back to his debut album to play "Beauty Mark," one of two selections written in homage to his mother, Kate McGarrigle, and wrapped up with symphonic accompaniment to "Dinner at Eight," a song written about his father, Loudon Wainwright III. In between, he introduced "Candles," dedicated to his mother's passing, with a darkly humorous anecdote about his late mother's communication from beyond. 
Perhaps it is the mark of a masterful entertainer, or perhaps St. Louis really did inspire him, but the whole evening felt like a special, serendipitous moment in time. Yes, he lost his place for a second in a verse of "Who Are You New York" and bungled the final chords in "Cigarettes and Chocolate Milk," but it's those instances of misstep that make the evening feel more authentic, more candid, and more uniquely ours. If there's one way to a St. Louisan's heart, it is complimenting our city, and Wainwright attributed these precious breaks from perfection to being star struck by the talent of the symphony, the beauty and acoustics of our grand Powell Hall, and the conductor so "easy on the eyes" it made him "nervous." That shrugging self-deprecation is part of Wainwright's charm, which was 100% on-point that night. And those micro-deviations from what was expected made that night 100% ours.  
As the evening wrapped up, Wainwright sat at the edge of the stage and regaled our fair city with a nod to Judy Garland, singing "Somewhere Over the Rainbow" and regretting that he didn't prepare for "The Trolley Song." In his second and final encore, Wainwright sat at the piano and invited the SLSO musicians to play along sans conductor in a spontaneous rendition of the Leonard Cohen classic "Hallelujah." As musicians glanced around at one another, the drums quickly picked up the thread. Funny to see the SLSO movement out of sync, still sounding amazing, but moving without the usual coordination of bows and elbows. Wainwright also invited the crowd to join in wherever we might know the words, and a faint hum of a chorus rose out of the red velvet seats. It was a genuine conclusion to a tender and emotional evening. In a farewell treat, he banged out a few chords and 'clang clang clangs' before exiting the stage, promising to return to St. Louis fully prepared for a "Meet Me in St. Louis tune" next time. 
Click below to see more photos of the evening by Monica Mileur.
Related Articles