Music Reviews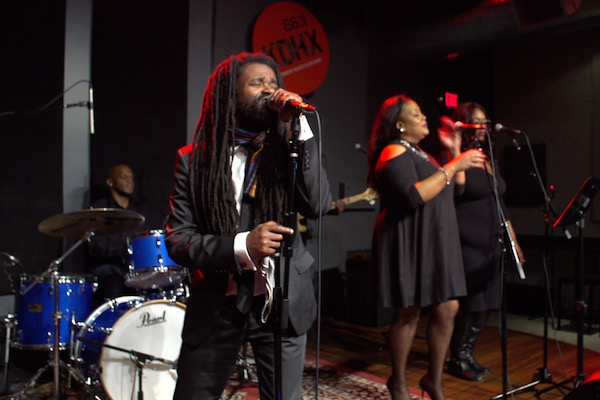 Rev. Sekou and The Truth perform at The Stage at KDHX for Live at the Listening Room Series
On a rainy Thursday night in St. Louis, Rev. Sekou approached the mic like a preacher might when dusting off the worn cover of a well-used bible. Lines like "Trouble in my way, I got to cry sometimes," erupted from him with unwavering emotive energy. When Sekou performs, his eyebrows are often half-raised, mouth creased with the feeling of the moment, as he invites the audience into his story. 
During "Problems" he shared warmly of his Grandmother's deep influence on his path and her everlasting message that he believes molded him into the man he is today. On how much his grandmother influenced him, Sekou offers a memorable anecdote as a boy, encircled by women in white dresses singing in the moonlight by the river; retaining the culture of their ancestors along the water that brought them here. Spiritual enthusiasm only skims the surface of what Sekou offers to audience members as he sings "Freedom in the air."
Sekou weaves onto his palette gospel to bayou, backwater to church, Mississippi river steamboat to reggae. He delivered each wayward song with soulful force, stitching a great design from every exhilarating note that rang from his throat.
It was as though, lit in purple and golds, he treated those of us in the audience to a secret sermon between just him and God. Sekou crooned across the stage, all the while giving way to feature each member of his talented ensemble to shine forth their light. He brought unabashed emotional intensity and showmanship fervor that, in this reviewer's opinion, continues in lineage of the Godfather of Soul, Mr. James Brown and the late Ms. Sharon Jones.
Beyond the activism that anchors Sekou to the Black Lives Matter movement in St. Louis, the Reverend appears well aware of how his gifts give rise to his true calling as a lyrical messenger of the people.
Related Articles