Music Reviews
Music Reviews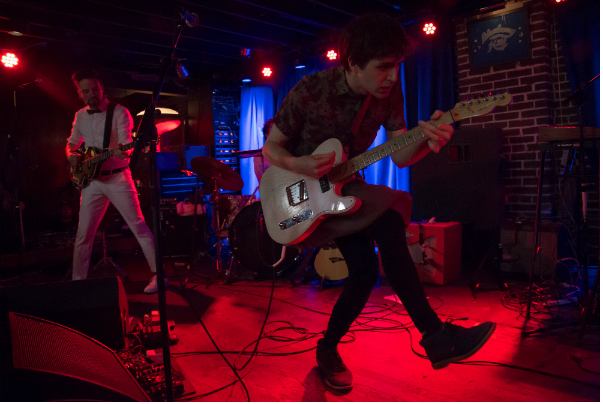 Ezra Furman sings songs of running away and reminds us all to register to vote
By
Ezra Furman gave only two rules at his show at the Blueberry Hill Duck Room on Sunday, February 25, 2018. The first was an obvious one, "Don't invade the personal space of those around you." The second rule, "REGISTER TO VOTE." This was the message that I believe Ezra hoped would resound above all. Have fun, enjoy the music, dance your faces off, but for god sakes, they're taking our rights away. Ezra and his band hail from Chicago. He's a politically outspoken, gender-nonconforming, observant Jew singing about depression, body positivity and angels. His sound is uniquely his; influenced by the Velvet Underground, Lou Reed and Chuck Berry. It's a unique mix of punk, soul, indie and garage rock with energetic saxophone riffs that burst through it all and made me wonder how I've ever enjoyed music that doesn't include a substantial amount of sax. He bops between genres as fluidly as he bops between genders. 
The show started with the explosive, "Suck the Blood from My Wound," from his new album, "Thansangelic Exodus." Ezra explained that many of his songs are about running away, this one was no exception. "They'll never find us if we turn off our phones / We're off the grid, we're off our meds / We're finally out on our own / Now I see colour coming back in your cheeks / Angel, don't fight it / To them you know we'll always be freaks." When listening to this recording it came off as a fun, upbeat start to the album. Witnessing these lyrics live uncovered a dark rawness that added multidimensional layers. Furman allowed concertgoers a voyeuristic view into the mind of a wildly entertaining yet creatively afflicted artist. 
The new album is a collection of his most personal thoughts and memories; like reading a stranger's diary. It's been described as a queer outlaw saga. The song "Compulsive Liar" explains, "I can trace the habit to when I was eleven / And I thought boys were pretty / And I couldn't tell no one." It's easy to get caught up in Ezra's music; it's fun, dance-inducing, with hooks sure to get stuck in your head for days, but the lyrics are even more addictive. Always smart and poetic, but the new album is noticeably more heavy, dark and emotional. After what he describes as a very rough 2016 the band changed tones, and names. What used to be "The Boyfriends" is now known as "The Visions," but I was happy to see the same faces that have been with him for years, like keyboardist Ben Joseph whose ever-present smile lights up the stage. The Visions wore all white and switched from instrument to instrument depending on the song. Bassist Jorgen Jorgensen played an electric cello during their cover of Kate Bush's "Hounds of Love," a song that Ezra has said of, "If you aren't listening to it at least once a day I have serious concerns about your mental health."
Throughout the performance Ezra appeared shaken and overcome with emotion. He would fall to the floor and crawl to the back of the stage. With his hands covering most of his face he stared out over the heads of the audience and appeared to be on the verge of tears. And the feels seemed to be contagious, looking through the crowd which consisted of a colorful group with a wide range of ages, all equally present and captivated. It's no surprise that this music caught the attention of a motley crowd, I dare anyone to listen to "Restless Year" without tapping your foot. It's just good music, but also so much more. 
I spoke with Ezra after the show and he said he would love to have a way for people to register to vote at his shows. While talking, I told him my favorite song was from his album, "Perpetual Motion People" called "Lousy Connection," which he didn't play. He explained that he doesn't play that anymore because it was written in the Obama era when things were easier. He said we can't be cynical. It just matters too much now. He did play a couple songs from his previous album including, "Haunted Head." It starts with some deep doo-woppy 50s-style backup vocals that are striking and delightful. The lyrics are to theme with the undertones of general desolation, but with bit of hope for the future. "I know this sick world's bound to be explained / So I'm hanging on if only by a thread inside my haunted head."
Click the photo below to see all of Monica Mileur's photos of the evening.
Related Articles