Music Reviews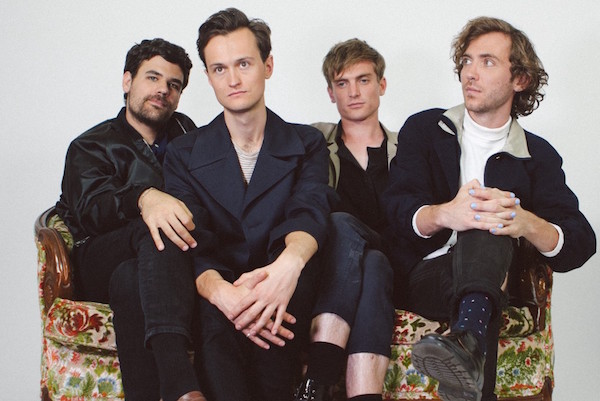 Ought finds their crowd at Off Broadway
I was a bit worried about the turnout for Ought's show at Off Broadway on March 10. The last two times I saw them in St. Louis, it was in front of crowds that weren't too hot for them. But luckily, three times seems to be the charm. Saturday's show at Off Broadway was the best one I've seen yet from them, mainly due to them finally getting to play for a deservedly great crowd.
Local band Shady Bug opened the show, and was a relatively last minute addition to the line-up. A couple behind me in the crowd wondered who they were before their set began, but very quickly into the first song of their set, they were won over. 
Shady Bug's debut album "tbh idk" was one of 2017's most underrated. I was glad to hear some of those songs live, and how ferocious the band got. Some of the back and forth between the members was incredible. Frontwoman Hannah Rainey was solid throughout, and guitarist Tom Krenning's manic performance reminded me of Future Islands' Samuel T Herring. 
Snail Mail followed with a more restrained performance, but just as vulnerable as you'd expect from listening to any music from frontwoman Lindsey Jordan. The band recently signed to Matador Records and has an album coming out in June, and I get the feeling that this is a band on the cusp of an inevitable blow up. Expect a massive PR blitz to come soon ala Julien Baker before her album came out. 
Ought started off their set with a number of cuts from their new album, "Room Inside the World," beginning with that album's opener, "Into the Sea." It's an intensive and urgent song that sees frontman Tim Darcy experimenting vocally and dropping the sort-of talky vocals of the band's previous two albums for something more conventional, yet still beautiful. 
The crowd was moved by newer cuts like "Disgraced in America" and "Desire," but really got into it once they started to slide into older songs like "Men for Miles" and "Habit." The bassline of "Beautiful Blue Sky" set in and sealed the deal, with the crowd singing along to Darcy's yelps of anxiety about conformity. 
More cuts from "Room Inside the World" followed and the set ended with a particularly haunting rendition of "Alice," the noiser aspects of the song taking over. Ought returned for an encore set of "Today More Than Other Day" and "The Weather Song" from their 2014 album "More Than Any Other Day."  
This show made me think about why I love concerts so much. I don't really get to disassociate from myself all that often. I'm kind of just stuck with this broken brain of mine a lot of the time, so to be able to get lost in the music and bounce around a little bit is incredibly comforting. Ought presents a unique perspective on the anxieties of the world and their reaction to them, and it's a perspective that I can wholy get behind. 
Related Articles