Music Reviews
Music Reviews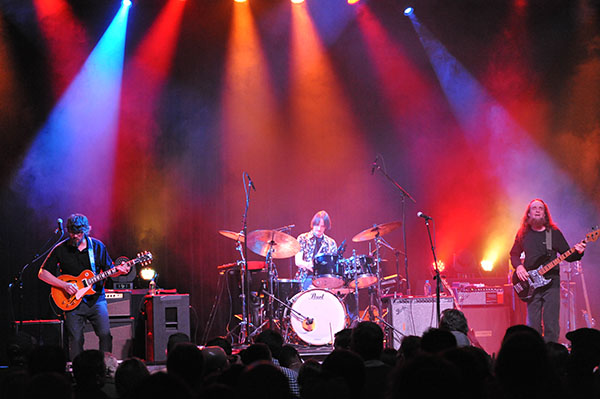 North Mississippi Allstars bring their Hill Country Blues and a special guest to Delmar Hall on Thursday, April 5, 2018
By Ronnie Wisdom
Billed as "An Evening with North Mississippi Allstars," Thursday's performance at Delmar Hall was a rare treat of what felt like two completely separate shows by the esteemed blues-rock outfit helmed by brothers Luther and Cody Dickinson.
The Dickinson brothers sauntered onstage just after 8 p.m. and took a seat, gently plucking guitars to kick off a mellow, 45-minute acoustic set; or as Luther put it, "We're gonna front porch it for a few with y'all if you don't mind."
Though NMA is fully capable of tearing the roof off with heavy riffs and rhythms, there was something special about watching the brothers sit side-by-side softly playing and singing as they probably have for much of their lives. They took turns singing some of their favorite tunes, including a couple covers by one of their inspirations, Mississippi Fred McDowell, "Where Were You When the Rooster Crowed" and "John Henry." Luther lent his gruff moan and seemingly effortless slide guitar to the former, while Cody grittily wailed the latter.
They offered stripped down versions of a couple brand new songs and another instrumental before closing the mini-set with Cody giving a wild and funky solo on his one-of-a-kind electric washboard, accompanied by Luther on a marching bass drum.
After a brief break, the Dickinsons returned, joined by bassist Carl Dufresne of Anders Osborne's band. NMA has performed with a rotating cast of bass players on tour throughout the years – including original bassist Chris Chew. Dufresne, who played with the brothers alongside Osborne in last year's collaboration, "North Mississippi Osborne (NMO)," was a welcome addition.
Luther strapped on one of the six guitars that stood in a neat line at his feet as Cody took his place behind the drum kit and the trio proceeded to shred their way through a nearly two-hour full electric set. They kicked off with "Need to Be Free," a thunderous new song from the band's 2017 release "Prayer for Peace," Cody's thick beats and Dufresne's heavy bass riffs providing the perfect rhythm for the first of Luther's numerous dizzying slide solos.
The band worked through several tunes from "Prayer for Peace," including covers of blues classics "You Got to Move" and "Deep Elem Blues, as well as getting down and dirty with early NMA foot-stompers like "Shake 'Em On Down," "Going Down South," and fan-favorite "Po Black Maddie>Skinny Woman." In the midst of yet another shred-fest during that particular song, Luther signaled to a child in the audience to come closer to the side of the stage, handing him one of his glass slides and quickly replacing it without missing a note.
Throughout the evening, Luther ceremoniously partook of several shots of Johnnie Walker Black whisky, which, if anything, just made him attack the guitar and vocals with even more power and guttural soul. Cody at times worked both the drums and keyboard simultaneously, while providing backing vocals. Dufresne was a tall and steadfast presence – only occasionally nodding and offering a sly grin as he thumped his bass.
After working the crowd into a state of euphoria on the dance floor, the band took a brief break before returning for a lengthy encore. Luther stepped back onstage flushed and grinning as he clutched and sipped from a bottle of Veuve Clicquot Champagne. When an aggressive and intoxicated fan up front kept yelling his name and taunting him with a cell phone, Luther walked over, grabbed the phone out of his hand and tossed it in the middle of the stage out of reach to great cheers from the audience.
With that distraction out of the way, the band tore into their classic "Drinking Muddy Water" from their 2000 debut "Shake Hands With Shorty." Luther closed his eyes, twisting his face as he growled, "I been drinking muddy water, sleep' n a hollow log/Lord if I can be your kickman, I ain't gonna be your dog."
They followed with the blues classic "Stealin'," which also appears on "Prayer for Peace," followed by "All Night Long," another of their earliest tunes featuring Cody on vocals and Luther working his pedals for some psychedelic guitar effects. Midway through the song, they began to tease Bobby Blue Bland's "Turn on Your Love Light," finally playing the entire song to the audience's delight before segueing back into "All Night Long."
With a wave and a bow, Cody and Dufresne left the stage, leaving Luther alone in the spotlight for a final offering – a sublime and dreamy slide solo that morphed into the lovely folk traditional "I Bid You Goodnight." He left the audience with a final tribute to rock's fallen heroes, blending a run of lyrics from Tom Petty's "Free Fallin'," Prince's "Purple Rain," Col. Bruce Hampton's "Basically Frightened," and Gregg Allman's "Midnight Rider."
NMA's first appearance at Delmar Hall was a unique and special occasion to experience one of blues rock's finest songwriting teams unfettered by the time constraints of an opening act with the luxury of a pair of sprawling sets, allowing them to fully bestow their talents that have been well-honed over the past two decades.
Click the image below to view the full set of photos by Bob Baugh.
Related Articles