Music Reviews
Music Reviews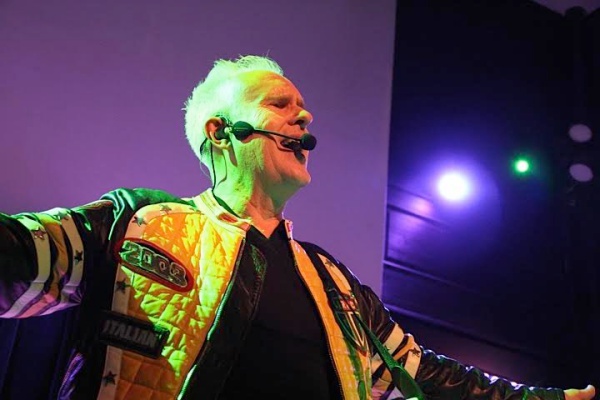 Howard Jones gives first St. Louis performance in 30 years at Old Rock House on Wednesday, June 1
By
To say I've been waiting more than 30 years to see British synth pop pioneer Howard Jones is an understatement. I was just 14 in 1984 when his debut album, Human's Lib, was released, including catchy single "New Song," ushering in a sound that would, in great part, define the era for many music fans around the world.
As Jones took the stage at the Old Rock House on Wednesday night, he made note that it had been that long since he'd been to St. Louis. Looking and sounding no worse for the wear, he wasted no time diving into early material with "Pearl in the Shell" from that very album. He began center stage on the keytar with some high tech assistance from Jonathan Atkinson on the electric drum kit (complete with glow-in-the-dark cymbals) and Robbie Bronnimann on sequencing and additional keyboards.
Unlike those many years ago, modern technology further enhanced Jones' form of electronic music with a boost from two sleek MacBook Airs and synchronized video footage accompanying on a screen above the stage. Over the next hour and a half, Jones took the audience on a nostalgia-heavy, career-spanning journey, from rock-influenced "The Prisoner," to dreamy "Hide and Seek," to the brand new "Eagle Will Fly Again" from the Eddie the Eagle movie soundtrack.
His 80s hits aside, two of the most compelling songs of the set were back-to-back performances from Jones' 2015 album, Engage, including appropriately bouncy "Joy," and funky dance groove, "The Human Touch," complete with robot voice effects and robot visuals overhead on the screens.
From there, he moved into the crowd pleasing hit ballad, "No One is to Blame," allowing the mostly-over-forty audience to sing along to the lyrics they remembered so well. The entire second half of the set was a string of Jones' biggest anthems of 80s synth pop optimism, including "Like to Get to Know You Well," "Everlasting Love," "Life in One Day," and "What is Love." He ended at his symbolic beginning with catchy "New Song" on the keytar, dancing about the stage and engaging the crowd in another sing-along.
Following that tune, Jones joked, "Normally, this is where we'd go off to the side of the stage and stand there a few minutes while you wonder, 'is he going to do another one?'" Since Old Rock House has no backstage or side stage -- only the outdoor patio to escape to -- Jones opted to just stand there a moment, saying, "Of course he's going to play another one," before obliging with one last hit -- the infectious, "Things Can Only Get Better." He began with the pop radio version everyone knows, encouraging the "whoa, oh, oh's" from the crowd before shifting into a heavy rave-style remix that had everyone dancing and applauding.
It can be a gamble seeing present-day performances by musicians you idolized in your youth, as you never quite know how those songs and performers will hold up. Jones far exceeded expectations, quickly proving why he won the hearts of a generation with his music decades ago.
He remains a relevant talent as a singer, songwriter and musician. If anything, his skills have only become sharper with age, and the optimistic messages of those early hits proved a welcome diversion from the heavy complexities of modern life. As Jones sings, "The old man said to me, don't always take life so seriously. Play the flute and dance and sing your song."
Click below to see the complete set of photos by Gary Eckert. 
Related Articles