Music Reviews
Music Reviews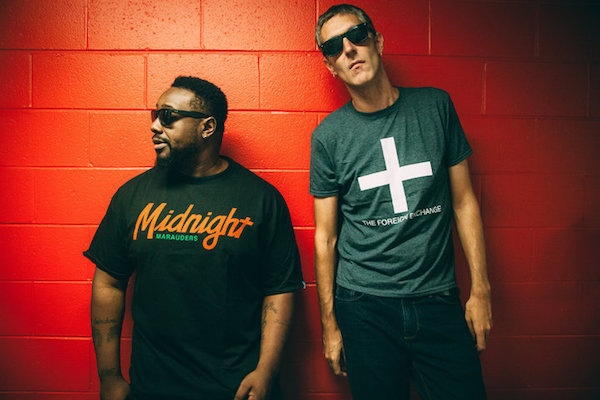 The Foreign Exchange created a fun, down-to-earth vibe at The Firebird, Saturday, June 4
By
Akin to entering a basement party thrown by friends, The Firebird set the scene for the type of show Foreign Exchange had in store for St. Louis on Saturday night. With dark lights and neon signs on walls from local breweries, the near-capacity crowd lined every corner of the space to ensure a spot was theirs for the entire two-hour set.
Opening the show with the jazzy notes of "Milk And Honey" from their fifth and latest album, Tales From The Land of Milk And Honey -- a track that showcases the harmonies of lead vocalist/songwriter Phonte and co-lead/background singers Carmen Rodgers and Tamisha Waden, was the perfect segue into a night of joie de vivre and tunes culled from albums of years past.
From "Milk And Honey," the group upped the tempo with "Work It To The Top," a throwback-synth-R&B dance track from their latest LP -- in which they interpolated Keith Sweat's "I Want Her," to come up with this sort of two-step mashup that the audience was really digging. The wicked thing about FE, as they're known to many fans, is that they can make a show feel like you're just hanging out with a bunch of friends at the cookout. Phonte talks shit on stage, all the while they're providing a dope soundtrack and everyone is dancing and chatting about; then he still sways folks into going over to the merch table to buy t-shirts, vinyl and CDs.
Before the show, local talent DJ Reminisce jammed everything from Junior Mafia's "Get Money" and A Tribe Called Quest's "Find a Way" to alternative newcomers like Anderson .Paak's "Heart Don't Stand a Chance" and The Internet's "Girl," onward to cuts by Jay Z, Jill Scott and Lauren Hill. After "I Want Her" and a few other tracks -- a remix of "Asking For A Friend" from their latest -- and "On a Day Like Today" from 2013's Love In Flying Colors, the group launched into a cover of Prince's "17 Days" (aka "Let The Rain Come Down") from the trifecta that is The Hits/B-Sides.
In what would've probably been the midway point in another act's show, Phonte simple proclaimed, "That was the just warmup, now we're gonna slow it down." The band then goes into softer tunes from Tales From The Land of Milk and Honey.
FE was created by Phonte (a North Carolina native) and producer Nicolay (from The Netherlands) when they pieced together their entire 2004 debut Connected from their respective homelands via instant messages and email, never once speaking over the phone or in person.
That said, the set continued on with a cover of Aaliyah's "Rock The Boat" and Prince's "If I Was Your Girlfriend," as well as "Happiness" from "Connected," "Better" from "Love In Flying Colors" and "All Or Nothing" from 2008's "Leave It All Behind," among others.
As a Grammy-nominated team focusing on hip-hop, sophisticated R&B and electro, it's no surprise the audience was a bridge between races and ages -- black, white, Millennials, Generation X and Y, tattooed rockers and the like, all grooving along to a group that continues to respect and break the boundaries of bringing good music to the masses.
Related Articles