Music Reviews
Music Reviews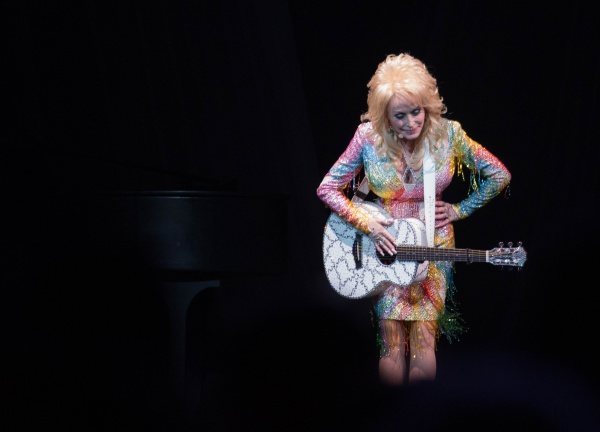 Pure & Simple: Dolly Parton dazzles at Scottrade Center, Saturday, July 30
By Monica Mileur
Dolly Parton's "Pure & Simple" concert on Saturday night started with a three piece ensemble welcoming her to the stage with an a cappella rendition of "Hello Dolly." The singing stopped shortly after she appeared center stage, looking like an angelic rainbow-tasseled and glitter-clad cowgirl. 
The 70 year old country music legend was nothing less than a powerhouse. Her warm, approachable energy was immediately clear during the first song, as she complemented someone in the front row on their choice of handbag. It is very easy to believe that performing is what she was born to do. Her voice was powerful and is almost completely unchanged by time. Between songs she walked us through the story of her life, starting with her meager beginnings growing up in the Smokey Mountains of East Tennessee with eleven siblings all under the roof of a one-room cabin. Her playful story-telling is as captivating as her singing, and the mastery of nine different instruments that she played throughout the evening. 
Although Scottrade is nowhere near the size of a small venue, it had a certain intimacy about it. The set design was very clean and minimalistic. There were no complex light shows, explosions, jumbo screens or projected graphics. There were only five sheer white curtains draped from the ceiling. The only visual spectacle on stage was Dolly herself. She explained that her signature look mimics the "town trollop" that she idolized as a little girl. Her grandfather, a pentecostal preacher, encouraged her to dress more modestly and to wear less makeup. He asked her, "Don't you want to go to heaven?" Dolly replied, "Yeah, but do I have to look like hell to get there?" 
The show was definitely a trip down memory lane for the slightly less than inter-generational crowd, with Parton playing only two songs from the tour's namesake album that will be released on August 19. Although most of the crowd was old enough to recognize the Benny Hill theme she played on a tiny rhinestone-studded saxophone, there was defiantly an observable diversity in the audience. There were grandmas bouncing around like teenage girls, grown men in full Dolly costume, and fans of all ages, ethnicities and backgrounds singing along to every word; who else but Dolly could bring together such a crowd? She has the ability to create space for all to unite through music, without labels or judgement, so it wasn't surprising to see many different demographics represented.
Parton spoke briefly about the presidential election in a lighthearted manner saying that whoever wins will need a great deal of prayer. She joked that she had considered running herself and that she's got the hair for it, "It's huuuuuuge!"
If you missed out and didn't see Dolly at the Scottrade Center, don't worry. With 43 albums to her credit, and 12 headlining tours including this one, (which was her biggest in 25 years with over 60 dates in the US and Canada,) this Queen of Country shows no signs of slowing down. Undoubtedly, she will continue to perform, will inspire fans new and old, and will unapologetically be Dolly for years to come.
Photos by Monica Mileur
Click here to see the complete collection of photos.
Setlist:
"Hello Dolly" 
"Train, Train"
"Pure & Simple"
"Why'd You Come in Here Lookin' Like That?"
"Jolene"
"Precious Memories"
"My Tennessee Mountain Home"
"Coat of Many Colors"
"Smokey Mountain Memories"
"Applejack"
"Rocky Top"/"Yakety Sax"
"Banks of the Ohio"
Medley: "American Pie"/"If I Had a Hammer"/"Blowin' in the Wind"/"Dust in the Wind"/"The Night they Drove Old Dixie Down"
"The Seeker"
"I'll Fly Away"
(Intermission)
"Baby I'm Burning"/"Girl On Fire"
"Outside Your Door"
"The Grass is Blue"
"Those Memories of You"
"Do I Ever Cross Your Mind"
"Little Sparrow"
"Here You Come Again"
"Two Doors Down"
"Islands in the Stream"
"9 to 5"
Encores:
"I'll Always Love You"
"Hello God"/"He's Alive"
Related Articles