Music Reviews
Music Reviews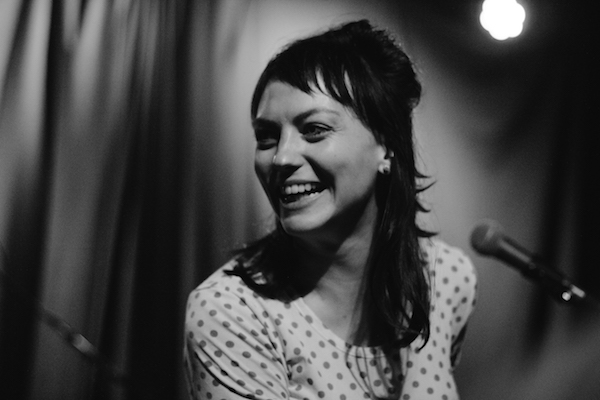 St. Louis' own Angel Olsen made a remarkable visit back to her hometown at Off Broadway, September 30
By
Angel Olsen has been quite the world traveler since she released her breakout album in 2014, Burn Your Fire for No Witness. In the weeks before her visit to St. Louis, she played popular venues such as Webster Hall in New York and Thalia Hall in Chicago as well as the Pop Montreal festival. A month ago she appeared on the Late Show with Stephen Colbert. Secondary market tickets to the sold out show were going for quadruple the face value, a rare occurrence for the venue. 
Performing at Off Broadway in support of her fantastic new album, My Woman, released a few weeks ago on Jagjaguwar, Olsen dazzled the sold out venue with careful, minimalist renditions of songs throughout her catalog and a few vivacious rockers, showing off her talented five member backing band. 
Setting a hushed tone, her first song, "Hi-Five," carried a 1950s girl group vibe, slide guitar interplaying with her crystal clear vocals, while her recent single, "Shut Up Kiss Me," featured Pixies guitar stylings and had the crowd bobbing throughout the garage rocker.
Calming things down again, Olsen followed with "Lights Out," a memorable song from Burn Your Fire. The lonesome lead guitar work and her haunting voice captivated the crowd only to blow their minds in the end with a wall of guitar sound wrapping up the song.
The unique poetry Olsen brings to songwriting has been part of what has drawn audiences to her -- from her days playing venues like the Lemp Neighborhood Arts Center and the Creepy Crawl a decade ago until now at venues worldwide. That gift shown on "Heart-Shaped Face," as she pleaded, "Was it me you were thinking of all the time when you thought of me? Or was it your mother? Or was it your shelter? Or was it another with a heart-shaped face?"
Olsen has achieved the rare feat of enjoying commercial success without having to hop on the endless self-promotion treadmill. Her raw talent created the buzz and she has remained fiercely artistically independent in creating her music. Indeed, whereas Burn Your Fire carried themes of loneliness and yearning, My Woman has embraced themes of self-possession and independence. She even insisted on calling all of the shots when it came to making music videos for songs on the new album. "It was less about me trying to make a statement as a director and more about me trying to be in control of my own image," she recently told the Chicago Tribune. Given such high-profile coverage, many may have wondered why Olsen wasn't playing a larger venue, but the decision to book at Off Broadway surely speaks to her commitment to independence across the board (as well as the sound quality of the venue).
Musically-speaking, Olsen is steeped in all kinds of genres spanning decades of the pop music spectrum. On tunes such as "Those Were the Days," "Windows" and "Unfucktheworld," I could hear Olsen expressing that range of influence: David Bowie, Neil Young, R.E.M., Nirvana and Guided By Voices along with the vocal qualities of Patsy Cline, Feist and Stevie Nicks. Not bad company. Impressive and diverse, Olsen's catalog doubtlessly will continued to grow and change as Olsen's curious nature and her desire to learn about different musical highways and byways carries her into the musical future.
Click below to see more of Abby Gillardi's photos of Angel Olsen's performance.
Related Articles