Music Reviews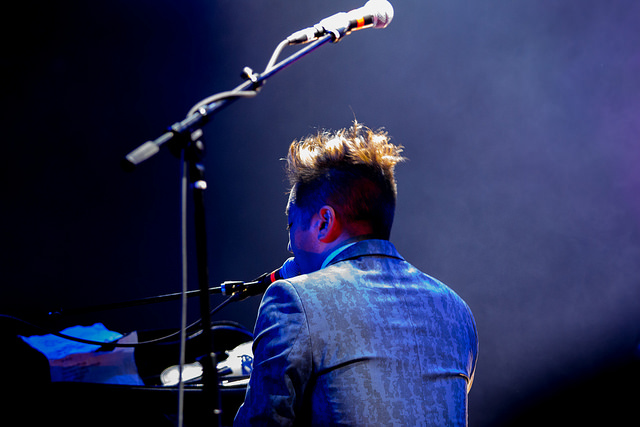 Kishi Bashi and band bring poppy, ethereal music to the Delmar Hall, October 11
Kishi Bashi (née Kaora Ishibashi) came to St. Louis years ago as part of the traveling rabble of noise and sound that is the band Of Montreal. Their shows were affairs of pageantry full of puppetry and lights and tongue-n-cheeky songs like "Just the Tip" which Kishi fronted. It's clear now, that while touring with that band, Kishi learned a trick or two about how to keep and hold a crowd (a raw steak puppet did make an appearance during the song "The Ballad of Mr. Steak" as well as confetti). His later rounds through St. Louis were solo, in which he dazzled small crowds at the Firebird and other venues with his endless loops, his clear mastery of his major instrument, the violin and his vocal range, which makes almost all of his songs un-sing-a-long-able and sometimes, unintelligible, perhaps and most likely on purpose. This Tuesday at the newly minted Delmar Hall, Kishi came with his band and his signature sound exploded as if in overdrive. While solo, we were primarily treated with the layering of effects, with a background cellist, banjoist, guitar and drums, the sounds and rhythms were in constant flux and dynamic flow.
It's fair to say that this latest tour and his album Sonderlust is a flexing of the muscles he's developed as a solo artist. Breaking down his portmanteau, "sonder," as he explained, is the "the realization that each random passerby is living a life as vivid and complex as your own" joined with "well, you know...." There are a lot of esoteric and spiritual themes to his work, "M'Lover" has the sensibility of an Andrew Bird song, "In my dream, you split apart the ocean/ in a single heated motion, and we settled in agreement/With glee, our dangerous liaisons and clandestine creations were fine with me" with a picking violin loop and his vocal-harmonized bowing. A poppy keyboard kept the lyrics from feeling too treacle, but with many songs, Kishi Bashi comes dangerous close to something less new, and something more new-agey, more disco.
But his sincerity in this regard is pretty refreshing. His forays into soul and bhangra and 70s acid rock in "Who'd you kill?" isn't just playful curiosity. He seems to be able to adapt a genre to his style instead of the other way around. The best thing about the show is still his incessant loopy tinkering that produces layers of a soundscape which seems ethereal and tangible all at once. I think it's fair to say that if the audience didn't know much about Kishi Bashi before tonight, they will remember him now, and in a few short words, Kishi Bashi and the band have gone way past "just the tip" and delivered on something with promise and purpose; a sound that beggars comparison and stays with you long after you hear it.
Click below for more photos of Kishi Bashi's performance with opener Twain.
Related Articles