Music Reviews
Music Reviews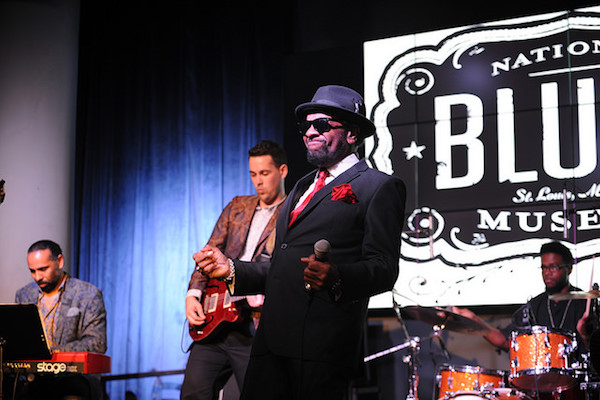 Cruising Memphis On a Friday Night: Take Me to the River Band at the National Blues Museum, October 15
By
Beale Street came calling at the National Blues Museum when the Take Me to the River Band came up from Memphis October 14 and 15 loaded with music, an award winning documentary and an education program. 
With a title taken from the song written by Al Green and Mabon "Teenie" Hodges, the 2014 documentary Take Me to the River was a four-year effort by Director Martin Shore and a number of producers, including drummer/guitarist Cody Dickinson and Lawrence "Boo" Mitchell, owner of the acclaimed Royal Studios in Memphis. In addition to paying homage to Memphis and its unique role as musical melting pot of blues, R&B, soul, jazz, rock and country, the film project also spurred an educational initiative to promote "a deeper understanding of history, culture, and the meaning of cross-generational and inter-racial collaboration." 
Central to the story told in Take Me to the River are Stax and Hi Records. While Stax went bankrupt in 1975, the legacy never died and fundraising efforts to create a performing arts center and museum dedicated to its history led to the June 2000 creation of the Stax Music Academy. Interviews and historical clips provide background for a series of new recording sessions at Boo's Royal Studios in which blues legends like Bobby Rush, Bobby Blue Bland, Charlie Musselwhite, Otis Clay, Booker T Jones, William Bell, Charles "Skip" Pitts, and Mavis Staples (who plays The Sheldon on November 5) paired with hip-hop stars Snoop Dog, Yo Gotti, Lil P-Nut, Al Kapone and Frayser Boy. The studio musicians and younger local players provided the smooth groove Memphis sound for the soundtrack
Boo Mitchell said the experience was "awesome" plain and simple. But, he said, getting pairings scheduled for the recording sessions was difficult and some, like BB King and Snoop Dogg, never worked out. When Snoop found out Stax legend William Bell was part of the group he told Boo, "William Bell is one of my heroes. I would love to work with him." The willingness to work and learn even among such accomplished artists is apparent. Boo cites rapper Frayser Boy: "Before TMTTR he had never worked with a live band and now he won't work without one." Several band members had been Stax Academy students in the film only a couple years ago; now they are on the road performing and teaching others. 
Boo said his greatest joy was "putting the spotlight on the studio musicians" because, as his Dad used to tell him, "these are the guys you need to take care of because they are the ones that make the music." Boo's other joy is in "passing the torch" though the TMTTR educational initiative. It works in collaboration with Berklee School of Music City Music initiative providing teacher curriculum and music lessons for students in underserved communities. 
As Jacqueline Dace, the Director of Internal Affairs for the National Blues Museum, reminded the sold-out room, that's what the TMTTR Band did in St. Louis earlier that day, extending the NBM's own education initiative. Thanking Boo, Willaim Bell, Al Kapone and Frayser Boy for how they worked that day with students from the Confluence Academy - Old North, Ms. Dace set the right tone for the evening's events in which all the lessons to be learned were on display in a program made up of numbers from the album, as well as selections from the Stax catalogue and the participating hip-hop performers. 
Sharisse Norman, a young in-demand backup singer who's sweet voice backed many of the night's songs, got the music going with rapper, Tori, who gave a new twist to Al Green's "Tired of Being Alone."
Ashton Riker, a Stax Academy and Berklee grad, took on tunes by Stax icons Sam and Dave, Al Green, and Otis Redding. A big man with a big voice, Ashton got folks moving with "Hold On I'm Coming" and "Soul Man" and then transitioned smoothly into a rendition of "Love and Happiness." Riker's closing selections channeled Otis with Frayser Boy joining him onstage for renditions of "Sittin' on the Dock of the Bay" and "Try a Little Tenderness."
Hip-hop star Al Kapone, fired up everyone with the relentless energy of his song, "The Music," a tribute to Memphis music and history. It was also a tribute to what was happening on stage with the band that included the Stax Academy Director and alumni and the Hi Rhythm veterans: Boo Mitchell on keyboards, Leroy Hodge on bass and his brother Rev. Charles Hodge on the Hammond B3 organ. 
Finally, the ageless William Bell showed everyone how soul should be sung with his song "I Forgot to be Your Lover" and a rousing version of "Knock on Wood" that drew back Al Kapone and Frayser Boy back onstage. The closing performance of "Take Me to the River" had everyone back on stage as the audience danced and sung along to Green's masterpiece. Truly, the National Blues Museum offered a night of joy, history and mighty fine music that, to borrow from Green, couldn't fail to "cleanse my soul and put my feet on the ground." 
Click below for photos of the night's performance.
Related Articles