Music Reviews
Music Reviews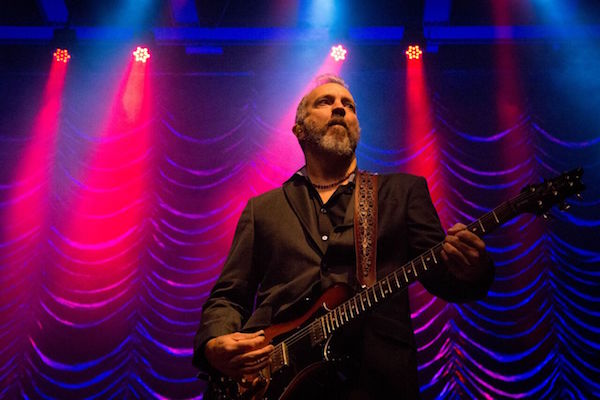 JJ Grey & Mofro bring musical healing to the Pageant on Thanksgiving Eve
By
It's been a rough few weeks in America with the country strongly divided and wracked with tension. If "music heals the soul," as they say, the ever-soulful JJ Grey & Mofro provided the perfect medicine to lift pre-holiday spirits at their packed Thanksgiving Eve show at the Pageant.
Historically a huge night for going out in St. Louis, the venue was already filling nicely as opener Parker Millsap took the stage. The roots rock singer/songwriter proved a well-matched pairing for Grey with his own uniquely soulful voice and blues-infused Americana style. He's even more impressive when you consider he's a mere 23 years old. With assistance from bassist (and childhood friend) Michael Rose, drummer Patrick Ryan and the incredible Daniel Foulks on violin, Millsap delivered a sold set that ranged from country twang to Zeppelin-esque rock and roll, never devoid of emotion.
As JJ Grey and Mofro stepped out, the crowd had swelled to near capacity and all seemed ready for some musical healing. The band got warmed up with an early tune, "Six Ways from Sunday" from its quintessential 2004 album, Lochloosa, featuring a funky mid-song keyboard solo from Eric Brigmond. Grey then dug into his classic soul side for "A Woman," delivering some Otis Redding-inspired crooning as Marcus Parsley and Dennis Marion replied with blaring trumpets.
Upbeat but message-heavy "Every Minute" seemed an appropriate choice as Grey emotionally belted the lyrics, "Evil deeds that we do / Screamin' from the headlines / Can't stop to read or to watch / Cause I ain't got the patience or time / To live a life of despair / To live by another man's word / It's always been in your hands / To live a life you want while you're here."
Fan favorite "Brighter Days" brought out more of Grey's gruff and soulful vocal styling, with the audience providing assistance on the ending na, na, nas. A mid-set performance of "Lochloosa," the classic ode to Grey's North Florida roots, had him break out the harmonica backed by Brigmond's churched-up organ.
The band kept things mostly on the funkier side for the second half of the show with swampy, Southern foot stompers like "Dirtfloorcracker," "Country Ghetto," early Mofro tune "How Junior Got His Head Put Out," and the perfect pre-Thanksgiving celebration of Southern cooking, "Ho Cake." Grey preached the "gospel" of cornbread, fried chicken, sweet potato pie and collard greens before being joined by St. Louis' own Tom "Papa" Ray on harmonica. Todd Smallie, also a native of St. Louis, kept the bass funky.
Set-ender "I Believe (In Everything)" was a strong reminder of why JJ Grey & Mofro are such a joyous band to see live. While he doesn't shy away from the pain and struggles of life, Grey always brings things around to a place of positivity and gratitude that makes him one of the most honest and inspiring performers today. The audience, too, felt this gratitude and eagerly reflected it back on him.
After briefly taking leave of the stage for a break, Grey returned for an encore and to properly introduce the band, including Brigmond, Smallie, Marion and Parsley, as well as drummer Craig Barnett and new guitarist Zach Gilbert, who replaced Andrew Trube after he departed the band earlier this year. They treated the crowd to two more recent tunes -- the title tracks from the band's last two albums, "This River" and "Ol' Glory."
The nearly two-hour set still didn't feel quite long enough, and fans lingered after the band left the stage, perhaps trying to hold on just a few moments longer to the feelings of warmth and unity the band put forth before heading back out into the chilly night air.
Setlist: Six Ways From Sunday, A Woman, Every Minute, Brighter Days, What You're Looking For, Lochloosa, Dirtfloorcracker, Country Ghetto, The Sweetest Thing, How Junior Got His Head Put Out, Blackwater, Orange Blossoms,  Ho Cake (with Tom "Papa" Ray on harmonica), I Believe (In Everything). Encore: This River, Ol' Glory.
Click below to see more photos of Monica Mileur's photos of JJ Grey and Parker Milsap.
Related Articles