Music Reviews
Music Reviews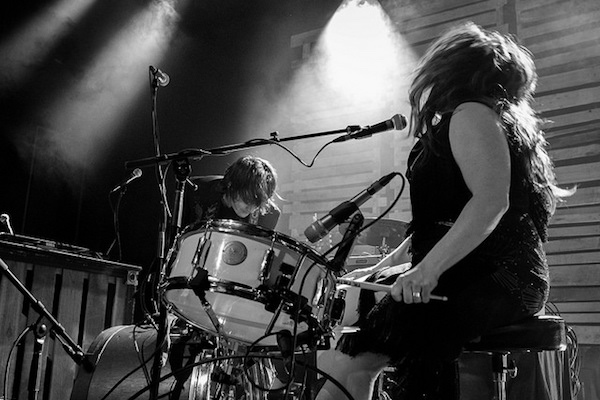 Shovels & Rope rock a sold-out Fat Tuesday crowd at Delmar Hall
By
It may have been Mardi Gras, but a different kind of party unfolded inside Delmar Hall Tuesday night as Shovels & Rope, the South Carolina-based husband and wife duo of Michael Trent and Cary Ann Hearst, treated a packed venue of fans to an impressive set spanning material from their nearly a decade recording together. 
Both multi-instrumentalists and vocalists, Trent and Hearst swap turns on guitar, drums, piano and keyboard, blending their voices in perfect harmony. Their most recent album, 2016's Little Seeds, the third under the official Shovels & Rope moniker, is their most polished and personal to date, a reflection of troubling times as well as their own family highs and lows. 
It's difficult to slap a single genre label on Shovels & Rope's music. At its base, it's "a little bit country, a little bit rock 'n' roll" as well as a little bit folk, Americana and blues. According to the description on the band's own Facebook page, "Whatever it is, it's both pretty and loud and tells a good story." 
Opening for the duo at Delmar Hall was Tulsa-based singer-songwriter John Moreland on acoustic guitar, joined by John Calvin Abney on electric guitar and harmonica for a lovely, if not mellow set of solidly written original tunes. Moreland's soulful, gritty voice punctuated songs like "Oh Julia," which had a Springsteen feel. The lovely "Cherokee" showed his vulnerable side.
Shovels & Rope then took the stage and wasted no time getting raucous with "I Know," the first cut from Little Seeds, with Trent on guitar and Hearst on drums, donning matching black sparkling Western wear. The couple growled into a shared microphone, Hearst's mane of long, red hair quaking as she pounded the drums, blending raw garage rock rhythms with her throaty twang, echoing country legends like Loretta Lynn and Dolly Parton.
Shovels & Rope's set highlighted numerous tracks from Little Seeds, as well as much of their earlier work. An a cappella moment during "The Last Hawk" illustrated just how harmonious they are -- a fact that makes the lack of additional band members a non-issue. 
Following "The Last Hawk," the shy Trent addressed the audience for the first time, mentioning the "crazy year" that was 2016. In addition to a dizzying political climate and releasing their third album, the couple celebrated what is undoubtedly their biggest milestone: the birth of their daughter, Louisiana Jean. Trent recounted all of the worries that went through his mind leading up to her arrival in introducing the quirky ode to parental anxiety, "Johnny Come Outside." 
After a quick gear switch with Hearst taking guitar and Trent taking his turn on drums and harmonica, they treated fans to one of their earliest numbers, foot-stomper "Gasoline." Trent prefaced lovely, folk-driven "Save the World," by stating, "We are eternal optimists in these crazy times. We believe in the ripple effect. One act of kindness can follow another," assuring fans that, "We trust you." The duo followed that ray of hope with a pair of decidedly heavier and darker tunes, "Botched Execution" and fuzzy, "Evil" with Trent trading off on both keyboard and electric guitar with equal precision.
A sublime, acoustic "San Andreas Fault Line Blues" prompted a fan in front of the stage to pierce the silence that followed by loudly shouting, "Thank you for making yourselves emotionally available!" 
This caused a surprised Trent to pause and reply, "Well, that is the best compliment we've received all tour." 
Hearst then jumped in, joking, "I wonder if this is what people really mean back home when they yell, 'Freebird," at our shows," to laughter from the crowd.  
Emotions continued to flow during S&R's stunning cover of Bruce Springsteen's "Johnny 99" with Hearst on the piano, taking it to a slower tempo. The duo recorded the version as a single in 2013. Fans went crazy over the band's seminal tune, "Birmingham," particularly as Hearst paused to punctuate the lyrics that inspired their moniker, "Making something out of nothing with a scratcher and our hope; with two old guitars like a shovel and a rope." 
That would have been a fine note on which to end, but they continued, Trent picking up and gently plucking the mandolin as Hearst relayed an appropriate Fat Tuesday tale about a trip they took to Mardi Gras in New Orleans for a friend's riverside costumed wedding, inspiring the dulcet and melodic "St. Anne's Parade." 
They followed with rock ode "Hail, Hail," as Trent appropriately shredded the guitar; and with that, they ended the show with a handshake and a bow. 
The duo of course returned after a brief break to oblige an encore, Hearst joking, "We're just going to introduce the band real quick," before slaying with "Buffalo Nickel" another gritty cut from Little Seeds, as animated skeletons danced above them on a backdrop of strung together wooden pallets. They ended where they began, so to speak, playing the first song they ever wrote together, the sweet and simple "Boxcar" with Trent on mandolin and harmonica and Hearst on acoustic guitar. 
The way these two fill a room with such rich, textured sound is more impressive than many bands with more than twice the number of players. Their chemistry is of a nature that can only be exhibited by two people who share in every aspect of their lives, and that emotional connection is on full display in each note they play and word they sing. One can't help but root for them as both a band and a couple. Yet, as much as any success they achieve is well-deserved, part of me selfishly wishes they wouldn't get any more popular so they can continue to perform in smaller, more intimate venues like Delmar Hall, where fans can most fully experience their essence. 
Click the image below to see all of Monica Mileur's photographs from the evening.
Related Articles