Music Reviews
Music Reviews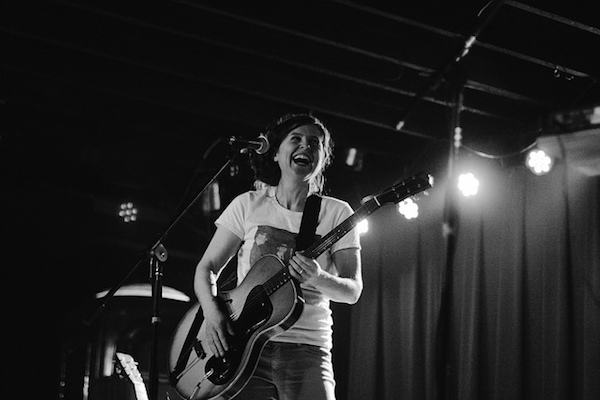 Mirah lights up the Duck Room
By
Mirah took the stage at the Blueberry Hill Duck Room with no new album to sell (her latest, Changing Light came out three years back). She shares with the audience that tonight's show kicks off a week-long Missouri residency that will also feature performances at an organic farm and the True/False Film Fest. In honor of the occasion, Mirah made and wore a T-shirt featuring a photo of her father's college band which was based out of Kirksville, Missouri.
Maia Macdonald (aka Kid in the Attic), following her opening set, joined Mirah as the rhythm section, alternating between bass and keys, in addition to providing backing vocals. The duo had an easy rapport and beautifully melded musical styles which truly blossomed in their performance of "Hallelujah," a track original featured on the Thao + Mirah duets album (featuring Thao Nguyen of Thao & the Get Down Stay Down). During "Recommendation," the penultimate song of the set, Mirah and Macdonald shared the keyboard and mic for the most pop-leaninng and raucous performance of the night.
Mirah let her admiration for fellow artists show with praise for Macdonald's opening set and a follow-up round of applause for musicians Cassie Morgan and Melinda Cooper who kicked-off the evening. She brightly exclaimed to the adoring audience, "We're having our own kind of Women's March up on the stage tonight. I know you're with us!" She even made a pitch for the audience to return to the Duck Room the following night to see "one of [her] best friends," Tift Merritt.
The set heavily featured songs from Mirah's 2014 album Changing Light, beginning with "24th St" and continuing through "After the Gold Rush," "Turned the Heat Off," "LC," and "Radiomind." Mirah shared the story of writing "LC" with her sister in homage to Leonard Cohen. She also shared a new song "Sundial," the title track to an EP that is due out in June. An earthy, folky track, "Sundial" is written from the perspective of plants observing human behavior. Mirah chose to write the song from a plant's point-of-view because, "We wouldn't actually exist without them."
Toward the end of the set, Mirah performed "No Guns No Guns," a song she wrote for the "30 Days, 30 Songs" project. The audience was encouraged to vent their frustrations about the current political climate with Mirah proclaiming, "You guys just get to scream for eight bars!" As the audience gathered their coats, their thoughts, and their friends at the end of the concert, the energy of the room felt markedly lighter.
Click the image below to see all of Abby Gillardi's photos from the eventing's performances at the Duck Room.
Related Articles