Music Reviews
Music Reviews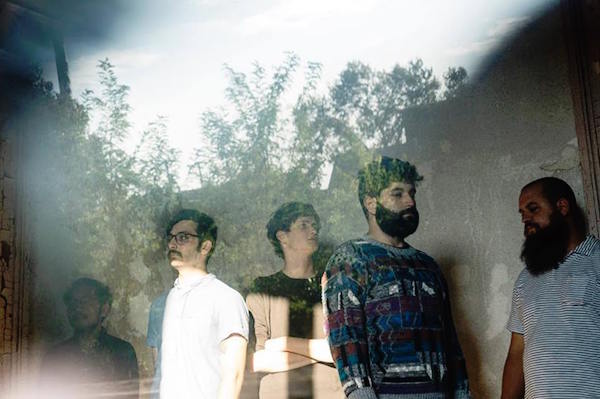 Foxing's powerful return to St. Louis with Adjy, Tancred, and O'Brother, April 8
By
It's hard not to fall a little in love with live music. Live music implicates and makes present a necessary sense of touch. All of the elements are there, seductive at a thoroughly formal level. Hands cradle instruments; fingers seek and press upon carefully considered triggers of sound. There are lips and ears -- embodied inputs and outputs to which we otherwise allow only the most intimate physical access. Live voice is the proximity of mouth to mic, alternately smiling, singing, or spitting into its mesh. The volume is overwhelming. It follows you to the bathroom or bar, and sound hangs on in your ears afterward, lingering like a scent, fading only over time.
On Friday, Cherokee St. arts incubator the Luminary hosted a sold-out performance by the atmospheric, enthralling, and deeply intelligent band Foxing, who returned to their home of St. Louis with tourmates O'Brother, Tancred, and Adjy. And in short, I loved it.
Not exactly analogous to a one-night stand, the love in live music comes in often unavoidable phases that come together as the whole story only after the night's over. Anticipation: the line that winds around the building before the show, as chillier-than-expected April wind creeps into your collar. Frustration: having someone too tall in front of you. Anxiety: worrying that you are too tall for whoever is behind you. Nagging: the unsatisfiable need for more vocals in the monitor, for which bands have yet to find a cool way to ask. The needs of the other: the merch that they entreat you to buy. Obligation: the merch that you do buy, enabling another day on the road. Dissatisfaction: the just okay third opener, whom you could have done without. Platitudes: Foxing singer Conor Murphy's thankful parting words to the crowd, that St. Louis is "the greatest city in the world." And finally, at least in my case, the compulsion to overshare the experience, to tell everyone, to want the world to know.
The show opened with the communicable youthfulness of North Carolina six-piece Adjy. Like a too-good student who emails the professor for advance access to the syllabus, Adjy were earnest, admirable, and awkward. The slow build of many songs eventually became anthemic and full, with soaring lead vocals bolstered by the interjection of supporting shouts. Then, during one song's extended middle lull, several of the members pulled paperback books from among their instruments and began to read, at once performing and affirming their romantic sensibilities. It was cute, although I imagine that they will one day look back on this gesture with a bit of blushing.
Adjy was followed by Tancred, whose recently released album Out of the Garden finds songwriter Jess Abbott expanding the intimate, almost secretive scope of her earlier work. With an eager and uncompromising fearlessness, Abbott's songwriting examines the variable effects of attraction, uncertainty, and strength. Her new songs simply ask to be turned up a little louder. Traversing sounds and textures of the 1990s, Out of the Garden offers welcome echoes of Veruca Salt, Nirvana, Weezer, and That Dog, among countless other points of departure. Abbott opened with a timely dedication to Kesha, "who needs it right now," before launching into the song "Pens," in which aggressively catchy guitars ratify the ominous confidence of the chorus ("I'm insanely healthy in my head / It's crazy how stable I am"). Throughout the focused set, Abbott delivered her lyrics with a subtle smile and almost victorious confidence -- the joy, it seemed, of someone who can transmute darkness into something big, beautiful, and fun.
Tancred was followed by the Atlanta five-piece O'Brother, whose heavy, moody music is what you might listen to after your high school football team just got crushed in the district semifinals. Throughout their set, it was hard not to feel an impatience for Foxing, to whom the night truly belonged. Their indefatigable touring schedule had brought them to this triumphant homecoming in St. Louis, surrounded by a capacity crowd that would, by the band's own onstage admission, doubtlessly impress the parents and girlfriends who were also in attendance. Before and between songs, Murphy and the other four members of Foxing frequently thanked their hometown for its support, and the crowd responded with the kind of protective, resolute enthusiasm that St. Louisans confer upon their perceived cultural patrimony, from pizza to parishes to professional sports.
Foxing opened with "The Medic" and "The Magdalene," two tracks that easily accommodate a roaring voice of an audience who they knew would will sing the words right back to them. Later moments were intense in other ways, as ethereal textures and complex sonic densities gave the audience more to inhabit, but less to hold on to. Spanning songs from 2014's breakthrough album The Albatross and their more recent Dealer, Foxing performed with cohesion and conviction that contrasts powerfully with their lyrics, which often convey a deeply felt ambivalence, indecision, and longing. They finished the night with a stretched-out version of "Rory," which builds on the early stabs of a single piano key to the powerful, unresolved appeal: "Why don't you love me back?"
If live music is at all like love, then we did.
Related Articles