Music Reviews
Music Reviews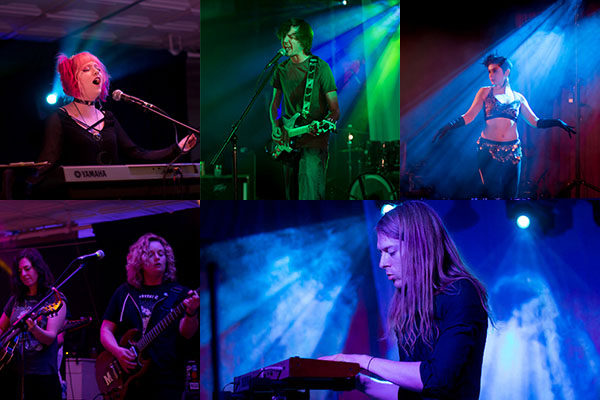 Rise & Scream festival debut is a success at 2720 Cherokee 
By
Rise & Scream, a brand new politically-inspired art and musical festival, made its debut last Saturday night at 2720 Cherokee. A benefit for the International Institute — a fantastic local organization which helps immigrants adjust to the country and the St. Louis area - the event included music on two stages as well as art installations.  
The show was organized by Vincent Saletto, who described the genesis of the festival as a direct response to the nomination and subsequent election of Donald Trump among whose campaign promises were plans to build a border wall between the US and Mexico and to ban Muslims from entering the US. Feeling compelled to take action locally in opposition to Trump's policy plans, Saletto decided to organize an event. Signs of the Trump Resistance included Vincent's "RESISTL" T-shirt and the decidedly anti-Trump artworks on display. 
A not-that-cold Saturday evening had Cherokee Street buzzing with St. Louis' coolest young crowd. Signs outside the show invited people to stop in to see 19 bands for the $10, with all of the proceeds going to the International Institute. Inside, 2720 Cherokee was put to excellent use with music stages upstairs and downstairs. The upper level had a laid-back vibe as attendees chatted, looked at art displays, and checked out the view over Cherokee. Video games were also available at the "barcade" area aka RKDE. Downstairs at the main stage was a more typical concert setup. Both stages had great views for everyone. 
Running from 3pm until 1am, the line-up was expansive. Vincent described the booking as basically a collection of his favorite local bands, not to mention his own band called Giant Monsters on the Horizon. 
While I was there, I caught a number of highlights: Final Veil created a unique combination by pairing a drum-and-electric guitar arrangement with belly dancers. Five-piece rock band Town Cars got the crowd moving upstairs with catchy rock songs. Precog was one of the few out-of-town bands, visiting from Nashville. After taking the stage with a rather dark and imposing presence, the band produced surprisingly melodic, vocally driven synth-rock. Giant Monsters on the Horizon, described by Vincent's wife as "spooky spooky stompy stompy," filled the lower level with industrial, yet intricate, electronica that provided an appropriate soundtrack for the Trumpocalypse.  
The last set of the evening I was able to catch was electro-pop, darkwave outfit CaveofswordS. They created a wonderfully layered sound with smooth, dreamy vocals floating above keyboard and bass. I wish I could have stayed for Hylidae and Seashine who followed into the later hours. 
Look for Rise & Scream 2018. In the meantime, the International Institute will doubtlessly put the funds raised at the event to noble use.
Click below to see Karl's photos of a number of acts in the event, including CaveofswordS, Town Cars, PreCog, Suzie Cue, Giant Monsters on the Horizon and others.
Related Articles