Music Reviews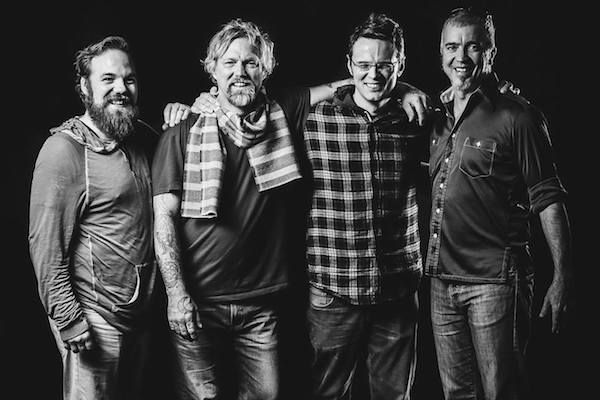 Southern Soul Assembly let fans get personal with four great songwriters at The Pageant
As JJ Grey told the story on Thursday night at The Pageant, the seeds of the Southern Soul Assembly concept were sowed as he was en route to Wal-Mart one day near his home in North Florida. He recalled, "My manager called me up and said, you've been talking about doing this songwriters tour for a while. What if we got Anders Osborne to do it?' I said, 'Yeah!' And then he said, 'What if we got Luther Dickinson?' and I said, 'Hell yeah!' And then he said 'What if I got Marc Broussard?' and I was like, 'If you get all those guys, it's on!'"
So it was as the collective billed as "Southern Soul Assembly: Southern Songwriters in the Round" took the stage, sitting on stools in a semi-circle and taking turns baring their musical souls for two full hours. These four seasoned musicians are so ideally suited to each other; it's a wonder they haven't gathered in this formation until recent years -- though their bands have shared tour bills and festival dates in the past. Osborne and Dickinson's band, North Mississippi Allstars, even collaborated on an album and tour in 2015 under the moniker NMO. 
The format of Southern Soul Assembly, with each artist moving down the line and taking a turn in the spotlight to perform one of their songs accompanied by the others, worked well to provide a diverse sampling of tunes and share their individual strengths. Broussard took the first pass, lending his soulful voice to a cover of Frankie Miller's "Baton Rouge," as Dickinson and Grey backed him up on the bass and harmonica respectively.
Grey then took his first turn and dove in headfirst with a stripped down version of "Lochloosa," his quintessential ode to his Florida roots, with Dickinson plucking on mandolin. Without the backing of his full band, Mofro, Grey's voice absolutely soared as the song built to its crescendo, his eyes closed and his face fraught with emotion, before ending to fervent applause. 
Osborne treated fans to a soft, introspective new song called "Tomorrow is Another Day" from his forthcoming album. He gently plucked his acoustic guitar, leaving the bulk of expression to his voice and poetic lyrics, "Why am I human / I feel more like a tree / Here in my own skin / I can't be who I want to be."
Finally, it was Dickinson's turn to highlight his hill country blues with the somber and heavy song he wrote about watching the horror of Hurricane Katrina titled "Highwater (Soldier)," as Grey helped out on harmonica and Broussard kept a beat on maracas and a homemade cardboard box "drum." Though he may be the weakest vocalist of the group, he makes up for it with his instrumental proficiency, deftly rotating between electric guitar, bass, mandolin and even a homemade two-string coffee can guitar.
The foursome continued in this format for several more rounds, all of them digging a bit deeper on each turn. Osborne earned the evening's first standing ovation, channeling early Van Morrison with the soulful "Coming Down." As he rocked back and forth, clutching his guitar and pouring his heart out, Dickinson provided support on the mandolin. When the audience rose, Osborne was taken aback and got choked up, pausing in gratitude to wipe the tears from his eyes. 
Dickinson brought out a special local guest, the esteemed Reverend Osagyefo Uhuru Sekou, to lend his heavenly voice to gospel classic "Ninety-Nine and a Half (Won't Do)" as Grey kept a soft beat on the tambourine. Dickinson slipped in a quick Chuck Berry riff toward the end in a nod to the St. Louis legend's recent passing. 
Fans of Grey were moved by his performance of another favorite, "Brighter Days," singing along at the end. Osborne provided another transcendent moment with a furious acoustic guitar solo during "Peace." Broussard, Grey and Osborne joined forces with Dickinson to close out the main set with gospel-influenced North Mississippi Allstars tune "Up Over Yonder."
An encore mini-set allowed for one more round. This time, Osborne took the first turn, pausing to crank up his amp for the down and dirty blues groove of  "Move Back to Mississippi." Dickinson backed him up on slide guitar, briefly striding to the front of the stage to take a Chuck Berry stance in one more moment of tribute. 
Dickinson then continued to show his slide mastery on a song he penned for friends and others in the military, "Mojo Mojo," working some dreamy solos with an echo pedal effect as Osborne supported on rhythm guitar.
Broussard got vulnerable with the lovely ode to an ex, "Let me Leave While I Can," proving again his astounding vocal and songwriting talents. Grey then officially capped off the night with another stirring and spiritual number, "The Sun is Shining Down," standing to deliver the lyrics like a Sunday Sermon as he sang, "Glory, glory, Hallelujah; I'm alive and I'm feeling fine." 
By stripping things down to their voices and basic instrumentation, these four tremendous artists provided what felt like a rare and special opportunity to experience some of these great songs in their purest forms with the highest level of emotional connection. Opening themselves up in this way reminded us, if only for a couple of hours, of the simple joy and beauty that can still exist in today's crazy and complicated world. 
Related Articles