Music Reviews
Music Reviews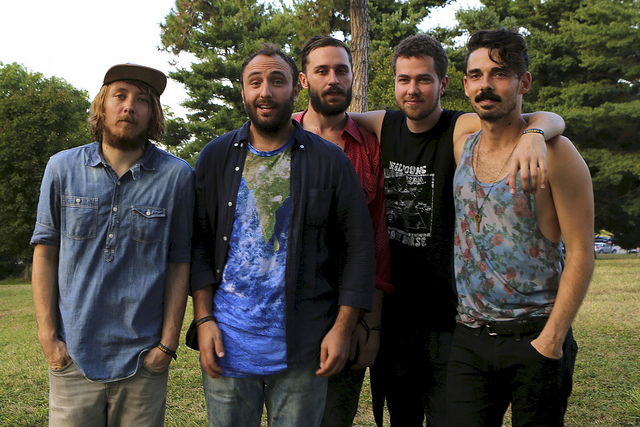 Local Natives deliver a set of sturdy favorites at The Blue Note
By
Eight years and three LPs into their career, Los Angeles' Local Natives have reached a solid and stable rung, filling mid-size clubs and playing late-afternoon festival sets to enthusiastic fans. At the Blue Note in Columbia, MO last Tuesday night, they were clearly in stride as a polished, engaging band that's benefitted from years of hard work.
Local Natives' setlist was relatively evenly divided among their three studio albums, with a slight emphasis on tracks from their latest, 2016's Sunlit Youth. And while that record was somewhat subdued compared to Gorilla Manor and Hummingbird -- pulsing live drums gave way to drum machines, and thundering riffs to ebbing ruminations -- their performance tended to cast the newer songs in the light of the old. To my ears, this was a welcomed sonic coloration. The driving rhythms of songs like "Dark Days" and "Villainy," kept in the background on Sunlit Youth, surged to the surface on-stage, propelling and framing lead singer Taylor Rice's high, wispy phrasings.
Highlights of the set included songs both old and new. Crowd favorites "Heavy Feet," "Breakers," and "Airplanes," performed in close proximity mid-set, were the energetic core of the set. "Dark Days" and "Colombia" were presented in stripped-down arrangements that carefully and effectively guiding the energy of the show, pulling the crowd along. The latter, a near eponym to the show's location, started as a duo, but ended with all members on-stage, bringing swift momentum to the closing sequence of songs.
Little Scream opened the show, performing a strong set of songs primarily drawn from 2016's Cult Following. While that record featured extensive personnel and production -- a star-studded list of 20 musicians contributed, with Arcade Fire's Richard Reed Perry masterfully producing -- Little Scream consisted on this night of just four players. Set up front-stage with Local Native's gear situated just behind, Laurel Sprengelmeyer drove the performance with her silky, soulful, and funky vocals, often overcoming a muddy sound mix by sheer force of will. The alternative and more traditionally rock-based performances of the songs from Cult Following had their emotional core intact. The Prince-like production of that record melted off to reveal tunes that were nearly as potent in this more ragged and organic package.
Related Articles