Music Reviews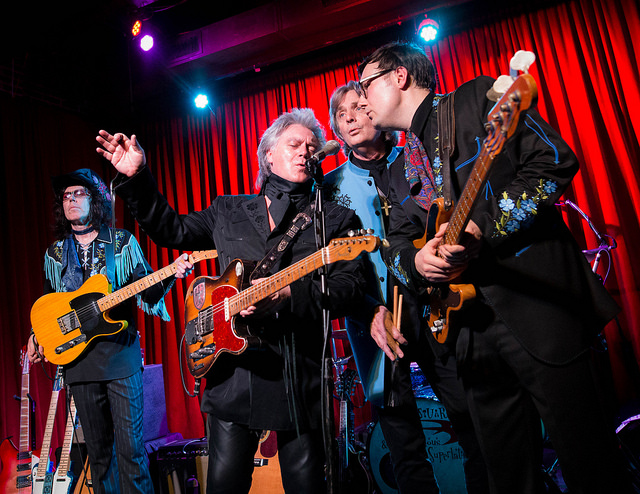 'Way Out West' with Marty Stuart at Off Broadway
If you walked into Off Broadway on Thursday night unfamiliar with Marty Stuart it might have felt like you were in the wrong place. I attend a lot of shows at Off Broadway, it's one my favorite venues in town, and if I hadn't seen Stuart there in August I would have been shocked to show up ten minutes after the doors opened and already find myself behind two rows of people closely guarding their spots. Show-goers recognized the rare opportunity to see a legend by no stretch of the definition playing one of the most intimate venues in the area. You would have a hard time discounting the relevance of a musician once noticing his mandolin has the names of Johnny Cash, Chuck Berry, Hank Jr., Jerry Lee Lewis and others carved into it. 
Marty and his band didn't disappoint with their traditional Western-ware from head to boot. The colors on their heavily tasseled and embroidered jackets popped against the background of those red velvet curtains. Marty was dressed all in black with black embroidered flowers and a black scarf tied around his neck and black leather flared pants that laced up the sides, reminding me of his former boss and mentor, the original man in black, Johnny Cash. I love seeing a band wearing costume-ish loud outfits during performances. Having a strong visual presence really adds to the auditory experience for me.
Marty Stuart is deeply rooted in country music and has been touring since he was 12 years old and is the most talented mandolin player I have ever had the honor to witness. He has played in the bands of Lester Flatt and Johnny Cash before going solo in the 1980s with a string of popular radio hits. His objective is much different now than it was during his popularity with songs like, "Tempted" and "Hillbilly Rock." The band is on a mission to preserve the soul and history of country music with Stuart being the historian. He has a story for every song and delivers them with Southern charm and at the pace of an auctioneer. One of the things I like most about Marty Stuart and His Fabulous Superlatives is that every one of the members of the band can hold their own as the lead. They all take their turn at lead vocals and the rest, including Marty, take a backseat for that moment. They all showcase their variety of talents on several different instruments each. And the setlist is so well rounded with originals, old and new and a wide variety of standards and covers by folk, country and rock 'n' roll artists. 
His Fabulous Superlatives is made up of "Cousin" Kenny Vaughan on lead guitar who has been one of Nashville's top session musicians since the '80s. Drummer and backup vocalist, Harry Stinson, has worked with everyone from George Jones to Peter Frampton and Elton John and is also an accomplished producer and writer. The newest member of the band has been with them since 2015, Chris Scruggs. He was the co-lead singer for BR549 before joining the band, but is also the grandson of country great, Earl Scruggs. 
My favorite song of the evening was their cover of Marty Robbin's "El Paso" which Stuart boasts has 469 words and an incredibly challenging guitar part, which seems effortless for Cousin Kenny. They were asked to learn the song for a performance at the country music hall of fame and now has become a staple of their set list. For the song Stuart, Stinson and Scruggs share vocals crowded around the same mic with Stuart on mandolin and Scruggs on standup bass. They also covered Woody Gutherie's "The Ballad of Pretty Boy Floyd" with Stinson taking lead vocals and carrying a snare drum strapped around at the front of the stage, The crowd went erupted when Stinson held a note for what seemed like two minutes while walking down the stage and motioning out over the crowd. At one point Stuart is on stage alone and tells a story of the time he met the creator of the original "Orange Blossom Special", Ervin T. Rouse, and asked him what song he would want to be most remembered for and he replied, "I guess that song I wrote about that train, the special". This song is known shortly as "The Special," but also "The Fiddle Player's National Anthem," it's been recorded most notably by Johnny Cash, but also Charlie Daniels Band, Merle Haggard and even Electric Light Orchestra. Stuart lead into the song by saying, "It's been played a million times, and here's a million and one"
The band has a new album that was released on March 10, titled Way Out West, which is an ode to the American West. The music fit in seamlessly with Stuart's covers of country standards and his hits from the 80s. He described the album as a majestic, psychedelic, cinematic trip through the desert where afterwards you'll feel like you've been on Willie Nelson's tour bus for 21 days. In Way Out West he recounts the experience of taking three different colored pills with the final playful advise of, "If you go out West. It'll give you a big thrill. Don't matter how you get there. Just don't take pills." The album was was produced by Mike Campbell, Tom Petty's guitarist. Stuart explained how it might seem strange that he recorded this country album in Los Angeles instead of Nashville with the help a man known for rock 'n' roll. He said that it made perfect sense to him because Tom Petty & The Heartbreakers is the greatest country music band in the world and went right into "Running Down a Dream" to prove it. 
When I'm watching Marty Stuart and his band I feel like I've been taken back in time to when country music was something different. When I tell people I love country music this is what I'm talking about and I hate that I have to specify, but the term is actually pretty broad these days, especially if you see Tom Petty as country like Marty does. The subject has never changed, but the way it's delivered is ever-evolving and I'm so happy these guys are still doing it like the originals. 
 Click below to see all of Monica's photos from the evening.
Related Articles