Music Reviews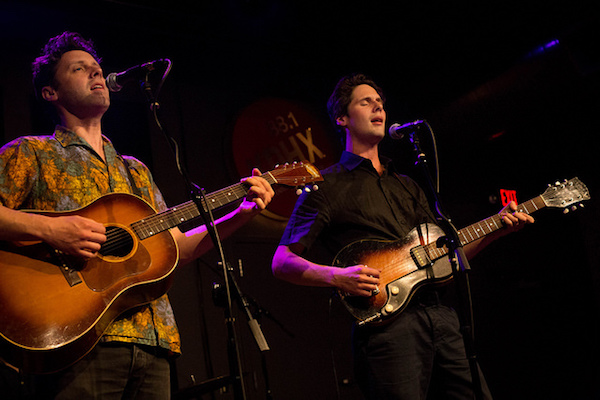 The Cactus Blossoms channel sweetness and light
Last Thursday night The Cactus Blossoms, a sibling band made up of Jack Torrey and Page Burkum, graced The Stage at KDHX studios in Grand Center. Hailing from just up the Mississippi in Minneapolis, the crooning pair played for a packed house at the intimate show with many people standing in the back of the space. They sang sad songs in a classic country style that emphasizes their dreamy blue vocals. Perhaps it's the bond of brotherhood or maybe it's their extraordinary tonality, but their voices are seamless and undivided, as if one voice split in two for the benefit of harmony. 
The musical duo I was most reminded of is The Everly Brothers and this similarity, less than subtle, seems very intentional. Their album, You're Dreaming brings to mind The Everly Brothers' biggest hit, "All I Have To Do is Dream". And my favorite track, "Clown Collector", made me immediately recall "Cathy's Clown," although I do prefer the clever wordplay in the modern version: "Take a look at me man, I ought to know. / I can juggle all night 'til the rooster crows. / The spirit's willing, but the flesh is weak. / When she hollers all aboard for a losing streak." That is exactly what sets The Cactus Blossoms apart from their predecessors: their tongue-in-cheek phrasing. It's that iconic retro style sound with a intellectual twist. 
Their aforementioned album, You're Dreaming, was released in March of last year. It's comprised of songs recalling sadness, love and tales of the river with a Southern backdrop. As country songs often are, it's set to the speed of a broken heart and the occasional a train engine. The album was produced by upbeat rock-n-roll singer-songwriter JD McPherson, known for bringing his 1950s style music to a modern generation. McPherson's sound is a mix of Pokey LaFarge and The Black Keys with a unforgiving danceability. It's his influence that's apparent on tracks like "No More Crying the Blues," originally recorded 1959 by cousin duo Alton & Jimmy. 
A highlight of the show was definitely the song, "Mississippi" -- their love of the river is one of the reasons these guys fit in so well in St. Louis. The band was recently featured on an episode of the Showtime reboot of Twin Peaks, where they played this haunting song in a bar filled with slow-dancing couples. The deep beautiful chords and gut-wrenching loneliness of the lyrics that speak of a bar on River Street fit in perfectly with tone of the show. 
When introducing the song, "Queen of Them All," Jack said in a dry but playful way, "And here's our only love song where nothing bad happens to anybody," which is quite an understatement. Not only does nothing bad happen, it's one of the sweetest songs I know. It's possible that it might just be me, a single woman in her 30s, but hearing this man admitting his love in a truly open vulnerable way and specifically the line "You're the end of my scheme" is a bit of a dream in itself. Be still my heart. 
Click the image below to see all of Monica Mileur's photos from the performance.
Related Articles