Music Reviews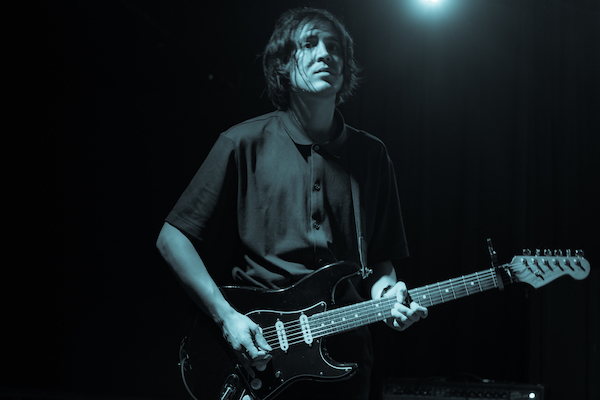 Growing up with The Pains of Being Pure at Heart
The Pains of Being Pure at Heart has always struck me as a singularly adolescent act. Their earliest album centered around the universal experiences of growing up -- teenaged love, teenaged loss, and teenaged trysts in the school library, to name a few -- narrated with such intimate lyricism that it's almost a little uncomfortable to listen to, as if you yourself are reliving that overblown, messy breakup you went through when you were seventeen. For The Pains of Being Pure at Heart's frontman Kip Berman, however, those coming-of-age stories are growing more distant with each day. Considering this, one can imagine the questions I had as I drove to the Firebird on a balmy Saturday evening. Would the Pains still be genuine, I wondered, even after they've left their years of adolescence far behind? Or would they be reduced to a hollow act -- a band that's outgrown its own image yet awkwardly clings to the past?
As it turns out, The Pains of Being Pure at Heart have handled growing up more gracefully than I could've imagined. For one, I suspect that Berman is some kind of vampire, for he looks more or less the same as he did ten years ago; in a baggy jean jacket and black jeans, he seemed as though he had just stepped out of a college coffee shop. Waiting offstage before the Pains' set, he was energetic as ever, chatting at length with fans and even doing a pretty convincing lip synch of The Promise Ring. To maintain such a high level of enthusiasm for performing after years of slogging through the indie-pop world is no small feat, yet, to Berman, it seemed to come naturally. 
The Pains of Being Pure at Heart were preluded by two younger but equally talented acts. First was L.A.-based Ablebody, led by Pains' own guitarist, Christoph Hocheim. The laid-back pop sensibilities made for a chilled-out set filled with groovy guitar rhythms and synth hooks that defined sophisti-pop trends of the '80s. ("They got that cool L.A. thing going on," Berman overheard one audience member saying, as he would tell us later. I definitely agree -- Ablebody is the kind of band you'd play while cruising down Mulholland Drive in your red convertible -- top down, of course.) 
Before the next act, Beverly, began their set, the tropical shirt-clad guy standing next to me leaned over and excitedly whispered "This is why I'm here!." The instant their first song started, I could tell why: their sound -- a thick, noisy haze of guitar laced with the dreamy vocals of frontwoman Drew Citron -- arrested, even demanded, attention. Unlike Ablebody's mellow spin on shoegaze, Beverley provided us with an equally thoughtful but altogether harsher and more assertive sound. Citron's delivery, which reminded me of an amalgam of the Cocteau Twins and The Sonics, evoked the sounds of 90's alternative while still managing to sound fresh -- a fact that puts Beverly up there with 2017's most badass female-led bands like Hinds and Diet Cig.  
The openers were a blast to listen to, but there was no doubt that everyone in the audience was waiting eagerly for The Pains of Being Pure at Heart -- some people, I learned, had even made the four-ish hour drive from Kansas City specifically for this show. Instead of opening the highly anticipated set with one of The Pains' hits, however, Berman opted for a surprisingly tender solo rendition of "Art Smock" off of 2014's Days of Abandon, dedicated to his wife. Standing alone in the blue stage lights, surrounded by unmanned instruments, Berman seemed completely vulnerable but not at all uncomfortable. This was The Pains at its most serious, but more importantly, at its most grown-up; the teenaged confusion had been shed for adult clarity. 
Of course, the Pains still managed to maintain their old sense of youth. (Berman himself even joked about the band's 'angsty teen' image: a "dour dude" is what he called his stage persona.) The big hits like "Heart In Your Heartbreak" and "Young Adult Friction", as well as the infectious singles "When I Dance With You" and "Anymore" from the upcoming album The Echo of Pleasure, were performed with the gusto of a band just making its debut -- Berman nearly doubled over his guitar, the guitarist and bassist strumming furiously, the room filled with The Pains' iconic pop hooks and guitar haze. 
There was a bittersweet side to the evening, however. Just as the show began, it ended with Berman alone on stage. He was hundreds of miles from home, he confessed, and missed his daughter dearly. Dedicating a moving cover of Suede's "The Living Dead" to her, he sang solemnly and sadly. It was then I realized that the ideology behind The Pains of Being Pure at Heart couldn't be restricted to adolescence nor adulthood: the love and the pain in those songs are permanent and ever-changing.  
Click the image below to see Doug Tull's photos of the evening's performances.
Related Articles