Music Reviews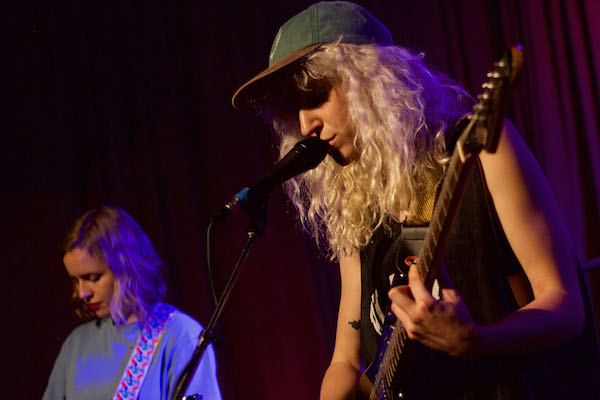 Chastity Belt breaks free at Off Broadway
Following opener Darren Hanlon, an Australian songwriter who proclaimed the members of Chastity Belt his "sisters from other misters," lead singer Julia Shapiro, guitarist Lydia Lund, bassist Annie Truscott, and drummer Gretchen Grimm took the stage to share their unique brand of noise pop with the crowd at Off Broadway last Thursday. Hanlon was a loquacious opening act, regaling the audience with the time his Megabug took gunshots outside of Chattanooga and lamenting the fact that Australia does not boast as many potato chip flavors as America. The members of Chastity Belt were almost stoic by comparison, saving their early between-song banter for requests to the sound engineer.
The band's intro music was the theme to Sex & the City, an ironic smirk that was followed by the song "Happiness." from Chastity Belt's latest release I Used to Spend So Much Time Alone. "Happiness" hits heavily upon the album's sense of day-to-day doldrums, featuring lyrics like "I wanna wake up feeling great, every single day; is that too much to ask?"
The first songs of the set were infused with a laid-back West Coast flavor. Lead singer Julia Shapiro sported a Portland Trailblazers tank jersey with a baseball cap perched atop her mass of blonde curls. The visual seemed to set the tone for a concert that was stylish in an "Oh-this-old-thing?" fashion. 
Toward the end of the set, the band switched things up with Shapiro alternately swapping duties with drummer Gretchen Grimm and guitarist Lydia Lund. The song "5am" was gleefully dedicated to the opener with the band exclaiming, "This one's for Darren!" and featured an extended guitar solo from Shapiro -- making liberal use of the fuzz pedal to the delight of the crowd. 
Ovations were tumultuous and, following a quick intermission, the members of Chastity Belt rejoined the stage to send off the crowd with "Time to Go Home" and "Seattle Party." The latter, a track from their debut album No Regrets, had the audience enthusiastically dancing along to the lyrics, "I think they're having fun!"
Click below to see all of Colin Suchland's photos of the night's performances.
Related Articles