Music Reviews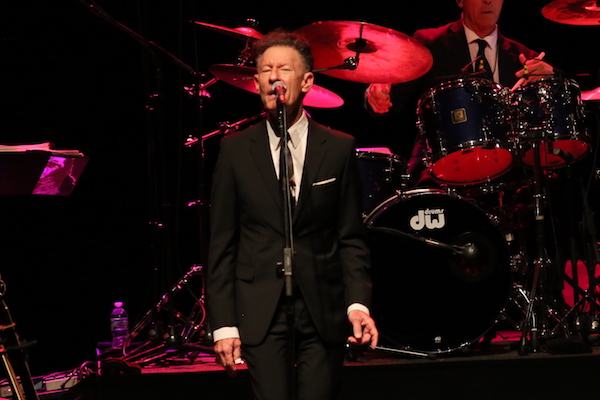 What happens between songs at a Lyle Lovett concert is nearly as interesting as the music itself
Lovett and his Large Band played the Peabody Opera House on July 28 for a marathon 29-song set. This Large Band is a tightly orchestrated group of a dozen skilled musicians. The senior member of the Large Band's brass section -- the Muscle Shoals Horns -- is 76-year-old Harvey Thompson. At one break, Lovett questioned his veteran tenor sax player about his former collaborations. Thompson matter-of-factly reeled off the singers he's backed over the years: "Bob Dylan, Elton John, John Denver, Little Richard, B.B. King, Etta James, Elvis Presley, Cannonball Adderley and Jimi Hendrix." Among others.
Then Lovett asked Thompson's fellow sax player Brad Leali, a professor at the University of North Texas, what he thought of the future of the country based on his teaching experiences. Leali thankfully had a positive outlook, saying "I think we're in fine shape."
With that, Lovett was ready to launch into a bluegrass set of songs, this time using a stripped-down Large Band (small band?) consisting of fiddler Luke Bulla, guitarist Keith Sewell and bassist Viktor Krauss. Lovett quizzed the trio between songs, just as he had questioned the horn section earlier. He asked Sewell when he took up music (answer: age 5) and how many instruments he played. In addition to guitar, Sewell decided to learn mandolin a year ago. He must be a quick study, because he handled it well enough during this show to handle any tough Sam Bush piece.
Lovett told the audience that Krauss led a double-life, musically speaking. "You wouldn't know it to look at him, but Victor is a heavy metal guy. He looks sweet but he's a bad man." Then he asked if Krauss remembers the first rock song he ever learned. Krauss immediately answered, "Of course -- it was 'Owner Of A Lonely Heart.'" Then he plucked out the opening notes on his stand up bass to prove he could still handle a classic Yes tune.
Both Sewell and Bulla had a chance to show off their individual skills, as Lovett let them shine during solo pieces. The same was true of his bluesy backup vocalist Francine Reed.
Everything about the Large Band is large, from the four-piece Muscle Shoals Horns to Reed's booming voice to the piano -- and not a puny keyboard, but a full-size Steinway grand. Rounding out the Large Band was a pedal steel guitar.
Lovett stuck pretty closely to his hits, including "I've Been to Memphis," "That's Right (You're Not From Texas)," "She's No Lady," "Church," and "If I Had a Boat." Of the last, Lovett introduced the piece by explaining that his parents were hardworking folks who allowed him to listen to his own muse and follow his dreams. In fact, he was supposed to be studying for a history lesson years ago when he just couldn't keep his mind on homework, because he'd been messing around with a song he had in his head. Elsewhere, he has claimed that he wrote the song from a personal experience -- that he'd actually once tried to ride a pony across a pond. Whatever the case may be, the result is a song covered by a number of other performers and one that has been ranked one of the top 100 country music songs of all time.
Click below to see more photos from Lovett's performance.
Related Articles