Music Reviews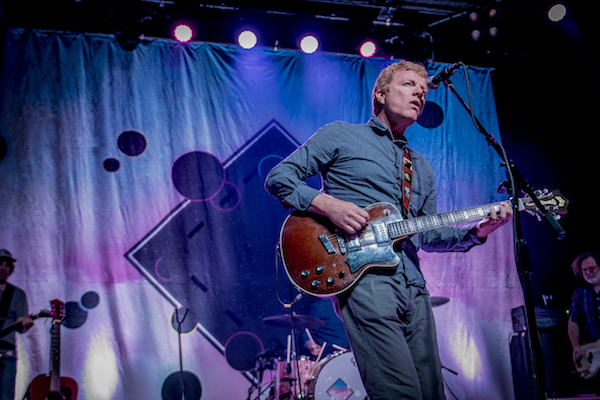 The New Pornographers glide through hits and deep cuts alike
The New Pornographers have been around for as long as I've been alive, yet somehow our paths didn't cross until earlier this year with the announcement of their seventh album, Whiteout Conditions. Hell, I even crossed paths with member Dan Bejar's solo project Destroyer before figuring out that the New Pornographers were a thing. However, I'm well in the loop now with the band's long history, which showed in the best way possible seeing them live last weekend at Delmar Hall.
Before I get into into the New Pornographers' set, let's talk about their opener, Ought. Ought are one of my favorite bands working today and in my opinion, the best band out of this most recent post-punk revival. I had already seen them live previously at a small show at the now-defunct Demo and they were just as tight now as they were then as their set, despite some technical issues, kicked the show off perfectly. 
They opened with a brand new song which right away had me swaying, as this was one of three new tracks from their upcoming third album (which is currently in the works). Compared to their previous two albums, the new songs are less dissonant than their work on Sun Coming Down, but not quite as peppy as More Than Any Other Day, and overall, see the band finding a unique identity as despite my love for those two albums mentioned, they do drown in their influences occasionally (most notably The Fall and Talking Heads). However with these new tracks, there's definitely something special happening here that I'm excited to see expanded on in the studio. 
The rest of the set was a mix of songs from their first two albums that sounded great, but had some technical issues throughout on Darcy's end as there were some bits of feedback during one of the songs and solid portion of the set his vocals were tuned down too low. Being right in the front it didn't quite affect my experience too much, but for people in the back I can imagine those technical issues hindered their experience more. Still, the band pulled off a great set as it almost felt like a passing of the torch from some of indie rock's most notable veterans to some of the best indie rock has to offer today.
About 20 minutes after Ought's set ended, the stage changes were complete for the New Pornographers. The venue's lights went dark again and two light setups emitting from the band's keyboard stands on opposite sides of the stage flipped on, as A.C. Newman and company walked on and kicked their set off with "Moves," the opening track off their 2010 album Together and a perfect way to get things going. 
Then they went through songs old and new, including "High Ticket Attractions," off their latest Whiteout Conditions, "The Laws Have Changed" off Electric Version and "Sing Me Spanish Techno" off Twin Cinema. It should be noted that missing in action from this show were two of the band's most notable members, Neko Case and Dan Bejar. Case wasn't able to play this leg of the tour due to personal projects (with violinist and singer Simi Stone, who's toured with the band for two years, essentially taking her place). And for Bejar, he was also missing from Whiteout Conditions as he was hard at work on a new Destroyer record (the recently announced ken). 
Now these missing members might seem like setbacks on the surface, but you wouldn't be able to tell from the band's set as they glided through some of their greatest hits like "Champions of Red Wine" and deep cuts like "Testament to Youth in Verse" with no issue. This is a band that's been around for a while and has every step of their show down to a tee without it coming off as robotic. The band's personal brand of power pop still sounds as lively and as passionate as ever, even with the band showing their age. 
After ending off their set with "Mass Romantic" from their debut of the same name, the band came back out for an encore to play the title track from Brill Bruisers and "The Bleeding Heart Show" from Twin Cinema. Overall, the band played a great set that struck ground between their newer, more synth driven style, to their older, more indie rock roots. For most bands who somehow make it two decades into their career, it's easy to get lazy and just play what you know, but the New Pornographers aren't that quick to doze off, as it seems the band will always be finding new sounds to complete their always evolving power pop perfection puzzle. 
Click below to see all of Ben Mudd's photos of Ought and the New Pornographers at Delmar Hall.
Related Articles