Music Reviews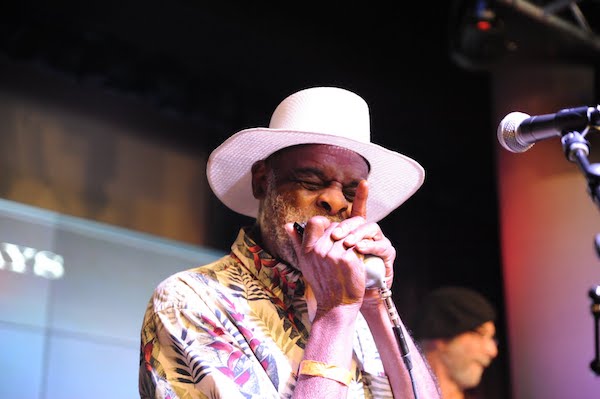 Honoring the Greats: A Big Muddy Tribute to Albert King and Tommy Bankhead
The tribute shows honoring St. Louis legends Albert King and Tommy Bankhead at the National Blues Museum were perfect opening acts for the days of the 22nd annual Big Muddy Blues Festival at Laclede's Landing. The Legends Room was full of blues fans for the early afternoon shows. Organized by BB's owner John May for the St. Louis Blues Society, the shows offered array musicians who knew and played with King and Bankhead.  
The Saturday show for Albert King featured a band comprised of musicians were alumni of his bands over the years. The group, led by drummer Kenny Rice (61-65), featured Vince Martin (68) on guitar, Oliver Johnson (75-81) on trumpet and trombone, Vince Sala (79-80) on sax, Frank Dunbar (79-83) on bass and Eric Marshall on the keyboards. Vocalist Barbara Carr also put in a surprise appearance for a powerful finish to the show.  
The Sunday tribute for Tommy Bankhead was another all-star cast of local musicians many of whom came up in the 70's and 80's and helped revitalize the St. Louis blues scene. The opening band included: John May (bass), Eric McSpadden (harmonica/vocals), Billy Barnett (guitar/fiddle/vocals), Rich McDonough (guitar), and Aaron Griffin (drums/guitar/vocals. Other musicians joining in during the show included Kyle Yardley (harmonica/vocals/drums), JJ Johnson (vocals/drums), Chris Taylor (harmonica), Kay Lobster (vocals), and Bob Case (vocals).
Albert King: A New Generation of Blues
Albert King had the Delta in his blood but his music took the blues in a new direction. He was a part of a 1950s generation of St. Louis musicians that included Johnnie Johnson, Chuck Berry and Ike Turner that changed the world music. His original style of playing is cited as a major influence on Jimi Hendrix, Eric Clapton, Mike Clapton and Stevie Ray Vaughn. 
The electric guitar, which he played left handed and held upside down, was the lead instrument with a tone and intensity that set the bar for those that followed.  He became one of the early blues artists to break the color barrier while crossing over into soul and rock. When Bill Graham first heard Albert in 1967 at Ike Turner's Manhattan Club in East St. Louis he booked him for the first of many appearances at his Fillmore West and East. 
King was also noted for being rough on his musicians. He went through a lot of them through the years. But Kenny Rice, who started with King when he was 16, says as tough as he was, "He was like a father to me and the band looked out for me like I was their son." He said King had the reputation because "he was always seeking perfection in his music and was never satisfied but he also had a kind heart." 
Ridin' the Bus
King worked hard and played hard. He loved to gamble. That was how Vince Martin joined the band in 1968 at the age of 15. His older brother, Colbert, was one of Albert's gambling buddies. As Vince tells it, King lost a big bet with his brother who told King, "I don't want your money just put my brother in your band." Martin, Frank Dunbar, Oliver Johnson and Gus Thornton are part of a long list of talented St. Louis musicians who toured the U.S. in King's beloved bus. 
Oliver Johnson like Gus Thornton had two stints with King. He tells how "Albert got me back on the bus by saving me from a terrible situation." After playing with King a move west to Motown ended up in personal troubles and a job in a Bay area donut shop. One day a big bus pulls up outside the shop and in walks Albert with a laughing Frank Dunbar. Johnson says, "It was a scene from The Blues Brothers.  I'm in my apron and Albert walks up and says, 'so makin' donuts...if you thinkin' you'd like to come back....'" A plane ticket to Texas came the next day and when Johnson got on the bus Albert said, "No, Oliver, I don't need more donuts."
Gus Thornton hooked up with Albert in 1977 via his friendship with Oliver Johnson and his work with the The Young Disciples, a legendary East St. Louis youth music project that spawned many a career. Riding the bus led to jam sessions and a friendship with Stevie Ray Vaughn and multiple albums with King and Vaughn in the '80s. Outside the music Gus credits King with teaching him about the business side when he made him his road manager. 
Sitting in the Tribute audience was a pleasure. From "Watermelon Man" and "I'll Play the Blues for You" to "The Sky is Cryin'" and "Hold It" you would swear this group had just gotten off the bus from the last gig. While the Albert King Band may have had a big revolving cast the quality and innovation in his music and the talent of his musicians stand in tribute to his legacy. 
Tommy Bankhead: Making Music and Breaking Barriers 
Tommy Bankhead was seventeen when he came to St. Louis in 1949 after having had a chance to work with his uncle Elmore James, Howlin' Wolf, Sonny Boy II and Bobby Bland in Arkansas, Mississippi, and Memphis. After hearing about the music scene here from a member of Ike Turner's band he got an invitation to play at Ned Love's on the East Side club. Over the next fifty years he would become and anchor of the local blues scene.
The early years were spent playing in the many clubs on the East Side and North Side clubs that also characterized the racial divide in the city.  By the late '70s the blues scene had the blues. Gaslight Square was long gone and the club scenes on the North Side and East Side were struggling. At the same time there were stirrings to the south of the Delmar dividing line along South Broadway and in Soulard. As new clubs opened careers were revived and a new generation began to play.  
A young generation of white musicians like Keith Doder had crossed the color barriers to learn and play with black bluesmen like Tommy Bankhead. Both were always open and encouraging of other young musicians often inviting them onstage to jam. Bankhead became the first black musician to take his electric blues style south of Market to the Broadway Oyster Bar and Mike and Mins in Soulard. It turned into a seventeen-year gig.  
His band at the time was the Blues Eldorado's with Ben Wells on drums, Thurman McCain on bass and Doder on harp. As Ben Wells tells it he recruited Bankhead to his band after watching him freelance around town: "I told him he was good. People love you. You need a regular band of your own -- let's go." Ben was moved to tears when a frail looking 82-year-old Kay Lobster took the stage. It only took a few moments before Lobster was off his stool, a mic in one hand and his cane in the air belting out the blues.   
Thurman McCain said his more than twenty years with Bankhead "was all good": "Tommy was so friendly and we got to play all the clubs and colleges." Other talented musicians would join in along the way like Larry Griffin who gave up teaching in Texas in the mid '80s to pursue the blues in St. Louis. He ended up playing with Bankhead four nights a week from 1985-87. He said, "Tommy was the nicest guy in the world, a real mentor, always pushing up what he was playing and he was the sharpest dresser in town."  
St. Louis Style
Bankhead's style, as characterized by That St. Louis Thing author Bruce Olson, was "easy blues with a sweet voice and a gentle, old school guitar." Eric McSpadden, who opened the show with "Wait Do Time," "Stop Breakin' Down" and "Blow Wind," played with Tommy his last four years. He said his approach to the blues "was really laid back -- playing and singing seemed so easy for him." JJ Johnson followed Eric at the mic for "Same Thing," "Play the Blues," "Killin' Floor" and "Mojo Workin'" before taking over on drums.  
Bankhead did not record a lot during his life. Wells says he had to push him to do the 45 "Making Love Is Good for You" and "Gamblin' Blues" and his first album in 1983, Please Mr. Foreman. He said the reluctance came from a fear of being ripped off. Bankhead himself in an interview tells how he got sued over an early recording. He would only record two more albums late in life, Message to St. Louis, released in 2000 and Please Accept My Love, recorded three months before his death on Dec. 16, 2000.
John May who organized the tributes and played with Tommy opened the show promising music that would show off the St. Louis style Bankhead helped to create. He told how important Bankhead was to the revival of the blues with his music and his personality.  "There are two things that characterized Tommy Bankhead," May said, "One was he would always rather talk with you than to you and the other was his favorite saying, 'Makin love is good for you.'" 
John returned to this theme at the close of the show reminding people that "in this time of Ferguson, anger and bullshit we need this music to bring us together." So it was fitting to have Bob Case, another one of musicians who helped revitalize the scene close the show with his song "St. Louis is My Home."  You know Tommy was smiling. He wouldn't have had it any other way. 
To see more of Bob Baugh's photos of the tribute performances, click the image below.
Related Articles