Music Reviews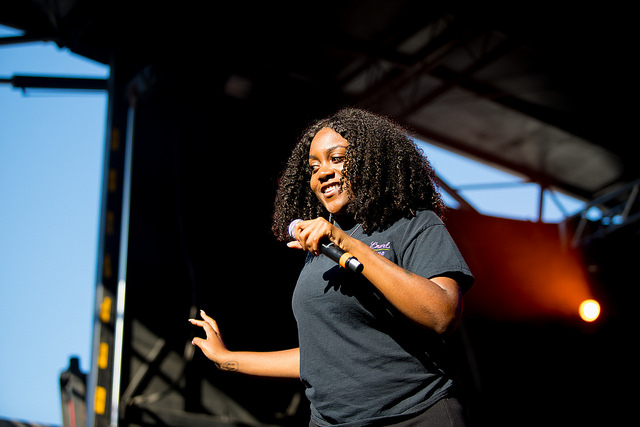 LouFest Day 2: In which music meets politics and Weezer reminds us that they aren't quite what they used to be
I arrive at the Muny upper grounds to be greeted by the blithe thump thump thump of distant bass and the sight of hallmark music festival chaos: the uproariously drunk college freshmen taking swigs of lukewarm vodka smuggled in through empty sunscreen bottles, the girls clad in the latest Urban Outfitters catalogue prowling about for the most Instagram-worthy photoshoot location, the groups of bearded dudes with tiny buns ensconced in clouds of weed smoke, the big-bellied men wearing "Sex, Love, & Cardinals Baseball" T-shirts. The weather is warm and breezy, with not a cloud in the great blue sky. A biplane makes lazy circles overhead, pulling a banner for Stella Rose wine ("America's Favorite!"). 
There is a crowd of people camped dutifully in front of the stage in wait for Noname, many of whom look like New York art kids with their boxy Swedish backpacks and tinted sunglasses. When Noname takes to the stage, everyone goes wild, but she herself is charmingly modest, greeting the crowd with a wave and a mild "Hello, everybody." On the record, Telefone relies on groovy synths and crisp production, but the live band translates those sounds into something altogether closer to the R&B traditions from which Noname's sound is inspired; Noname is one of those artists that definitely sounds better live. The set opens with "Sunny Duet," a sweet and lighthearted meditation on love that feels like the sonic epitome of a warm day ("We can dance a little, if you'd like to/ My vagabonds is a lonely road, a celebrated haiku/ Contemporary overzealous, think I really like you.") She merges the boundaries between rap and spoken word poetry (hearkening back to Noname's roots as a slam poet in Chicago -- the very scene where she would meet future collaborator Chance the Rapper), combining personal memories of her upbringing in Chicago with profound insights into race, poverty, addiction, and life itself. In spite of its lighthearted sound, though, Telefone conveys a grave political message: "St. Louis taught me death could be your neighbor, stay away," she sings on "Shadow Man," the last song of the set. "Don't take the family for granted, better days await."
As the sun sets over LouFest, I scurry across the festival ground to catch Run the Jewels; the crowd is already immense as the rap duo Killer Mike and El-P take to the stage, and I can only catch glimpses of duo Killer Mike and El-P amongst the sea of jumping people in front of me. It's a known fact that their fans are some of the most passionate around; the guys in RTJ t-shirts next to me belt the entire set word-for-word with just as much ferocity as the duo onstage. With their trademark gun-and-fist logo displayed intimidatingly over the stage, Run the Jewels's stage presence is as intense as their sound. Most of the set is from last year's release, Run the Jewels 3, which holds back no rhetorical punches: "Born black, that's dead on arrival," Killer Mike raps frankly on the set's opening song, "Talk to Me." The dynamic between the two rappers marks them as one of hip-hop's greatest duos; on stage, it is clear that they are more than comfortable getting in each other's' faces. They unflinchingly use their racial differences (FYI: Killer Mike is black, and El-P is white) to leverage their political points: in "Don't Get Captured," Killer Mike takes on the voice of impoverished African Americans while El-P speaks as a white police officer, taunting "The more we act wrong the more we are right / And who exactly gon' stop what we got?" The duo even takes a minute during their set to establish proper moshing decorum, asking the audience to kindly pick up their friends when they fall and not to drunkenly harass girls (the latter which is met by a round of appreciative cheers). It isn't all serious business, though, as Run the Jewels performs crowd-pleasers like "Legend Has It," the main single off of RTJ3, and "Nobody Speak" from DJ Shadow's The Mountain Will Fall (which is perhaps the single most clever piece of writing I've ever encountered. Consider: "I am crack/ I ain't lyin', kick a lion in his crack.") The set is made even more memorable by the fact that Run the Jewels' DJ Trackstar is a St. Louis native and a graduate of Washington University (which happens to be the author's school too).
As night falls over LouFest, the weekend wraps up with headliner Weezer at the Bud Light stage, which sits at the base of a particularly steep hill that offers everyone has a pretty clear view of Rivers Cuomo and his band. Uncannily enough, Cuomo seems unchanged since 1994 -- that is to say, he looks like some normal guy who just happened to wander on stage. Weezer is one of those weirdly universal bands that most people have dabbled in, as evident from the enthusiasm of everyone around me -- frat dudes, art girls, and beer-bellied dads alike; in fact, it's kind of hilarious to see everyone embracing Cuomo's dorky white-boy malaise so wholeheartedly. The strangest thing about Weezer may be that their more inaccessible albums seem to resonate the most: people have no problem singing the (absolutely ludicrous) chorus to "Undone -- The Sweater Song" from the blue album, but Cuomo's more recent attempts at churning out more radio hits, like "Thank God For Girls" from 2016's white album, seem to have fallen a little short of his prior glory. (I could write a dissertation on the great and tragic downfall of Weezer, but that's another story for another day.) Cuomo himself doesn't say anything notable during the set, although he and the band do do a weird, half-hearted cover of Outkast's "Hey Ya." All complaints aside, though, Weezer does bring out the best of LouFest; during the encore of "Buddy Holly," the audience becomes the real star of the show, bellowing out the lyrics with plenty of rockstar gusto. 
To see all of Karl Beck's photos of the second day of the festival, click the image below.
Related Articles