Music Reviews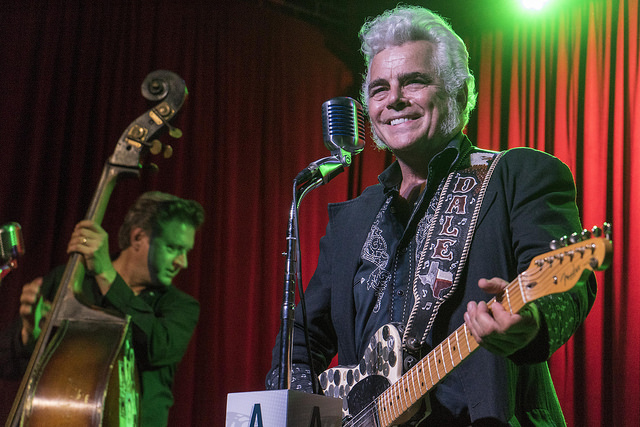 The Great Ameripolitans: Dale Watson and the Lone Stars at Off Broadway
Elwood:  What kind of music do you usually have around here?
Mrs. Bob:  Oh, we got both kinds. We got country and Western.
In the Bob's Country Bunker of Dale Watson's mind, the genres rockabilly and honky-tonk join Western swing and outlaw country to make up Ameripolitan music, the word Watson invented five years ago to define a branch of American roots music that he champions with a yearly awards ceremony and subsequent road tour, Dale Watson's Ameripolitan Caravan, featuring the impresario himself along with some of the contest's winners or nominees. It's a campaign with a sense of urgency; more on that later.
Last Thursday night, the Caravan made camp at Off Broadway where a Sturgill-thinned crowd ripped it up with Austin-based Watson, his band the Lonestars, rockabilly artist Celine Lee, and Jake Penrod, 2017 Ameripolitan winner in the honky tonk male artist category. Both Lee and Penrod are promoting new albums, and Watson hinted at new one of his own and played a likely title cut, "Call Me Lucky," in the last segment of a three-part show. Elbow room allowed for dancing, and a fair number of Stovall's Grove regulars were on hand to energize the room with two-stepping, jitterbugging delirium. Midway through Celine Lee's set, Watson emerged from backstage, grabbed a partner from the crowd and flashed his country dance bona fides as Ms. Lee growled and bumped her way through the Wanda Jackson classic "Fujiyama Mama."
The silver-pompadoured, tattooed Watson and his Lone Stars bookended the show, moving easily between originals ("'Flowers in Your Hair") and standards ("Crazy Arms"), swing ("That's What I Like About the South") and honky tonk ("Jambalaya"). In between songs, Watson's charmed the crowd with banter, some pre-programmed with musical winks (Watson extols the virtues of Lone Star Beer as a cure for thirst, and faltering libido) and more with authentic audience connection (props to Sugarfire BBQ, requests in the final set). All of this put the audience in the palm of a pro, not the slick variety tunneling through a set list with steely precision, but the follow me, I'll show you something kind. Touring almost 300 days a year, Watson and his band are masters of the tight musical arc that defines Ameripolitan songs: guitars quipping sweet licks, stand up bass thumping a heartbeat, pedal steel crying a silver river, and the drum kit cajoling it all along, each tune, ballad or raver, under three minutes. If you're looking for a dissertation, or a lot of foreplay, go to the symphony or a Trey Anastasio show. Need one big wet kiss, the velvet hammer of a shot of bourbon, down to your last cigarette? That's Ameripolitan.
Jake Penrod, a lanky Texan who is almost certainly the reincarnation of Ernest Tubb, commanded the second set. Squared away in a huge black ten gallon hat, black tie, wine colored jacket with black lapels, Penrod applied his sweet tenor to honky tonk treasures like Willie Nelson's "Undo the Right" and Tubb's "Thanks a Lot" and introduced the crowd to some of his own songs. I'll admit to being a complete sucker for the hokiness and punny word play in country music. Penrod won me instantly on the dopey humor in his original "Baby Steps (All Over Me)" and in the small town boy humility in his tune "The Girls Next Door in Austin." Celine Lee followed Penrod, augmenting the Lone Stars with colleagues on the electric bass and a yackety baritone sax. A Floridian with a deep affection for female rockabilly legends like Wanda Jackson and Peggy Lee, Celine Lee covered treasures like Jackson's "Rip It Up" and Johnny Cash's "Big River" and introduced us to some of her own songs like "How Can I Trust You" and "Sayonara Sucka."  
Finally: Watson's Ameripolitan mission and its sense of urgency. Ten years ago, after his own unhappiness with the Nashville music scene and an amusing kerfuffle in the press around some dismissive comments that Blake Shelton made about Ray Price, Watson decided to abandon Nashville and the interminable argument about what represented real country, and to begin promoting the artists like himself who were the inheritors of the country and Western music of the '40s and '50s and the Bakersfield Sound artists like Buck Owens and Merle Haggard. Watson, along with higher profile colleagues like Marty Stuart and Dwight Yoakam, bear the torch for American country roots music connected to tradition and apprenticeship, as opposed to the cynical products of crowd sourcing and appropriation that play on contemporary country radio. It's a mission synonymous with KDHX's and worth keeping your eye on. This year's Ameripolitan Awards occur on February 13 at the Guest House at Graceland, just down the road in Memphis. 
Click below to see all of Tim Farmer's photos of the evening's performances.
Related Articles