Music Reviews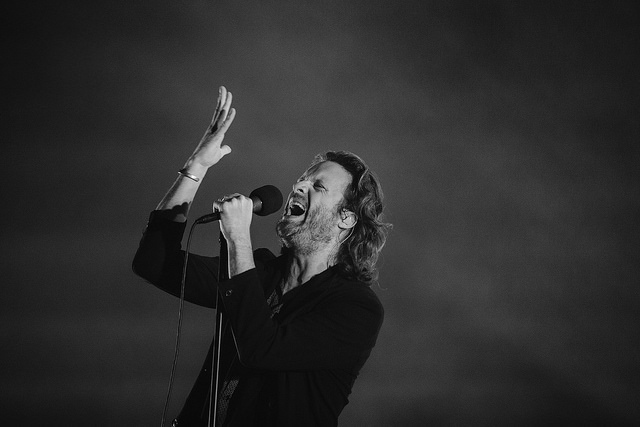 Father John Misty brings wit and dramatic flair to the Peabody Opera House
Capping off a week of tension, protests and canceled events throughout St. Louis, Father John Misty (a.k.a. Josh Tillman) brought his sharp-witted brand of psychedelic indie folk-rock to a hungry crowd at the Peabody Opera House Friday night, September 22; and they eagerly ate up every note. A divisive artist, he's been called everything from an absolute genius to a self-important asshole (the later most recently by fellow singer/songwriter Ryan Adams on Twitter). The truth may lie somewhere in between. What is unarguable, however, is that Tillman is a consummate showman whose live performance is equal parts concert and theatre.
Currently touring in support of Pure Comedy, his third album under the Father John Misty moniker, he continues to push the boundaries of genre and lyrical content to create music that is uniquely his own. On his official Facebook page, he self-describes his style as "Post-modern, Self-reflexive, Semi-Ironic Renunciation of Originality." A true poet, he carefully chooses each word and even more carefully delivers them in a crystal clear annunciation that commands one's attention.
Tillman's stage presence is nothing short of captivating, and his songs, loaded with social and personal commentary, become larger than life as he visibly pours every ounce of his emotion into them (often in an overly dramatic, yet effective manner), backed by a full and also quite talented band. 
Lanky, bearded and clad in tight black jeans, a grey t-shirt and a black jacket, Tillman sauntered onstage to applause and kicked off the show by playing the first four songs from Pure Comedy in track order, beginning with its stirring title song against a large backdrop screen projecting animated versions of the album cover's intricate illustrations. From the first note, the pitch-perfect, soaring beauty of Tillman's voice and his emotional intensity was on full display as he built the song a crescendo, the band following his lead as he wove his commentary on the current state of humanity.
"Total Entertainment Forever," a sobering statement on our technology-obsessed, 24-hour entertainment culture, felt alive and relevant as Tillman preached, "When the historians find us, we'll be in our homes, plugged into our hubs, skin and bones, a frozen smile on every face." A grim picture, and yet the catchy, upbeat melody had fans rising to their feet, where they remained for the duration. Such is Tillman's brilliance as a songwriter -- forcing his audience to stare deeply in the cultural mirror while getting their toes tapping at the same time. 
The nearly two-hour set provided a good retrospective, spanning all three of his albums in nearly equal parts. Set highlights included melodic "Nancy From Now On," with Tillman employing his transcendent falsetto on the chorus; trippy, beat-driven "True Affection," performed amid a blur of hot pink strobe lights; and "When You're Smiling and Astride Me," perhaps one of the most vulnerable love songs ever penned, which brought Tillman to his knees as he belted the orgasmic refrain of "Oh, oh, ohs."
Following a few minor missteps, he announced, "I have an attack of the goofs tonight," as he began the twangy "Nothing Good Ever Happens at the Goddamn Thirsty Crow." Missing a few beats, he paused a moment, chuckling, "See what I mean?" All was quickly forgiven as he built steadily from a soft croon to an angry growl, dropping once again to his knees and then lying on his back in another emotional climax. 
"We're a good match tonight," he said, gesturing to the audience after. 
"Bored in the USA," another scathing indictment of life in 21st century America, had the crowd chuckling and cheering as Tillman lamented, "They gave me a useless education, and a subprime loan on a craftsman home, keep my prescriptions filled, and now I can't get off, but I can kind of deal."
He ended the main set with a couple fan favorites starting with swinging "I'm Writing a Novel," the most upbeat moment of the night that had everyone dancing, followed by "I Love You, Honeybear," dripping with drama as Tillman threw down the mic for a grandiose finale.
After taking a quick break to recover, he returned, and as he's known to do, opened up the floor to a brief and somewhat chaotic audience Q&A session, answering pressing questions like, "Have you seen the new movie IT?" He hasn't, by the way, but instead shared a story of being traumatized at age eleven by a viewing of Event Horizon. 
Moving on to the encore, Tillman began the beautiful and reflective "So I'm Growing Old on Magic Mountain" as drawings of purple mountains drifted behind him on the screen. He ended the evening with "Holy Shit," first standing alone in the spotlight with his acoustic guitar, then being joined by the band in a jarring explosion of sound after the second verse.
Each moment watching the spectacle that is Father John Misty was riveting -- some of the quieter ones even more so than the overly theatric ones. It's hard to imagine that even his skeptics would not become believers after bearing witness to his musical "sermon."
Opener Weyes Blood, a.k.a. singer/songwriter Natalie Mering, was less compelling in delivering her set of ethereal, electronic-tinged folk, much from her most recent album, "Front Row Seat to Earth." A single smoke machine off stage left seemed an unnecessary effect. While her vocals are strong and the accompanying instrumentation was apt, it all felt just a bit too sleepy to proceed such a dynamic performer.
Click the image below to see all of Abby Gillardi's photos of the evening's performances.
Related Articles