Music Reviews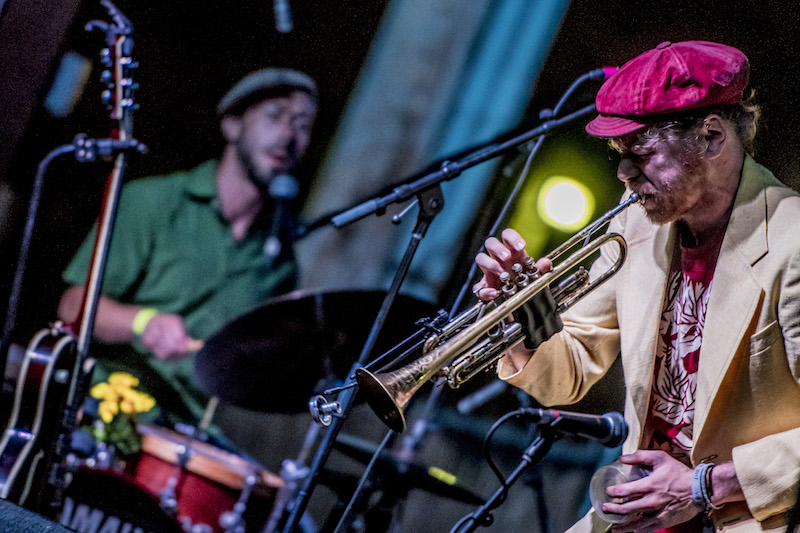 New Orleans via the California Honeydrops
I have seen some distinctly un-fun shows: Ann Arbor, mid-eighties, Paul Westerberg snot-slinging drunk, spat on and cursed an eager crowd of Replacements fans; New Orleans Jazz and Heritage Festival, 2005, Wilco pasted wankish found-sound clips over their playing to render inert a crowd that had, only moments before, been whipped into writhing ecstasy by Buckwheat Zydeco, who finished his magnificent set with an eight-minute throw-down on the Stones' "Beast of Burden," all while playing one of the uncoolest instruments in human history.
I've also seen some incredibly fun shows, and the party that the California Honeydrops threw last Saturday night at Atomic Cowboy slipped comfortably into my top five. This is what one reads consistently in reviews of the Oakland-based band, and what I saw all around me last night: everyone dancing, beaming, hanging on the band's every chord, chatting with strangers about the music. Indeed, I didn't hear any evidence of that now-common phenomenon of people plunking down hard-fought wages for a premier show only to spend the night blabbing loudly with friends (or worse, on the phone). Just a few weeks ago at an otherwise excellent Pokey LaFarge show I saw in Fayetteville, Pokey had to call out a woman with a laugh like a dull circular saw before he could start an acoustic set. Point is, the California Honeydrops and their charismatic and enormously talented front man Lech Wierzynski are an irresistible, galvanizing force for human happiness. 
It all starts with the music and musicianship. The California Honeydrops' foundation contains several layers of New Orleans musical traditions. The band kicked off the show with "Here Comes Love" and "Like This, Like That," two originals fueled by the hiccupy backbeat percussion line of New Orleans brass bands and the funky rumba stride piano style that Professor Longhair gifted to the world. Wierzynski alternated sweet vocals and ripping street style trumpet licks on each song. Later, the band stripped down to trumpet, Johnny Bones on clarinet, and Ben Malament on drums for some straight-up, Preservation Hall style New Orleans jazz. In the second set, Malament traded his drum kit for a washboard to drag "Pumpkin Pie" and a few other tunes through the Atchafalaya. California funk and R&B, and Delta blues also saturate the Honeydrops' sound. On anthemic tunes like Wilson Pickett's "Don't Let the Green Grass Fool You," and belters like the Percy Mayfield classic "A River's Invitation" and Bobby Bland's "There Ain't Nothing You Can Do," keyboardist Lorenzo Loera's swirling chords and bassist Beau Bradbury's throbbing bass paved the soul road as they did on Honeydrops' originals like "Brokedown" and "Same Old, Same Old." I had a harder time discerning the provenance of some of the blues tunes, but one of them might have come from deep in the Delta blues catalogue, perhaps a Mississippi John Wollicott tune. In any case, Wierzynski's guitar picking had Alan Lomax smiling from the heavens. This is how firmly the Honeydrops' house is built upon the roots of American music.
Wierzynski and band seasoned an otherwise uplifting and rated PG show with some biting political commentary -- plenty of Atomic Cowboys running nations around the world, including ours, etc.-- and with some of the band's own raunchy blues metaphors in originals like "Bubblegum" (candy store visits) and "Sit Down On It" (needs so little explanation it's probably not a metaphor). All of it made for a truly outstanding Sunday evening delivered by a tight, talented band, and their joyful, open-hearted, ridiculously gifted band leader, Lech Wierzynski.
Your momma told you that to live a happy life, you have to surround yourself with happy people, and of course, you knew then that she was really throwing a sneaky jab at your mopey boyfriend and his fondness for The Smiths. But now you know that she was right on the broader point as well. As the first set ended last night, a nearby couple turned to us eagerly to talk about the music. They'd met (as in, for the first time) at a Honeydrops show in Chicago, followed them to Des Moines and Kansas City and STL. They were leaving tomorrow morning to catch the band in Nashville.  This was clearly not the plan they set out with when they left their public accounting or financial analyst jobs (guessing, but I'm usually pretty accurate) less than a week ago, nor were these beautiful people suffering, to my eyes, from the impetuosity or biological advantages of youth. They had simply fallen in love, through and with the California Honeydrops. I totally got it.
Click the image below to see all of Ben Mudd's photos of the performance.
Related Articles