Music Reviews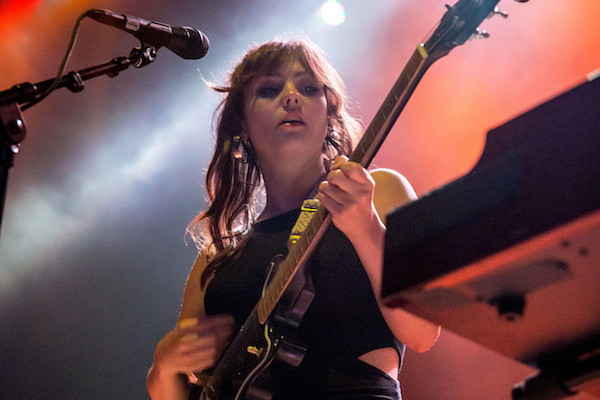 Angel Olsen's triumphant return to her hometown
Wednesday night's show at The Pageant marked a big milestone for St. Louis native Angel Olsen, and she seemed to understand that as well as anyone. After several sold-out smaller club appearances, Olsen graduated to The Pageant, and the hometown-girl-done-good stepped up her game for the occasion. 
Entering the stage to an ethereal, instrumental rendition of her hit song "Intern," Olsen was artfully coifed and clad in a black evening gown. Her five-piece backing band (including two members of Mount Moriah) wore matching blue suits with bolo ties. Olsen immediately launched into a spirited version of her tune "You'll Never Be Mine," from her latest album, My Woman; then, going into the fuzzed-out classic "Hi-Five" from 2014's Burn Your Fire for No Witness. Returning to her latest album to round out the first set with "Give It Up."
Following this three-song introduction, Olsen took a moment to address the crowd and comment on the news-heavy week. She apologized, "We didn't learn a Tom Petty song," but took a moment to thank her friends and family in the audience before treating the crowd to a rocking version of "Shut Up Kiss Me."
The crowd was a bit rowdy with many shouted requests (including a man who insisted on yelling repeatedly for Marvin Gaye's "What's Going On"). With a sly grin, Olsen responded, "I have a request -- bring me a shot of tequila!" Her fans obliged, and the show continued on with the more subdued tunes "Lights Out" and "Acrobat." 
Before closing out with a two-song encore, Olsen took the time to say, "I'm just happy in general and grateful to come back to St. Louis." She closed the evening out with a peppy "Night-night!"
Doing double-duty at the show were Mount Moriah's Heather McEntire (lead singer, providing back-up vocals and percussion during the main act) and Jenks Miller on guitar. Before donning blue suits as Angel Olsen's backing band, the North Carolina-natives arrived on stage denim-clad and brought forth rousing renditions of their better-known singles "Calvander," "Cardinal Cross," and "Precita." In addition, the band performed some covers with timely themes: "I Wish I Knew How It Would Feel to Be Free," a jazz standard popularized by Nina Simone, and Neil Young's "Revolution Blues." 
Click the image below to see all of Dustin Winter's photos of the evening's performances.
Related Articles