Music Reviews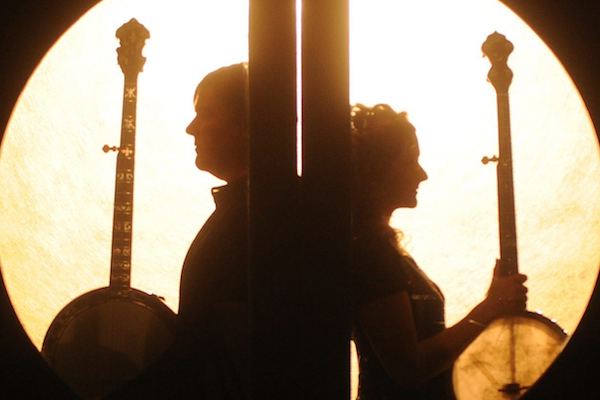 Abigail Washburn and Béla Fleck do good even as they are doing great
It is simultaneously surreal and exciting to witness greatness -- and not greatness that has ardently sought their space in the limelight, but greatness that the light gravitates toward regardless. Such is the experience of watching Abigail Washburn and Béla Fleck serenade the evening with their banjos. Undoubtedly the King and Queen of the banjo, as they have been called before, they don't seek after their crowns, though it is clear the weight leaves them unbowed.
The Sheldon Concert Hall in Grand Center was past capacity to see the couple. Ushers and last minute fans stood at the back of the auditorium scanning in vain for a seat. Then the room darkened and the banjo royalty approached the spotlight. Their thrones were not but a set of soft chairs, a pair of microphones and six banjos. The couple each had a banjo strapped to them as they entered. Washburn began with a quick lilting solo played in her traditional claw-hammer style. After a few measures she closed her eyes, inched toward the mic and began to sing. Then Fleck began quick harmonies which broke into a response melody. The duo did not split into rhythm and lead as many would, but played alternate melodies, complementary and speaking to one another reminiscent of Bach's adagios. But this would be merely the first of an evening of Fleck displaying his classical background.
Their second piece strung together four different songs ranging from a dueling banjo-esque repartee to more traditional classical. All the while Washburn watches Fleck for signals to change melody, key, and movement. Their communication is as flawless as their finger-picking. Together they loop through crescendo and melody, in tune and in step. They even tap their feet in unison. Four songs in, Washburn switched to a fretless banjo which shortens the resonance of the already truncated banjo pluck. Fleck also changed his instrument to a cello banjo where the deeper bass could carry through Washburn's quick notes.
At first thought, an evening of exclusive banjos could seem beset with limitations and verge on redundancy. After all, the typical Venn diagram of those who seek after long banjo bluegrass tunes and those who play them are closer to a single orb than not. But with Fleck's virtuoso and Washburn's upfront charm and undeniable passion, this seems like an antiquated and absurd notion. One did not have to be schooled in banjo skill, bluegrass, old-time music, or classical to be washed fully in awe at their skill, comfort, and sound.
In the middle of the first set, Washburn, in her twin blonde braids, stands to show the crowd her new dress. It is a thin, dark blue, country maid dress. The style of which one could imagine on Mother Maybelle Carter, though Washburn's has finely wrought netting around her neck, midriff, and a frill at the hem. This becomes a metaphor for the evening. Washburn and Fleck bring old Appalachia into the present then lace it in the finesse of a wide musical education. Combining Fleck's awe-inspiring musicality with Washburn's haunting voice which jumps octaves like a yodeler and can hold a high-lonesome as well as Hank Williams Sr., the couple shows what is truly possible when the old world meets the new amidst comfortable twang of a host of banjos.
This frankness and sheer joy seen on stage does not leave them once they are finished for the night. Playing The Sheldon was also the release of their newest album, Echo in the Valley. Washburn describes the new record as their joint attempt to harness "the beautiful when you can see the goodness of the world." They look for the hidden good in things and create the opportunities for goodness around them, donating the proceeds from the sale of their album to the charity Kids for Cancer. They do this when they can, Fleck confides after the show. It's their way of giving back, he says. After all, he feels blessed to have a livelihood where he can travel with his partner and their son and make the music they love. Just as we are blessed to have them here in St. Louis, and in the world.
Related Articles