Music Reviews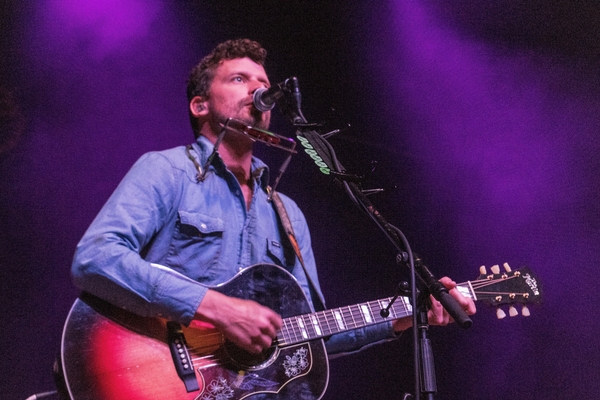 Turnpike Troubadours testify at The Pageant
The Turnpike Troubadours altar-called an almost sold-out crowd of true believers last at The Pageant on November 15, further cementing their position as one of St. Louis's favorite alt-country acts (Red Dirt, Outlaw, Texas Country--it's all ball bearings nowadays). I caught the concert down in the pit packed tightly amongst the snake handlers, speakers-in-tongues and other fanatically faithful, a jubilant, boozy choir belting out all the verses and refrains of every song, just like your churchy gran who never needs a hymnal. Even songs from the Troubadours outstanding fifth album "A Long Way From Your Heart" released less than a month ago, you ask? Damn skippy.
The Turnpike Troubadours come by their St. Louis fan base honestly. As it is with most alt country acts active today, Uncle Tupelo is carved deeply in the trunk of the Troubadours' family tree. More recently, the Troubadours found an unlikely tastemaker in Cardinals' first baseman, Matt Carpenter, a long-time fan who often uses as his walk-up song the Troubadours' amped-up rendition of "Long Hot Summer Day," written by, you guessed it, St. Louis music legend John Hartford.
The Turnpike Troubadours are fronted by Evan Felker (vocals, guitar, banjo, harmonica) who writes most of the band's music, collaborating occasionally with long-time bandmate RC Edwards (vocals, bass, guitar). Felker's lyrics emanate from his small-town Oklahoma roots and are deeply narrative even when a song is not strictly a ballad. A loose cast of characters that appears throughout lyrics on the band's five albums move through scenes of rural poverty, heartbreak, hard luck, extreme weather, hell-raisin' and fierce love.
The set list Wednesday night tipped slightly to the Troubadour's second and third albums, "Diamonds and Gasoline" and "Goodbye Normal Street", but the crowd's response to the show opener "The Housefire", from the most recent album, and songs like "The Bird Hunters" from the band's eponymous 2015 album suggested that Troubadour fans are fast-tracking newer tunes onto their classic lists. After the opening song, the band featured five straight songs from "Diamonds and Gasoline" ramping up the tempo from the paean to strong women "Every Girl" to the raver "Shreveport." Guitarist Ryan Englesman traded licks with fiddler, Kyle Nix, pedal steel man and accordionist, Hank Early, and Felker on harmonica. The second half of the show blended songs from the two recent albums with favorites from "Goodbye Normal Street". The band played most of the songs from "A Long Way From Your Heart" and I heard a maturing of the band's artistry. Some of this has to do with the addition of Hank Early and his pedal steel as a permanent member of the band, but more is attributable to the deepening confidence of a band that has stayed true to itself for over 12 years. Of course, the Troubadours closed with an ecstatic benediction, "Good Lord, Lorrie" and "Long Hot Summer Day", any Troubadour fan's desert island duo.
In my review of the California Honeydrops show a month ago, I wrote about the power of music to create a sense of shared intimacy amongst crowds of virtual strangers. This effect was in even greater evidence last night as we stood at the bar. Guy standing next to us shared how he'd taken a cab directly from Lambert Field to a Troubadours' show two years ago after concluding a tour of duty in Afghanistan. Down in the pit, a shy boy from Washington, MO, wearing a trucker hat unironically, blushed when my friend cradled his head so she could shout a question into his ear: "Where you boys from?" Not to be outdone, a young woman nearby saw my friend struggling to remove her gloves. She grabbed my friend's arm gently and helped her out, finger by finger, with her teeth. Praise the Lord.
Click below to see all of Tim Farmer's photos of the evening.
Related Articles