Music Reviews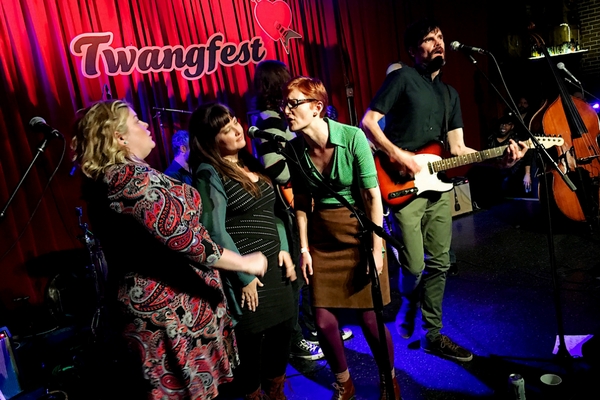 Room at the Top of the World: St. Louis salutes Tom Petty in sold-out show
From the opening chords of Free Falling to the Last Dance with Mary Jane some four hours later the spirit of Tom Petty inhabited Off Broadway to the delight of a sold out crowd on Wednesday, November 15.
The occasion was Learning to Fly: A Tribute to Tom Petty, a Twangfest concert that brought to the stage dozens of the area's best musicians to play their way through Petty's extensive and beloved catalogue. Roy Kasten - Twangfest volunteer and DJ of Feel Like Going Home on KDHX - booked the show and said Petty's death this past October lead him to reflect on the Florida-born singer-songwriter's legacy.
"When you actually go through the list of great Tom Petty songs - the hits and the best songs - he's really the closest thing that we had to Chuck Berry," Kasten said. "He wrote songs that were that universal, that catchy. ... It's the distillation of rock n' roll in a three-minute song."
Among the many local artists taking the stage few were as familiar with Petty's songs than PettyCash Junction, a local cover band fronted by Jimmy Griffin. The group led an impromptu eulogy in the form of Petty's "Room at the Top" and walked off to the "hey-hey-heys" of "Born a Rebel." Griffin later told the story of his own awkward interaction with Petty backstage years ago, and said Petty's music has a certain enduring magic.
"There are so many people that love Tom Petty music, and we've been seeing this since his unfortunate passing," Griffin said. "I have loved (Petty) since I was a kid. ... The first time I heard 'Refugee' - and I liked Kiss and Aerosmith back then - but I still got it. ...There's a beauty in the simplicity of what he does."
The concert also provided opportunities for collaboration. St. Louis songstress Beth Bombara took the stage with Essential Knots and other friends. The players traded instruments and vocal duties throughout a lively set that found Bombara playing everything from organ to harmonica. She also reflected on the longevity of Petty's career.
"When I was in my music-discovery stage I was into Wildflowers, you know, the early '90s stuff was what I first gravitated towards," Bombara said, "and then you start digging deeper and you discover all these other amazing songs and this great career of songwriting."
In his lifetime Petty released some 20 albums, 13 of them with the iconic Heartbreakers by his side. He joined the likes of Bob Dylan and George Harrison as a Travelling Wilbury, and he was inducted into the Rock n' Roll Hall of Fame in 2001.
"I think this is one of the better tribute nights we've ever done - probably the best," Kasten said. "You know, you can listen to his music, and you can sing along in the car when a song comes on the radio. But when you're in a room with a whole bunch of other Tom Petty fans and hearing bands pour their hearts out it just makes it really special."
Bands and artists contributing to Learning to Fly included (in order of appearance):
The Sleepy Rubies / John Henry
Grace Basement
The Lettuce Heads
Adam Reichmann
Tom (Town) Cars
Whoa Thunder
The Brothers Lazaroff
Beth Bombara / Essential Knots / Stacey Winter
PettyCash Junction
Karate Bikini
Shooting with Annie
Click below to see all of Colin E. Suchland's photos of the evening.
Related Articles