Music Reviews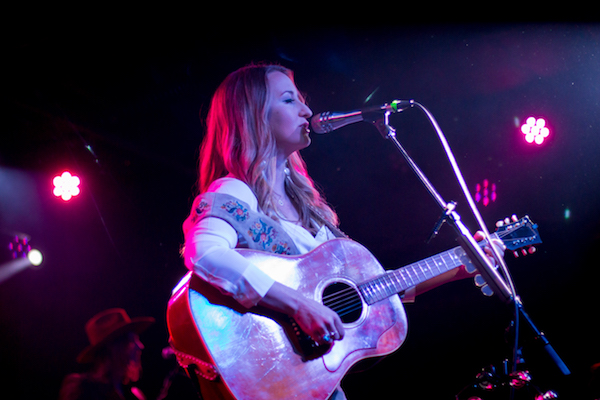 Margo Price plays sincere country to sold-out crowd at The Ready Room
What drew me to see Margo Price at The Ready Room on Sunday, January 21, is that she just seems so cool. Effortlessly cool. Seemingly laid-back and self-assured even after going through some dark times. She's had an amazing couple of years, being celebrated in ways not many country musicians have. A splashy feature in the New York Times, interviews on NPR, and an appearance on Saturday Night Live show the reach of her music and persona. Price even appeared on Parts Unknown with Anthony Bourdain- chilling out at her Nashville home, eating amazing new-southern food, playing amazing music, and generally making everyone jealous of her life. 
In October, 2017, she released "All American Made" on Jack White's Third Man Records. It's been extremely popular and well-received. Among other accolades, it landed at #16 on Rolling Stone's Best Albums of 2017 list. The album brought some new influences including R&B, gospel and Tex-Mex, all blended very successfully into her traditional style. She also got to work with one of her musical heroes, Willie Nelson, who accompanies her on the song 'Learning to Lose'.  
Sunday night she played to an excited crowd at a packed Ready Room. And I mean packed, when they sell out, it's tight quarters. She made note of the crowd's energy level, on a Sunday night, and shared a memory of her first St. Louis show at the old Lemmon's. Apparently, that show wasn't well attended, but these days she can expect a warm welcome in St. Louis. 
This concert showcased the music of "All American Made", and the crowd was eager to hear it. Nine out of the twelve tracks from the album were played, including the first five songs of the set. Price appropriately started this show on the Nowhere Fast Tour with the melodic ballad "Nowhere Fast", then roared into the classic honky-tonk bar sound of "Weakness". The tempo of the show varied nicely throughout, slowing down with tracks like "Learning to Lose" and "Hands of Time", without ever losing momentum. Favorites like "Tennessee Song" and "Hurtin (On the Bottle)" delivered highs of soaring choruses and southern-rock guitar.    
For me, the best moments on "All American Made" happen when Nashville twang gets mixed with Memphis soul. Price played two numbers that showed those influences, "A Little Pain" and "Do Right By Me". Both made for terrific live listening by combining a deep, rich sound with smooth vocal hooks. 
The most memorable moment was the poignant, solo piano version of "All American Made". She kept a slow pace and connected with the crowd, letting them take the beauty and sincerity of this lament for the helpless, hopeless feelings that are increasingly part of small-town life. This was the song that showed how she's able to address the current cultural moment in a way that feels meaningful and relevant, yet also fitting for a "Midwest Farmer's Daughter". Price doesn't just honor the musical traditions of Nashville, she captures its straight talking, down-to-earth ethos. The authenticity that she has comes from boldly moving forward without forgetting where she came from. That's what a lot of people want from country music right now, and Sunday night she showed St. Louis just what it looks like.  
Click the photo below to see all of Karl Beck's photos of the evening.
Related Articles