Music Reviews
Music Reviews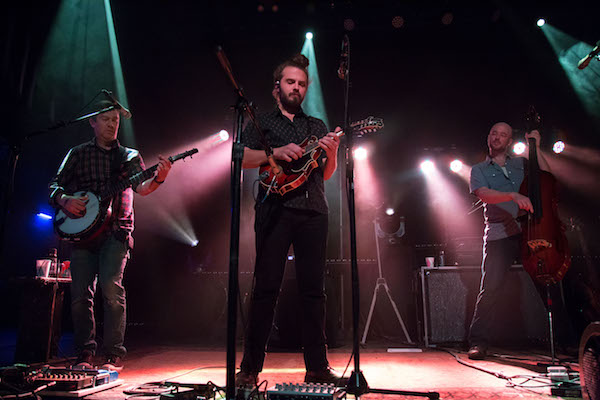 Yonder Mountain String Band inspire devotion with intimate and upbeat concert
By
The Southern Belles, a psychedelic southern rock group from Richmond, VA opened the show Friday night at Delmar Hall by playing their newest album, "In The Middle Of The Night" in it's entirety. Layers of sweet harmonies, often changing tempos, long jammy guitar interludes and keyboards that alternated between church organ and synthesized sounds that reminded me of '70s group Yes. 
Headliners Yonder Mountain String Band play progressive bluegrass comprised of all strings; guitar, banjo, mandolin, bass and fiddle. The show started by congratulating a man in the front row, they had seemingly met before, on his 100th Yonder concert. The room had an intimate feeling, due in part to it being a homecoming show for St. Louis native and fiddle player, Allie Kral. She is an expectant mother and had hosted a baby shower with close friends and family before the show began. And apparently it's a boy, because there were still a bundle of blue balloons behind the merch table. 
A diverse selection of songs from artists of varying genres were covered. Kral relinquished her fiddle for a powerful cover of Etta James' "Damn Your Eyes." They also played Ween's "I'm Holding You," Johnathan Edwards "Don't Cry Blue," and for the encore Lou Reed's "Walk on the Wild Side." A strange man wielding the iconic cowbell and dressed as David S. Pumpkins joined them on stage for their rendition of Blue Oyster Cult's "Don't Fear the Reaper." When the song ended Kaufman said, "Who is that guy?" It was in fact their Production Manager, Ben Hines.
Yonder has a distinct following of loyal fans that can be found at the intersection of bluegrass and jam band. And much to the delight of those fans, the seventeen minute long "Angel" was played. It's a roller coaster that takes its time with long, fast-paced pickin' like they're racing towards the finish line and the banjo's coming in hot, but in complete harmonic unison. Followed by decrescendos which slowly decrease in speed and intensity to where they're almost a faint whisper then work their way back up to a ten. "Groovin' Away," a reggae sounding original from their newest album, "Love. Ain't Love," was also a highlight of the performance with a contrasting energy showcasing the group's breadth.
My favorite was a song is called "Last of the Railroad Men." It's a fun, upbeat song with whimsical lyrics that complement the lighthearted rhythm. When I heard the lyrics "I fall in love on Mondays as a tendency / It might end early but it leaves me with my weekends free," I got it. I'm a far cry away from the hopelessly devoted man in row one for his 100th show, but I understand his enthusiasm. Yonder leaves you with a pleasing feeling and a spring in your step. Their artistry is undeniable and the songs are bound to get caught in your head for days.
Click the photo below to see all of Monica Mileur's photos of the evening.
Related Articles