Theatre Reviews
Theatre Reviews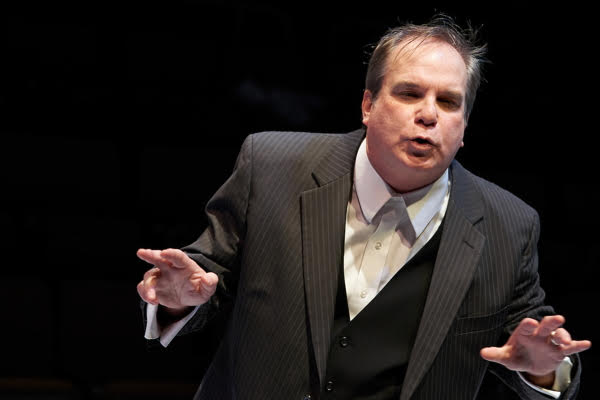 'Infected' is good theater, though not feel-good theater
By
The remarkable Upstream Theater is now in its fourteenth season of mounting truly fine productions of plays you'll not see anywhere else. Founder and Artistic Director Philip Boehm brings us seasons focusing solely on foreign plays. In this he makes Upstream almost unique among American companies. He's a prolific translator and a gifted director, and Upstream has contributed greatly to making St. Louis a significant place on the nation's theater map.
Upstream's new offering is a very strange and disturbing piece by Albert Ostermaier, a major contemporary German playwright and producer. "Infected" deals with the mental, physical and moral breakdown of a Wall Street stock trader. Alan Knoll takes on this tour de force monologue. Knoll is a familiar face on St. Louis stages. I've watched his wonderful comic gifts for over 27 years. He last appeared on the Upstream stage in a gorgeous performance as the Polish Egg Man ten years ago. Here he takes an even greater challenge, and in a piece much darker than is his usual wont.
We enter the Kranzberg theatre and see a simple central platform, audience on both sides. It's a quarantine ward: stark, spare, with a desk and chair at one end, a modern leatherette armchair at the other, all in brilliant sterile white. Knoll is supine in the armchair. Asleep?  Comatose?  A silent nurse in scrubs, a mask, and rubber gloves enters, does some needlework on him (injection? blood drawing?), and leaves. Strange, deep, grotesque, cavernous gastric rumblings are heard. Then we hear his tale.
He's a stock trader, terrified of losing his position. We hear of his bullied childhood, his desperate lifelong efforts to convince himself he's a winner, though he is obviously a born loser. We learn his philosophy of trading. We learn about the species who inhabit the trading floor: the bulls, the bears, the pigs and the sheep. We learn of the frantic merciless competition on Wall Street. We see heartless, selfish greed as the essential ingredient for success. Our trader shares weeping, lovely memories of his little daughter.
Hovering, buzzing over all of this is the childhood memory of menacing wasps. Very subtly, very gradually we learn of something horrible that has happened.
In all of this Alan Knoll does exemplary work, under the direction of Patrick Siler. He vividly conveys this troubled man's anxiety and pain. I wonder how, if ever, an actor can recover from so deep an involvement in such horror. I wonder also what the effect might have been with an actor who is not, in his bones, a comic one. Darker, for sure.
Throughout the evening the telling of the story is accompanied by a quite marvelous soundscape, designed and performed by David A. N. Jackson. 
This is not an easy evening. It's not a "feel-good" play, but it is another splendid example of the fine theater that we've come to expect from Upstream.
Related Articles