Theatre Reviews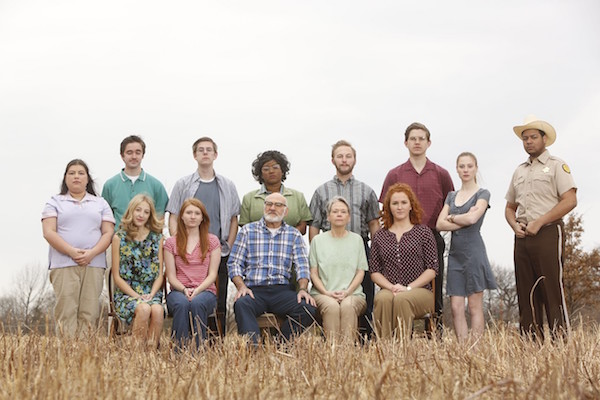 A heated battle in 'August: Osage County'
Washington University has opened a strong production of Tracy Letts' Pulitzer-Prize-winning "August: Osage County." It's a long and vicious evening as this play struggles for monumental status. The large cast includes eleven members of the Weston family bonded by blood or marriage, and two outsiders: a servant and a sheriff. That's an enormous challenge to a playwright--making each of these characters distinct and three-dimensional, and making their various problems and conflicts clear. Mr. Letts deftly succeeds in this. 
The setting is a large family home in Pawhuska, Oklahoma. Scene designer Robert Mark Morgan splendidly meets all of the playwright's (really rather unreasonable) demands: three storeys visible with areas for a living room, office, dining room, stairway, hall, attic bedroom and a front stoop. One is reminded of Joe Melziner's tradition-shattering set for "Death of a Salesman."
The story deals with the disappearance, death and funeral of Beverly, the Weston patriarch. His three daughters and their families gather from far and near and the mêlée begins. The playwright subjects the audience to over three hours of unrelentingly vicious assault--chiefly by the matriarch, Violet. These people fling blame around mercilessly. Old secrets, old betrayals are unearthed and re-sifted. No-one is unscathed; every member of this family is exhausted, defeated, humiliated. So it's not surprising that this play might be compared to "Long Day's Journey Into Night" or "Who's Afraid of Virginia Woolf?" or even Strindberg's "The Father." The author's choice of Pawhuska as a setting raises memories of the plays of William Inge--in particular "The Dark at the Top of the Stairs," which is set in a small Oklahoma town.
But Tracy Letts' play will not enter into the canon because of one fatal flaw. Real drama involves conflict in which there is some moral element. Here Violet, the mother, the instigator of most of the emotional carnage, is driven only by her addiction to pills. There is even a suggestion that she is brain-damaged. Addiction, disease, natural catastrophe--these can be shocking, and we hurry to watch them on Youtube, but they are not in themselves dramatic, let alone tragic. Had we clearly seen what drove Violet to her pills, or if Letts had shown us that there was some novel or heroic way in which she dealt with her addiction, that might have been dramatic. But we do not see this. So her emotional violence is motiveless. What we have is not drama but Grand guignol. It's a sort of emotional World Wrestling Smackdown. The frantic physical fight between Violet and her daughter Barbara, with tumbling over furniture, comes embarrassingly close to the cat-fight so beloved in the nether regions of our popular culture.
This play and its author come out of the Steppenwolf Theater, which has always had a warm spot in its heart for violence for its own sake. And I'm sure, alas, that there will always be a market for that.
William Inge, like Tracy Letts, shows family stresses in small prairie towns.  His (and my) hometown is only an hour's drive from Pawhuska, the capital of the Osage Nation, where I've often been. So I know such folk, and Inge's version of them seems much truer to life.
The Wash U student cast is led by Peggy Billo, a brilliant Equity "ringer" who gives a truly bravura performance as Violet. Helen Fox is most impressive as Barbara, her mother's chief antagonist and others in the cast do excellent work. Director Andrea Urice has done masterful work with this enormously demanding script. "August: Osage County" plays at the Edison Theater through March 4.
Related Articles