Theatre Reviews
Theatre Reviews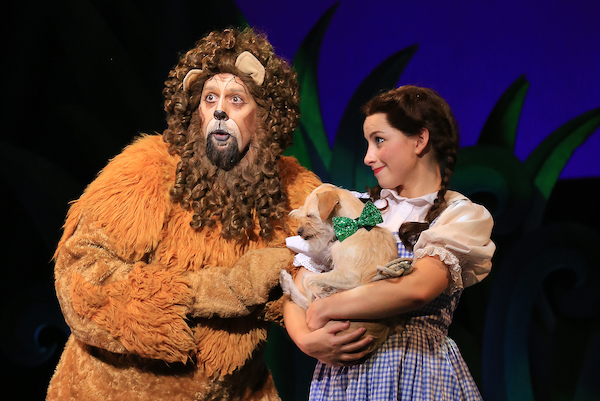 The Classic Film Brought to Life: 'The Wizard of Oz' at the Fabulous Fox
By
With their latest musical, "The Wizard of Oz" at the Fabulous Fox, Apex Touring is going by the old adage, "if it ain't broke, don't fix it." They present the show as a celebration of the 1939 MGM film. Each actor plays his role as the film's actors did, and the sets and costumes are reminiscent of the movie. It's a grand retelling set in St. Louis's grand theatre. After all, the film and the Fox opened only a decade apart, and it feels right to be watching a show created around the time of the Fox's birth while seated in one of its plush seats surrounded by its ornate walls and ceiling. 
Kalie Kaimann, the actress portraying Dorothy, doesn't look like Judy Garland, but she sounds and moves like her. Every intonation and gesture is a replica of Garland's legendary performance in the movie. She expertly shows her characters' growth through Dorothy's journeys in Oz, even utilizing the music to highlight Dorothy's maturing. In the famous "Somewhere Over the Rainbow," Kaimann sings softly yet beautifully, like a young girl who hasn't found her confidence, but as the show progresses, her voice builds, strengthening with every song. 
Kaimann and her castmates are an excellent team. Victor Legarreta is a delight as Lion and Zeke, meek one second and roaring the next, his comedic timing always on point. Christopher Russell as Tinman and Hickory surprises everyone as he transitions from bumbling farm hand to smooth, expert dancer in "If I Only Had a Heart." Chris Duir as Scarecrow and Hunk is Dorothy's lovable, loyal clown, and Michael Weaver takes a hilarious, moving turn as the Emerald City's Gatekeeper. Emily Perzan's Wicked Witch walked a fine line between frightening and funny and will probably end up with horrible lower back pain from walking around on stage hunched over for hours. The real star of the show was obviously Toto, who elicited oo's and aah's from the audience each time he trotted onto the boards. He was played by Murphy, a rescue dog that musical director Lizzie Webb adopted in 2016. 
Director Dean Sobon takes full advantage of the few moments in the script that deviate from the film. For example, the Wicked Witch and the Winkie General discuss what the lyrics "Oh Wee Oh" really mean. Winkie General tells her they sing the song only because she "put her foot through" their bass drum, and they needed some way to keep their steps in time while marching. It's a sweet turn of comedy during the plot's darker moments. 
A delicious family show, "The Wizard of Oz" has larger-than-life characters whose energy is infectious. Everyone's favorite moments are depicted: Glinda the Good's descent in a pink bubble, monkeys flying around the set, the Wicked Witch of the West's terrifying laugh. Our heroes Dorothy, Scarecrow, Tinman and Lion work together to defeat the witch and free her minions from enslavement and, in doing so, discover they've always had what they thought they were missing. Even Toto is saved from Miss Gulch by a wayward telephone pole. The good guys win and everyone learns something while deftly performing the most beloved classic soundtrack in America. 
"The Wizard of Oz" played February 23-25 at the Fabulous Fox.
Related Articles