Theatre Reviews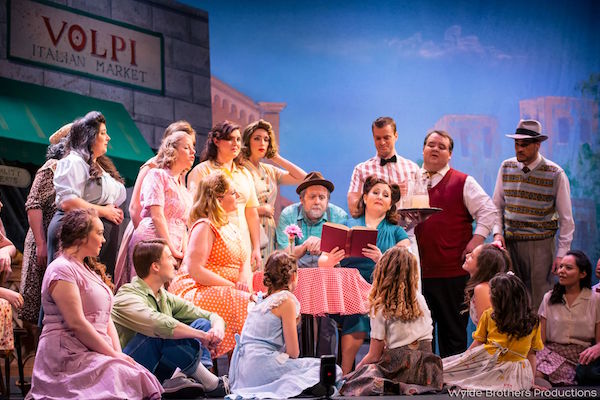 'L'Elisir d'Amore' springs to life on The Hill
I went out into the chilly spring evening and it became, for me, one of the most totally pleasing evenings of opera I've ever experienced. Winter Opera of St. Louis presented Donizetti's "L'Elisir d'Amore" in a production that was as near perfection as one could ever ask. 
The setting of this charming romantic comedy was originally a small rural Italian village around the turn of the 19th century. Winter Opera and stage director Audrey Chait have chosen to transpose the time to 1942 and the place to St. Louis' own beloved Italian neighborhood, "The Hill." This, it turns out, is wonderfully appropriate. The Hill is a neighborhood where, at least until recent decades, people would naturally speak (or sing) in Italian. As in a small village everybody knew everybody. The lovely set by Scott Loebl shows us a street scene, with the storefronts of Volpi's and DiGregorio's--iconic Italian markets on The Hill. There's the popular Dominic's restaurant, there's a stereotypical brick home, and in the background there's the warm heart of The Hill--the church of St. Ambrose. How appropriate! Winter Opera's offices and rehearsal space are a short three blocks from St. Ambrose. Moreover, the splendid leading lady is Gina Galati; I have no doubt that she has some family connection to The Hill.
So this is a very St. Louisy production, yet perfectly true to Donizetti's story.
Adina, a lovely young woman, is a landowner "of easy circumstances." She is adored by Nemorino, a young man of "comely appearance, but small means." Until now she has carelessly dismissed his professions of love. Two charismatic strangers disturb the equilibrium of the village: Recruiting Sgt. Belcore, who has come seeking enlistees for the army (and beautiful girls for himself), and Dr. Dulcamara, a charlatan snake-oil salesman. Belcore, the classic miles gloriosus, brags about his many feminine conquests, and sets his eye on Adina. Dr. Dulcamara and his beautiful assistant begin huckstering his patent medicines. The desperate Nemorino buys the doctor's love potion. This, the doctor claims, will make every woman fall in love with Nemorino, though it's really just cheap wine.
Everything about this production is just so right! Miss Galati has never been in finer voice. Such purity and vocal agility, such easy access to those high notes. She is beautifully paired with Peter Scott Drackley as Nemorino. He too displays a clear, sweet, strong voice which is utterly comfortable over the whole range of the role. 
Andrew Potter, as Dr. Dulcamara, is tall, towering dramatically over the rest of the cast. He has a powerful bottomless bass voice and wonderful comic gifts. Christopher Holloway has just the right handsome looks and swagger for Sgt. Belcore, as well as a lovely baritone voice that serves the role well. Adina's friend Giannetta is sung by Karen Kanakis. I want to hear her in a much larger role.
Some musical highlights include "Volio dire," the bargaining over the elixir, where Nemorino sings a bright, lyrical melody against Dulcamara's patter background of lightning-fast syllables; "Una furtiva lagrima" where Nemorino, in a soft, lonely evening, sheds "one secret tear"; and "En guerra ed in amore", a marvelous trio with Adina, Nemorino and Belcore.
The large chorus does excellent work, under Chorus Master Nancy Mayo. Maestro Darwin Aquino draws great beauty from his orchestra of 22. There's a clarity of individual voices here--one can sense the distinct timbre of violin, flute, reed. JC Krajicek has costumed the show with her usual careful attention to period and detail, and with a beautifully balanced palette. 
A very important element in the overall excellence of the evening is the deft, masterful work of Stage Director Audrey Chait. She handles the large chorus, including four charming little girls, amazingly well. The stage, though often full, is never crowded, always natural, never static. Every stage picture is beautifully composed.
And the show bursts with lovely, clever bits of business: there's much fun to be had in the energetic shaking of the magic bottle of elixir; Belcore's crisp military salute ends with a little grace-note of a flirting wave. The funniest thing I ever saw in an opera is Dr. Dulcamara singing a duet while he is eating a huge bowl of spaghetti. 
Design, direction, singing, acting, orchestra--everything is sublimely balanced, and everything is beautiful. It's the Winter Opera production of Donizetti's "L'Elisir d'Amore". It played at the Viragh Center at Chaminade on March 9 and 11.
Related Articles