Theatre Reviews
Theatre Reviews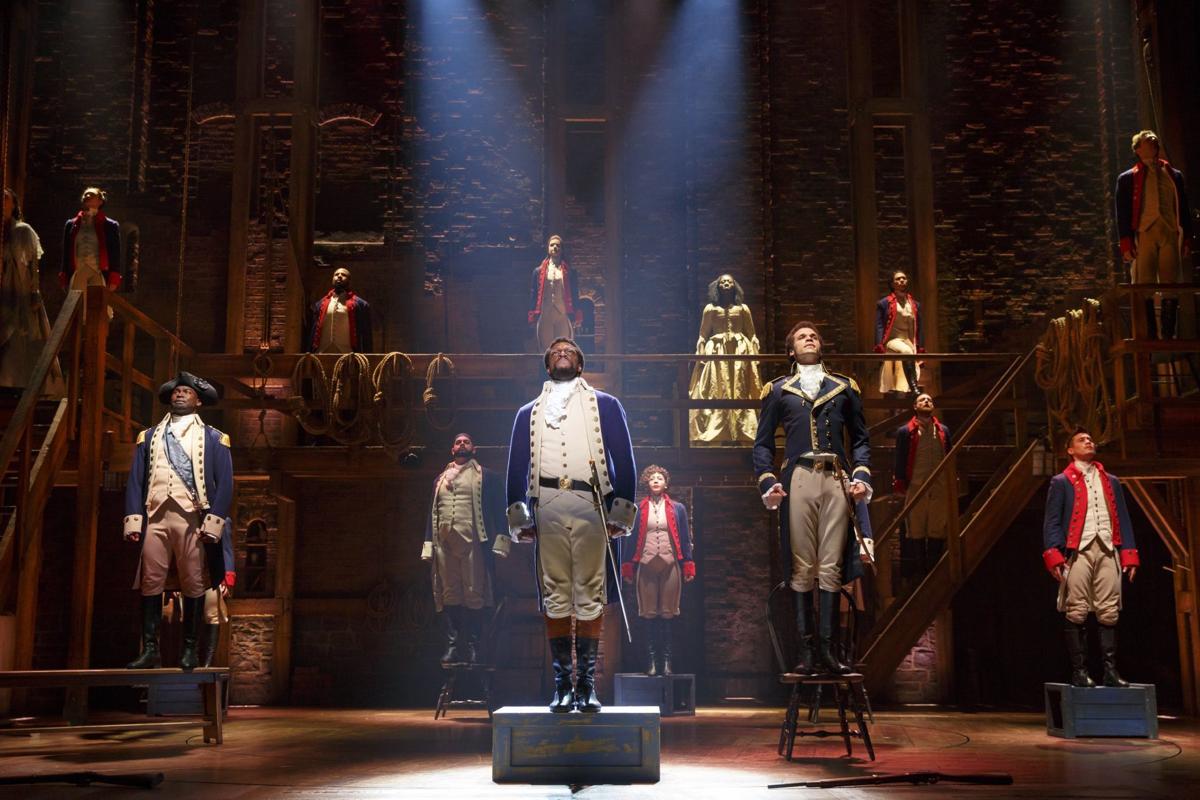 'Hamilton' is a spectacular and revolutionary take on the story of our founding fathers
By
You are undoubtedly already aware of Lin-Manuel Miranda's "Hamilton," the award-winning tribute to the founding father behind our treasury and banking system, Alexander Hamilton, and it's likely you've heard at least a couple of the songs from the immensely popular musical. Theatergoers here have anxiously awaited the show's arrival since the touring production announced it would be stopping in St. Louis. The only remaining question may be: is the show worthy of all the hype? The answer, in this reviewer's opinion, is a resounding "Yes."
Alexander Hamilton's life, particularly as chronicled in the book by Ron Chernow that was Miranda's inspiration, is a fascinating and important chapter in the early history of America. An orphan born in the Caribbean and sent to New York for school and a better opportunity, Hamilton was, by all accounts, intelligent, ambitious and self-assured to both his credit and detriment. Secretary to General Washington then the first Secretary of the Treasury, he was also a known philanderer who was lucky enough to marry up and then nearly squandered his relationship to save his political pride. In addition to all those interesting details, his brilliance made an indelible mark on this country well before he lost his life in a duel with longtime frenemy Aaron Burr.
The songs are catchy and deliver facts, history and opinion in rapid-fire succession, but as spectacular as each song is, they are more impactful when enveloped into the resonant and artfully constructed show. Miranda's work is defiantly something fresh and different while reminding us that our forefathers were the rebels and outcasts of their time. Some of them, like Hamilton, were decades (if not centuries) ahead in their beliefs about race, ability and humanity. Contextually and audibly much more than a simple retelling of history, its execution ensures it is also extraordinary. Casting choices, elements of dance that span generations and communities, and songs that are at once contemporary Broadway and the music of the masses combine to deliver a new perspective on storytelling that is astonishingly heartfelt and powerful musical theater.
Thomas Kail directs with skill and purpose, adding emphasis to the emotional arc without detracting from the excitement and tension of the Revolutionary War. Choreographer Andy Blankenbuehler hits every mark with impressively athletic modern dance that features excellent isolations and lifts, and then casually slips in a delightful quick step. The ensemble numbers are precise and well-articulated, with a hint of ballet here and crunk-like stomping there that always resolves into gorgeous stage pictures. Every element – audibly, visually, emotionally – is deliberate and packed with intent.
Austin Scott is commanding as Hamilton, grabbing your attention even before he sings a note. He stands tall and is certain and purposeful in every action, though his pride may trip him up, he is nonetheless as sincere as he is ambitious. Julia K. Harriman is heartbreaking as Eliza and may have the purest voice in the cast, with a lovely, shyly lilting quality that occasionally gives way to her more resilient and powerful range. Nicholas Christopher is glib and almost sympathetically engaging as our narrator and antagonist Aaron Burr. More calculating than villainous, there's a sense of desperation to his movements and misdirection that's almost sympathetic at times.
Peter Matthew Smith is delightful as King George. There's a sense of pride and gleeful certainty in him, suggesting an indulgent parent who is over-confident in his children's love, and it works adding a welcome comic touch. Carvens Lissaint is wise and presidential as George Washington, but he also shows a down-to-earth, human side of the general. Sabrina Sloan sparkles as Angelica, lending depth and a sense of thoughtfulness to her story, and Isa Briones is perky as sister Peggy and seductive as Maria Reynolds. Ruben J. Carbajal is loyal and bold as John Laurens and Philip Hamilton and Chris de'Sean Lee captivates as both the impressive and flirtatious General Lafayette and the flamboyant Thomas Jefferson. The entire ensemble commits fully to the storytelling and songs, creating a whole that elevates the already outstanding parts.
Though history doesn't mention him as frequently as the other forefathers, with the exception perhaps of his duel, Hamilton's life is fascinating and engrossing. In Miranda's show, his story is told through well-composed songs that deliver the exposition and tension in ballads, show-stopping tunes, anthemic rock and driving rap, with each song seemingly holding more context and importance than the last.
Powerful tunes like "My Shot," "The Story of Tonight" and "The Room Where It Happened," resonate and reverberate long after the curtain. Eliza's painfully honest "Burn" as well as the evocative "That Would Be Enough" and "Hurricane" are haunting, emotional and somehow familiar. "Alexander Hamilton," King George's "You'll Be Back," Burr's "Wait for It," and the finale set, including "Your Obedient Servant" and "The World Was Wide Enough," are by turns attention-grabbing, humorous and completely memorable, creating engrossing storytelling.
Certain elements of the touring show are adjusted to enable a portable production, but none of the important details are missed and the show is lavishly and precisely executed. David Korins' set evokes the period and a sense of building and creating that emphasizes the show's themes, and is complemented by strong costume, lighting and sound design. But it's the songs we will remember most, and here music director Alex Lacamoire is in perfect synchronicity with Kail's direction and Miranda's vision.
The songs tell us so much about our forefathers, their lives and passions, but they are only one of the elements of storytelling that works to perfection in "Hamilton," which continues at the Fabulous Fox Theatre through April 22. Fans seeking tickets to the nearly sold out run are encouraged to download the production's lottery app and to check with the box office as seats may be available for select shows.
Related Articles