Theatre Reviews
Theatre Reviews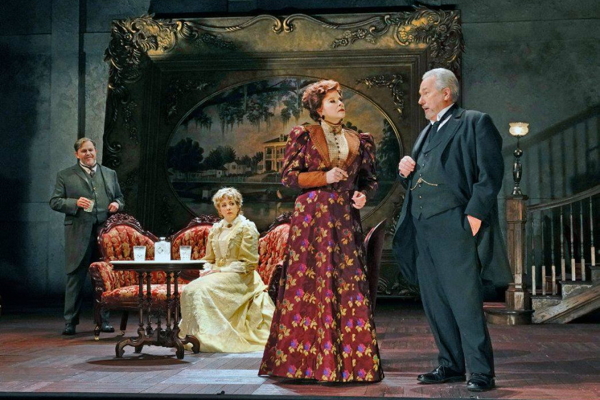 Breaking Bad: Opera Theatre's 'Regina'
By
In a New York Times article published the day before the October 31, 1949, premiere of Marc Blitzstein's opera "Regina" – a truly stunning production of which is playing at Opera Theatre through June 24th – Leonard Bernstein observed that the principal characters were "ugly people engaged in ugly dealings with one another."
That is, to say the least, an understatement.
Based on "The Little Foxes," Lillian Hellman's blistering indictment of crony capitalism and unenlightened self-interest from 1939, the story of "Regina" is set in Alabama in 1900 and centers on the Hubbard family, who are as nasty a collection of schemers as you are likely to find outside of the current White House. As the opera opens, Ben and Oscar – the brains and bully of the clan, respectively – have, along with their sister Regina, negotiated a deal with Chicago businessman William Marshall to make their mill business even more profitable than it already is and to make themselves "big rich."
The only obstacle is Regina's husband, banker Horace Giddens. Summoned back home from Baltimore, where he was receiving treatment for serious heart trouble, Horace has no interest in the deal, which will enrich the Hubbards at everyone else's expense. His refusal sets in motion a rash of scheming and backstabbing that eventually leaves Horace dead of an avoidable heart attack and Regina rich beyond dreams of avarice, but at the cost of the relationship with her daughter, Alexandra.
Under the skilled direction of James Robinson, who gave us such a splendid "Grapes of Wrath" last season, the OTSL cast turns in a collection of performances that can only be called flawless.
As Regina, mezzo Susan Graham, whose history with the company goes all the way back to her remarkable "Vanessa" in 1988, is the quintessential iron fist in a velvet glove. A compelling mix of intelligence, guile, and guts, the character is one of the American theatre's great monsters. Yes, her moral bankruptcy destroys her family, but you can't help admiring the way she stands up to her patronizing and bullying brothers. She's a tragic figure, in short, and Ms. Graham's powerfully sung performance lets you see every detail of her complex character.
Bass-baritone James Morris and baritone Ron Raines also bring powerful voices and impeccable acting skills to the roles of Ben and Oscar, respectively. Mr. Raines perfectly captures Oscar's dimwitted bravado and Mr. Morris lets us see all of the wry wit that masks Ben's black heart.
Speaking of vocal power, Kirstopher Irmiter, as Horace, displays a lower register that has the kind of punch not always found in deeper voices. The fact that he's a bass-baritone rather than a bass makes that all the more impressive. Mr. Irmiter is a relatively young performer, but his Horace was so convincingly debilitated that I mistook him for a much older man at first.
Soprano Susanna Phillips, whose vocal and acting chops impressed me so much in her St. Louis Symphony Orchestra appearance back in 2013, did so again on opening night with her heartbreaking portrayal of Oscar's wife Birdie. Driven to drink by Oscar's bullying, her son Leo's rank immorality, and the realization that Oscar married her only so he could get his paws on Lionnet, her family's ancestral mansion, Birdie is one of the few fundamentally decent characters in the opera. Ms. Phillips's performance of Birdie's nostalgic Act III lament for her family home was a thing of tragic beauty.
Mezzo Melody Wilson is Addie, Horace and Regina's black housekeeper and in many ways the moral anchor of the opera. Fundamentally decent, Addie is also wise enough to know when it's time the take the cash Horace has squirreled away for her and join Regina's daughter Alexandra in a declaration of independence from the moral quagmire of the Giddens household. Ms. Wilson, whose 2016 performance in Union Avenue Opera's "Doubt" got her a well-deserved Theater Circle nomination, is a pillar of strength in the role. It's a great part and she wears it well.
Soprano Monica Dewey shows us Alexandra's innocence and, in the end, her steely backbone, while tenor Michael Day is the epitome of casual corruption as Horace's feckless son Leo. Baritone Justin Austin and tenor Chaz'men Williams-Ali also have a pair of exceptionally appealing cameos as, respectively, the house man Cal and the unnamed leader of the Angel Band, the offstage Dixieland group cut from the show for the legendary New York City Centre Opera production in 1953 but happily restored here. Tenor Robert Stahley is the giddily clueless William Marshall.
Speaking of cuts, "Regina" has gotten more than its share of them since 1949, along with other changes and rearrangements. Most of them seemed to have been aimed at "improving" a score that was regarded with bafflement by critics who couldn't make head or tail of Blitzstein's unashamedly eclectic approach to composition. The Opera Theatre version, based on the 1991 Scottish Opera revival, restores most of the cuts, and the result demonstrates what a truly inventive and skilled composer Blitzstein was.
Under the masterful baton of Opera Theatre's long-time Music Director Stephen Lord, Blitzstein's score proves to be an endlessly inventive collage of styles, masterfully tailored to fit each character and situation. The quartet that opens Act III, for example, has a kind of Mozartean grace as Horace, Alexandra, Addie, and Birdie admire the peace and quiet of a rainy afternoon. The mock Viennese waltz for the Act II party scene contrasts sharply with chorus's cynical observations about the Hubbards. Addie sings the blues, the Angel Band pours out ragtime, and Regina's music ranges from a classically operatic declaration of greed ("You know, if you want," at the end of Act I) to rapid-fire patter that anticipates Meredith Willson's "Rock Island" in "The Music Man." And Alexandra has a song about the yearning for love ("What will it be for me?") that's one of the most delicately beautiful things in the score.
It's a complex score, in short, and Maestro Lord and the musicians give a brilliant account of it. John Cary Franklin's chorus also shines in the big party scene.
Mr. Robinson's decision to eliminate the blackouts from the Act I and II finales drains some of their dramatic impact, but otherwise his direction is clear, focused, and handles the large cast masterfully. As lit by Christopher Akerlind, Allen Moyer's set is theatrically apt, with its massive painting of lost Lionnet carelessly propped up against the back wall of the decaying Giddens mansion. The massive staircase that takes up most of stage left also looks impressive, but sometimes makes blocking and choreography awkward, especially during the crowd scenes in Act II.  Period costumes by James Schuette perfectly complement their characters.
"Regina" is an American classic, and the Opera Theater production is a triumph in every respect. Don't miss it. Its condemnation of the ethical vacuum at the heart of crony capitalism and the ugly brutality of those who practice it could hardly be more relevant today.
"The century is turning," gloats Ben towards the end of the opera, "opening up so big, so grand / And hundreds of Hubbards, just like us, will own this land!" How right he was. The tragedy of "Regina" isn't just American; it's also America's.
Performances of "Regina" continue through June 24th in rotating repertory with three other operas at the Loretto-Hilton Center on the Webster University campus.
Related Articles