Theatre Reviews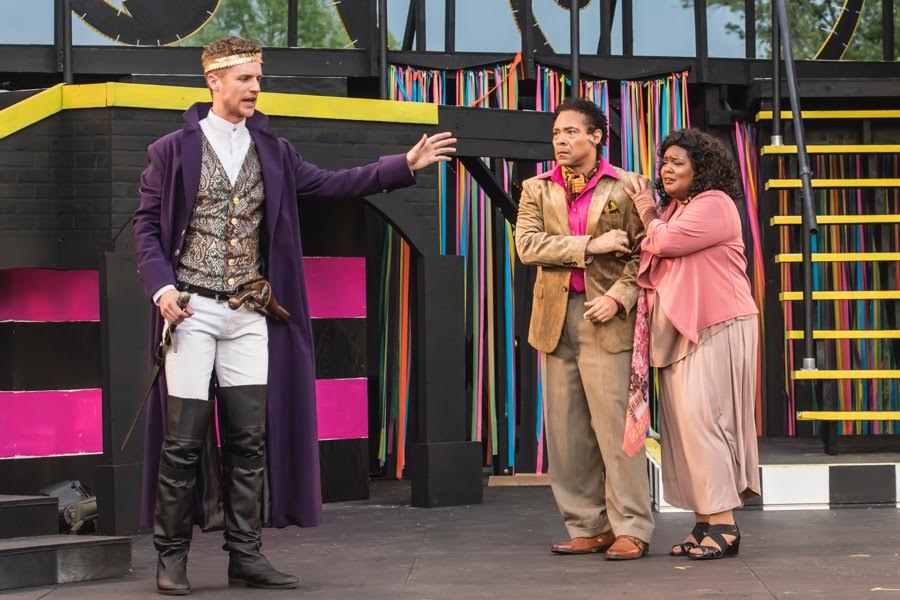 In Performance: St. Louis kicks off a vibrant summer theater season filled with entertaining productions
Written by

Tina Farmer
Welcome to the KDHX theater preview feature where this reviewer provides you with insights and information on a variety of local and touring professional shows you can enjoy this weekend. There's no need to pine away as you anxiously await the Muny's 100th season, this week's featured shows include something entertaining for every taste.
In its nearly two decades, the Shakespeare Festival St. Louis has grown steadily, expanding both its reach and productions. The company produces student shows, initiated and sponsors Shake38, and creates highly successful original adaptations seen in its Shake the Streets productions, which occur in various city neighborhoods. But it's annual summer production at Shakespeare Glen in Forest Park remains the heart and soul of the company. This year the classic love struck tragedy "Romeo and Juliet" will entertain thousands of delighted and entranced guests who attend the free outdoor performances.
As a quick refresher, "Romeo and Juliet" is the story of love between two members of rival families, the Capulets and Montagues. Even the moment they meet, which begins with such enchantment, ends in a brawl. Forbidden from seeing each other, the young lovers sneak away and find a priest willing to marry them in the hopes of bringing reconciliation to the warring factions. There's a lot of poetry and romance, but it's countered by brutal attacks and tragic deaths as well as the stubborn resilience of an old guard unwilling to change its ways.
The familiar tale is given a contemporary look and feel while remaining true to the original story and features a talented cast of local and national actors. This production includes a mix of veterans and newcomers, among the first timers is rising local star Patrice Foster as Lady Montague. After moving to St. Louis from Chicago for a theater teaching position, she says working on the production is already a career highlight. "Everyone talks about Shakespeare in the Park, how much fun it is both personally and professionally," Foster recalls, "and from the first rehearsal on, I totally understood. We work really hard, but we play and have fun together, too. It's like Advanced Shakespeare Summer Camp."
That's not to say the rehearsals are all fun and games, particularly once they moved to the outdoor stage and began long days of tech rehearsal in this year's unusually warm May. The impressive stage has multiple levels joined by stairs and scaffolding, there's even a working garage door that houses the production band, a three-piece combo that provides a live soundtrack, adding considerable texture and a driving rhythm to the fast-moving show.
Bringing all the pieces together is "a little hectic, but also a blessing," notes incoming executive producer Tom Ridgely, whose first day was just a couple weeks ago. "The Festival runs so well," Ridgely enthuses, "and this show is rich with beautiful work from the stage, the cast and crew, to the band." While he acknowledges that the final preparations can be stressful in the best of conditions, he quickly adds, "There's a culture of excellence here, top to bottom, so I've been able to just absorb like a sponge and to appreciate the way all the effort has come together to create such a fantastic experience." As Foster nods in agreement, Ridgely concludes, "I simply cannot wait for an audience to see this gorgeous and moving show." You can catch "Romeo and Juliet" at Shakespeare Glen in Forest Park at 8 pm every night except Tuesdays, with preshow concessions and entertainment beginning at 6:30 pm each night.
For something completely different, check out New Line Theatre's premier production of "Yeast Nation" a musical comedy about life itself from the creators of the Broadway hit "Urinetown." Set on the floor of the ocean three-billion years ago, when the earth's surface was still a mass of molten lava and water, the musical comedy is a "bio-history" that explores the very first living beings on our planet – salt-eating yeasts. The yeasts search for enough food to survive while comically facing some other important firsts, like dealing with an oppressive king and discovering love. Colorful, musical and funny, "Yeast Nation," continuing through June 23, tackles some pretty heady subject matter and, remember, their survival is essential to our existence!
Mexican wrestling takes center stage in "Luchadora," a collaborative show produced by Mustard Seed Theatre Company with Theatre Nuevo. The play, which was inspired by the Chinese folktale "Mulan," introduces audiences to Lupita, who becomes immersed in Lucha Libre wrestling as a young girl during the 1960s, a time when girls were discouraged from pursuing such interests. Directed by Anna Skidis, with performances through June 17, the tender story about courage and family explores the struggle to understand one's culture and place in the world.
Opera fans will be treated to the world premiere of "An American Soldier," opening Sunday, June 3, as part of Opera Theatre of St. Louis' repertory season. A show that moves from court to an Afghanistan base as it examines modern warfare, the two-act opera forcefully questions what it means to be an American. The moving opera joins the sweetly tragic "La Traviata" and wicked drama "Regina" already running, and "Orfeo and Euridice," which opens June 9.
Continuing this weekend:
"Life Sucks," a witty and thoroughly delightful comic twist on Chekhov's "Uncle Vanya," lights up the stage at the New Jewish Theatre through June 10. Vanya is still incredibly dissatisfied with life and Sonia is still poignantly resilient and hopeful in Aaron Posner's laugh-out-loud funny and upbeat retelling of the classic tale.
Tesseract Theatre presents a love story on a smaller scale with the nearly tragic "Spinning Jenny" continues at the .Zack Arts Incubator Theatre through June 3. Jenny, an attractive teenage girl from a family of traveling carnival grifters, may have found real love with potential mark Cal, but getting to their happily every after is going to be a challenge.
The Fabulous Fox Theatre presents the irreverent but not irreligious "The Book of Mormon," continuing through June 3. The hilarious musical comedy takes a look at the real struggles of life through the perspective of two naïve and mismatched Mormon elders during their missionary trip to Uganda. The Tony Award-winning musical by Trey Parker and Matt Stone pokes fun at religion without making fun of having faith.
Related Articles