Theatre Reviews
Theatre Reviews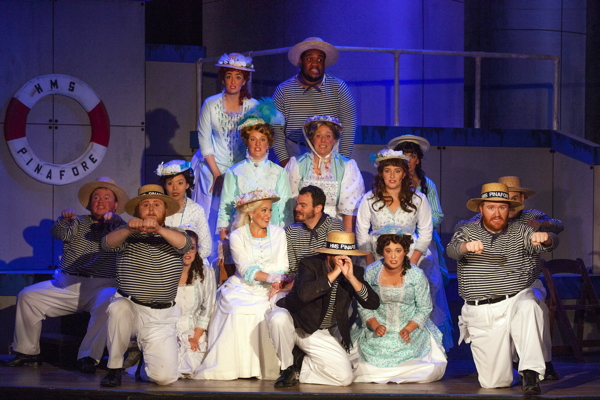 Set sail for laughter with 'H.M.S. Pinafore' at Union Avenue Opera
By Chuck Lavazzi
Union Avenue Opera dropped anchor for their 24th season this past weekend with a jolly and entertaining production of Gilbert and Sullivan's "H.M.S. Pinafore" that's a little bit of Savoyard heaven.
The cast is excellent. As Sir Joseph Porter, the First Lord of the Admiralty who admits that the junior partnership in a law firm was "the only ship [he] ever had seen," baritone Steven Condy has the character's clueless pomposity and bottomless self-regard down pat, and he delivers Gilbert's lyrics with impressive clarity. Baritone Thomas Gunther shows an equally firm grasp of comic timing as Captain Corcoran, who's "hardly ever" sick at sea, and he brings an impressive, powerful voice to the role. His "Fair moon, to thee I sing" at the top of the second act was a genuine crowd pleaser.
Tenor Anthony Heinemann brings solid acting skills and an impressive vocal range to the role of Ralph Rackstraw, the sturdy sailor in love with Corcoran's daughter Josephine, although he sounded a bit underpowered compared to the rest of the cast. Soprano Leann Schuering is a real delight as Josephine, displaying a clear, attractive voice in her big second act aria, "The hours keep on apace," in which she tries to decide between true love and true money.
Mezzo Katherine Calcamuggio is an endearingly funny Little Buttercup, and baritone Jacob Lassetter shows a remarkable lower register as the despised Dick Deadeye, a role usually assigned to a bass. Mezzo Erin Haupt makes the small role of Cousin Hebe a comic gem.
As is so often the case, Union Avenue's chorus sings with an authority and clarity that belies its small size, often rendering the projected English supertitles irrelevant. Under Scott Schoonover's expert baton, the orchestra delivers a fine, robust performance of Sullivan's wonderful score, with tempi that are invariably perfect. There were a few moments when singers and orchestra were not quite in synch on opening night, but I'd expect that to work itself out with time.
Kyra Bishop Sanford's multi-level set appears to have sailed straight out of "Anything Goes," an image reinforced by the straw boaters worn by the sailors, but otherwise Teresa Doggett's bright costumes suggest we're still comfortably ensconced in the Victorian era, with horizontal striped shirts for the men and blue and white bustle skirts for the women. Sir Joseph looks appropriately ridiculous, especially in his tacky second act smoking jacket.
Director Eric Gibson is sometimes a little too fond of gilding the comic lily with overly busy stage business and unnecessary extra lyrics for the popular patter song "When I was a lad," but that's minor stuff. His pacing is brisk, his blocking makes dramatic sense, and the minimal choreography he has provided for a couple of the chorus numbers makes everyone look good without calling for significant terpsichorean skills.
So, yeah, Union Avenue Opera has gotten their season off to a strong start with a bit of classic Gilbert and Sullivan that's fun and funny. It's not entirely to my taste, but it's awfully well done and that, in these times of what Tom Lehrer might describe as "universal brouhaha," is more than enough.
Performances of "H.M.S Pinafore" continue through Saturday, July 14th, at the Union Avenue Christian Church, at Union and Enright in the Central West End. More information is available at the company web site.
Related Articles