Theatre Reviews
Theatre Reviews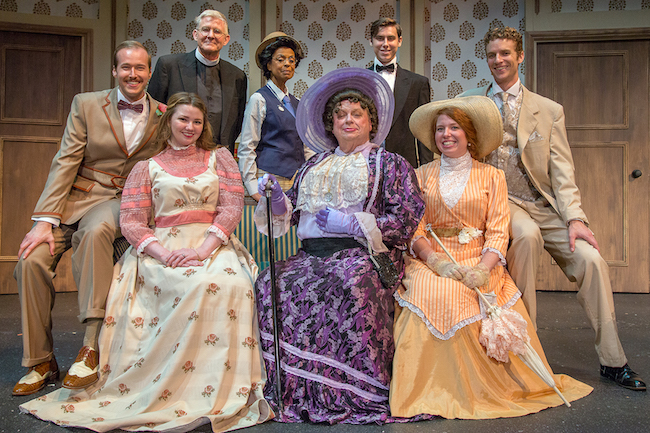 In Performance: A classic from Oscar Wilde
By
There's nothing quite like comedy to make a day brighter and a hot summer more bearable. This weekend two new shows filled with laughs and good humor join the list of plays and musicals just waiting to entertain you. And America's favorite orphan is waiting in the wings to take the Muny stage midweek. Don't suffer a summer filled with boredom, check out these previews and #goseeaplay.
Insight Theatre Company presents Oscar Wilde's "The Importance of Being Earnest, A Trivial Comedy for Serious People," at the Grandel Theatre through July 22. The witty farce bristles with intrigue as two friends, and their fictional counterparts, find themselves caught in a tangled web of their own construction. Though set during the transition between the Victorian and Edwardian periods in England, the play's perceptive critiques of privilege, economics and social constraints still ring familiar to contemporary audiences.
Algernon Moncrief and his friend Jack are well-to-do English gentlemen of the 90s, the 1890s. Algernon lives primarily in London, his friend Jack lives, with his ward Cecily, on a country estate outside the city. When Algernon unexpectedly arrives to visit Jack, their cleverly woven stories begin to unravel and, as the saying goes, hilarity ensues. A host of secondary plots and characters adds to the comic nature of the quick-paced farce. Jack's love interest Gwendolyn, Lady Bracknell, Miss Prism and Dr. Chausible all contribute significantly to the confusion and eventual merriment.
Tom Murray, who laces up his corset to play Lady Bracknell (a man also played the role in the recent Broadway revival), notes, "Though the play was first produced in 1895, the comedy and themes are recognizable and appeal to modern audiences." Will Bonfiglio, Algernon in this production, nods in agreement, adding, "I've always wanted to do this show. Wilde is so witty and his language is so fun, it feels fresh." The show pokes fun at the upper class without being unpleasant, and the language is filled with puns, innuendo and sharply delivered barbs couched in pretty words. Naturally, the story has a happy ending, making sure that this comedy will have audience members smiling as they exit the theater.
Ruth Ezell, who moves from television to stage in the role of Miss Prism, notes that although the times have changed, the underlying issues persist. "The script is so funny. Wilde pokes fun at everyone, skewering the fact that in Victorian England, your ability to achieve success was set in stone at birth," she explains. "Even birth order had a significant impact on your place in the world," Murray chimes in. He then notes he "modeled my Lady Bracknell after my mother. She was the queen in my family and the ultimate ruler." Ezell chimes in that she found Miss Prism in a beloved teacher, "even down to the shoes I wear," and Bonfiglio notes that Wilde's comedy feels naturally intuitive to him. It's clear that the actors, under the direction of Ed Reggi, have found a deep connection to the delightfully acerbic and pointedly humorous script. You can see their big, bold take in Insight Theatre Company's "The Importance of Being Earnest," through July 22.
Silhouettes Productions presents "The Altar Boyz," at the Kranzberg Arts Center Black Box through July 21. Starring Riley Dunn, Clayton Humburg, Kevin Corpuz, Marshall Jennings and Corey Fraine as the title's Christian boy band, with Chandler Spradling as their announcer, the show satirizes contemporary culture. Set on the final performance of the band's cross country tour, the five enthusiastic men sing, dance, praise and recruit audience members to unburden their soul with them. The show is more revealing than it first appears as each member starts to drop their stage persona and question what comes next.
America's favorite plucky orphan, "Annie," returns to the Muny stage to help celebrate the theater's 100th anniversary season. Based on the popular depression-era comic strip by Harold Gray, the family-friendly show celebrates life through the eyes of a girl with eternal optimism, good-natured exuberance and enthusiastic expressions. The upbeat musical is heartwarming and bursting with memorable songs like "Hard Knock Life," "Easy Street" and "Tomorrow" that were ingrained in our culture from its first production in 1977. Leapin' Lizards everyone, "Annie," at The Muny July 18 – 25 and featuring Peyton Ella as the eponymous redheaded girl, is certainly determined to please!
Continuing this weekend:
The 6th annual LaBute New Play Festival, Set One, continuing through July 15, includes titular playwright LaBute's new work "Fourth Reich," as well as "Shut up and Dance" by Barbara Blumenthal-Ehrlich, "Advantage God" by Norman Kline, and "Hipster Noir" by James McLindon. Set Two debuts July 20, continuing through July 29, and includes LaBute's play and "Unabridged" by Sean Abley, "The Gettier Problem" by Michael Long, and "The Process" by Peter McDonough.
For a pop music delight, try "Jersey Boys," continuing through July 16 at the Muny. The fact-based musical treats audiences to the chart-topping hits and tumultuous off stage lives of Frankie Valli and the Four Seasons. The revue, which won the Tony Award for best musical in 2006, features more than two-dozen songs made famous by the group.
With just a quick trip across the river to the SIU-Edwardsville campus, you can enjoy a disco-infused, high energy production of Shakespeare's "A Midsummer's Nights Dream." Filled with humor, mistaken identity, and some mischievous faeries, the show, continuing through July 15, is a whimsical, fast-paced adventure in a far away forest that's great entertainment for the whole family.
Fourth Wall Down continues its run of the moody and ethereal "The Drowning Girls," at Wild Carrot on Shaw Ave through July 14. The compelling drama introduces audiences to Bessie, Alice and Margaret, three Edwardian women who were killed in similar fashion with their deaths becoming part of a sensational murder trial. Based on true events, the story is told with haunting reverie and a palpable sense of fear.
Union Avenue Opera continues its production of the popular "H.M.S. Pinafore," by Gilbert and Sullivan, through July 14. Infatuated with the captain's daughter, Admiral Porter arrives for a luncheon at the newest ship in the British Navy with more than the Pinafore on his mind. Performed in English with English subtitles, the light opera includes many memorable songs and a satisfying story about love conquering all hurdles.
And remember, there's always much more art and culture happening in St. Louis than one reviewer can cover, so visit the KDHX Calendars for a complete listing of theater, performance, music, gallery exhibits and much more.
Related Articles