Theatre Reviews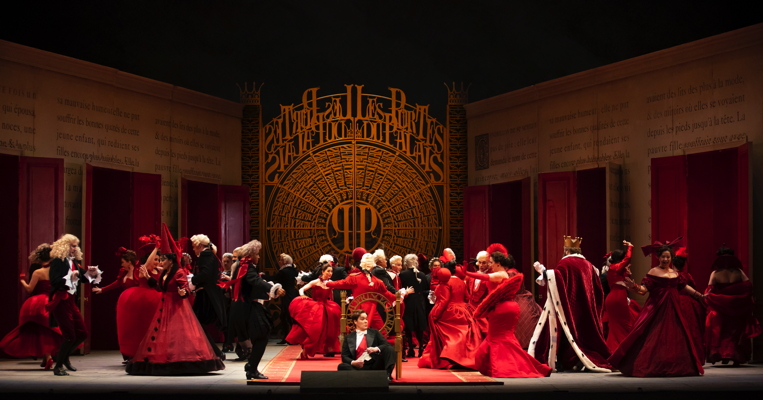 Opera Review: An enchanted evening with 'Cendrillon' at Lyric Opera
Written by

Chuck Lavazzi
The production of Jules Massenet's 1899 opera "Cendrillon" ("Cinderella") that opened at Lyric Opera of Chicago on December 1st, while new to Chicago, originated back in 2006 at Santa Fe Opera. It has accumulated some good reviews over the years, and it's not hard to see why.
Siobhan Stagg
Photo by Todd Rosenberg
Let's start with Massenet's score. Some critics have turned up their noses at it, but I found it to be a good match for librettist Henri Cain's expansion of Charles Perrault's fairy tale--colorful, often witty, sometimes touching, and unfailingly tuneful. In his program note, Lyric Opera dramaturg Roger Pines calls the score "wonderfully varied," and I have to agree.
Then there's the fanciful visual design from director and costume designer Laurent Pelly and set designer Barbara De Limburg. They have set the opera literally in Charles Perrault's book, with the text of the opening pages (in French) painted on all the set pieces. When Lucette (a.k.a. Cendrillon) gets in her enchanted carriage, she is literally sitting on the word "carrosse" (French for a horse-drawn carriage), and the two-legged horses that pull her have Perrault's text painted on their coats. And, yes, they're tail coats.
The silly outfits for Mme. de la Haltière (Cendrillon's stepmother) and her two airhead daughters perfectly match their cartoonish characters which, in Cain's version of the story, are much more foolish than wicked. And the wildly whimsical costumes for the princesses vying for Prince Charming's hand provoked plenty of laughter when we saw the show.
L-R: Amy Pogorelc, Elizabeth Bishop,
Kayleigh Decker
Photo by Todd Rosenberg
The visual design concept is, in short, perfectly suited to the material. It goes astray only in Act III, scene 2, when it departs from that material by moving the action from an enchanted forest to the far more prosaic rooftops of Paris. It felt out of synch with both the words and music, and led to some awkward staging in the sequence in which Cendrillon and Prince Charming can hear each other but can't see each other because of a magical flower barrier. Here they just crossed back and forth without looking at each other, which felt clumsy.
As is so often the case at Lyric Opera, the cast is a fine one, headed by Australian soprano Siobhan Stagg as Lucette/Cendrillon. The Act III aria in which she bids farewell to the modest joys of her home was truly touching, and she positively beamed in the ball sequence. Bass-baritone Derek Welton was equally impressive as her henpecked father Pandolfe, hilarious in the comic moments and credibly earnest in the dramatic scenes with Lucette.
Marie-Eve Munger
Photo by Todd Rosenberg
Mezzo Elizabeth Bishop is a real scene stealer as the hilariously awful Mme. de la Haltière. The Act III aria in which the character pompously boasts of her supposedly noble lineage is a bit of deluded self-admiration that could have come from a Trump tweet, and she delivers it with flawless comic precision.
Soprano Emily Pogorelc and mezzo Kayleigh Decker unfailingly hit the comic target as Noémie and Dorothée, Lucette's brainless stepsisters, and mezzo Alice Coote has some very moving scenes in the pants role of Prince Charming, as well as a wonderful duet with Ms. Stagg in the forest/rooftop scene.
Derek Welton
Photo by Todd Rosenberg
Marie-Eve Munger brings a lightness and grace to the coloratura role of the Fairy Godmother, with a voice that seems to float over the role's long, elaborate lines with ease.
Lyric's Music Director, Sir Andrew Davis, conducts an assured and nicely paced performance of the score, with some wonderful solo work by members of the Lyric Opera orchestra. Original choreographer Laura Scozzi and revival choreographer Karine Girard provide inventive and often brilliantly silly movement for the ballet scenes.
The Lyric production of "Cendrillon" may not be perfect, but it is certainly great fun, and might make a good introduction to opera for children or others new to the art form. Sung in French with English supertitles, it runs through January 20th at Lyric Opera of Chicago; visit their web site for information on their season, which runs through May 2019.
Related Articles