Theatre Reviews
Theatre Reviews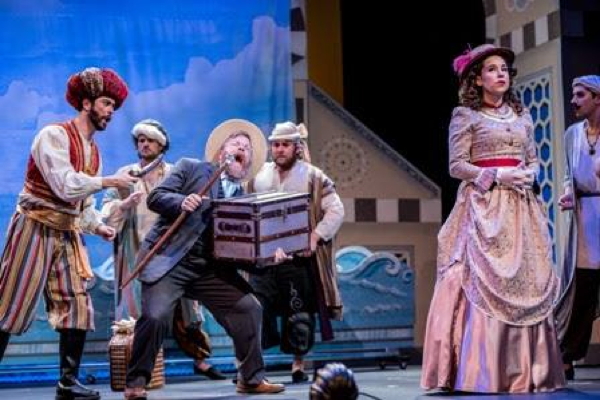 Opera Review: This Italian girl conquers Algiers
By Steve Callahan
There's that initial low, stealthy tip-toeing pizzicato, like a Warner Brothers cat creeping up on a clever mouse. Then an oboe slips in, and other woodwinds, some piccolo. Then (SURPRISE!) a racing, romping foretaste of the musical fun to follow. It's the utterly delicious overture to Giochino Rossini's "L'italiana in Algeri"--"The Italian Girl in Algiers." It's another bright success in Winter Opera's long list of delights.
Rossini's opera, which he claims to have written in 18 days, premiered in 1813, some thirty years after Mozart's Abduction from the Seraglio, which tells a remarkably similar story: the romantic rescue of innocent Christians enslaved by barbaric Turks. But in Mozart it is the hero who rescues the maiden, while in Rossini we have the maiden rescuing the man she loves.
The plot is certainly as silly as the normal comic opera, but the music! Oh, the music!
Mustafa, the Bey of Algiers, has grown tired of his wife, Elvira, and wishes to be rid of her. He sends his men to capture a nice Italian girl to replace her. They seize an Italian ship and its passengers. Little do they realize what trouble they bring into the palace in the person of the lovely young Isabella. She is a piece of work! Bright, assertive and sublimely confident, she embodies that clear-headed, energetic, take-charge young woman of whom George Bernard Shaw was so very fond. Isabella is accompanied by Taddeo, a feckless suitor who, for their own reasons, is posing as her "uncle". But Isabella's true love, Lindoro, is (SURPISE!) already a slave to Mustafa. Mustafa plans to marry Elvira to Lindoro and send them off to Italy.
The plot gets ludicrously silly. As a token of his love for Isabella Mustafa elevates her "uncle" Taddeo to the office of Kaimakan (provincial governor) and burdens him with a stupendously huge turban, good for many laughs. In return Lindoro and Taddeo persuade Mustafa to join the brotherhood of "Pappadaci" (sandflies), which, they say, will make him irresistibly attractive to Isabella. Poor Mustafa falls for it. He's made to look an imbicile in the hilarious initiation ceremony, which involves eating a bowl of spaghetti. (Has this become a hallmark of Winter Opera? Their L'elisir d'amore last year brought the house down with a spaghetti scene.)
In any event the ending is happy. The lovers escape and Mustafa, having seen more than enough of Italian women, is reconciled with the long-suffering Elvira. Rossini's music is gorgeous, with arias, duets, trios, even a couple of amazing septets. It is for the most part lively to, indeed, frenzied. There is much rapid-fire "patter" singing. But all of it is lovely.
The cast is led by a simply stunning performance by mezzo-soprano Kate Tombaugh as Isabella. With smooth warmth and agility throughout her range her voice swells to glory on those high notes. She makes the singing seem so easy that she can, with a clear conscience, devote much of her attention to acting. And in this she triumphs. At first appearance, in her strikingly attractive Victorian travelling suit and straw boater, she instantly conveys the fine spirit of this girl. She employs her furled parasol almost like a defensive sword. No-one is gonna triumph over her. Miss Tombaugh is every bit as wonderful as she was as Cinderella in that other Rossini opera here two years ago.
She is surrounded by fine voices in all of the principal roles. Gregory Schmidt brings sweet clarity and fine diction to the role of Lindoro; Nicholas Ward shows a beautifully dramatic baritone in the comic role of Taddeo; Alex Soare glories in all the comic wickedness of Mustafa; Holly Flack, as Elvira, is so lovely in her lush oriental garb, and her voice is sublime--even when she must sing about how "women are born to suffer". Jason Mallory makes a strong and ardent Haly, the Bey's right-hand-man; and Felicia Gavilanes does splendid work as Zulma, Elvira's chief lady-in-waiting.
Stage Director Eric Gibson manages this large cast deftly. Near the close of Act 1 there is an astonishing septet backed by the full chorus. It's called "Va sossopra il mio cervello", which, I imagine, translates as "My brain is exploding". It's a riotous celebration of confusion. Rossini pulls out all the stops. Seven vocal lines, all frantically singing different lyrics, occasionally tossing in noises like bells or hammers or crows; all this at an accelerating circus tempo! The chorus and orchestra pouring out the music behind and beneath the leads. Director Gibson, in a stroke of genius, follows the lyric's mention of a "sea of confusion" and has the entire cast drifting and swimming and drowning in confusion, ending in a great flailing heap on the floor--the very image of Gericault's painting, "The Raft of the Medusa". We are simply overwhelmed with music and beauty and energy!! And then--Curtain! End of Act I!
Rossini does, a time or two go on too long. Some of the numbers have, perhaps, a reprise too many. A modern audience, especially in a comedy, might appreciate a show perhaps fifteen minutes shorter. But the music is so beautiful!
Maestro Darwin Aquino keeps a blazing pace, which is very right for this piece. But there were a couple of moments when the orchestra raced a bit ahead of the singer. (I noticed this with Mustafa and Haly.) The singer should, of course, follow the conductor. The performance was held not at their usual venue, the Viragh Center at Chaminade, but at the Missouri Baptist University. Perhaps some acoustical trick of the venue or some sight-line problem impeded the singers coordination with the orchestra.
Scene designer Scott Loebl gives us a lovely, gracefully flexible palace with Moorish detail. J.C. Krajicek brings her usual perfection to the exotic Algerian garb--as well as to the well-tailored European costumes. Lighting by Natali Arco is quite flawless.
Winter Opera's L'italiana in Algeri brims with delightful Rossini music. It played January 25 and 27.
Related Articles